As an amateur coin collector, I am always pleased to find when my thoughts are in agreement with many numismatists. One such example of this rare occurrence is the Mercury dime. I have always felt that this was just a beautiful piece of art, on a tiny metal "canvas". It is accepted by many to be the most aesthetically pleasing coin ever produced.
Contrary to popular belief, the design portrayed is not that of the Roman god Mercury, nor does it contain the element mercury.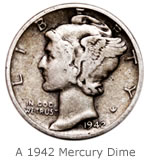 The design is actually of Liberty wearing a cap called a Bonnet Phrygian. This cap symbolizes freedom, a reference to freed roman slaves who wore such caps. How the mislabeling really came about, no one knows for sure, but after many years the name has stuck.
The design was originated by Adolph A. Weinman as part of a competition to replace the Barber dime. The Winged Liberty Head dime, as it is more correctly known, was minted from 1916-1945. On the obverse, of course, is Liberty wearing the Phrygian cap and the words "In God We Trust" and "Liberty", along with the date. The reverse shows "United States of America", "E Pluribus Unum" and "One Dime" along with the Roman fasces, symbolizing power and authority.
The Mercury dime contains 90% silver and 10% copper. Also of interest is that the date run was not continuous because no dimes were produced in 1922, 1932, or 1933. Unless one of these dimes is badly damaged or worn, it is worth at least $.60. Some of them, even for an average grade, can fetch over $300. Find yourself a Mercury dime with just small traces of wear and the price can go much higher!
If you have never seen a Mercury dime, or it has been a while, do yourself a favor and go to a coin show or dealer and buy one. I guarantee you will not be disappointed in its beauty!