The Royal Canadian Mint has issued the final coin in its Vancouver 2010 circulation coin program, the 25-cent coin featuring the sport of ice sledge hockey.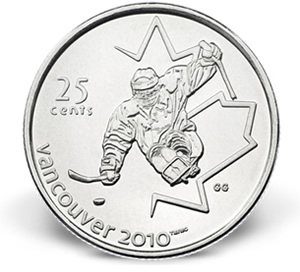 Royal Canadian Mint Ice Sledge Hockey Coin
The coin was launched outside of the Vancouver Public Library, where the Mint is displaying the Vancouver 2010 athlete medals for the duration of the Vancouver 2010 Paralympic Winter Games.
"Three years ago, the Mint launched the most extensive circulation coin program ever developed for the Olympic and Paralympic Games," said Ian E. Bennett, President and CEO of the Royal Canadian Mint. "We were the first mint in the world to celebrate the Paralympic Games on circulation coins, therefore we could not be more proud to complete our program with the ice sledge hockey coin."
Read the rest of this article »
{ 0 comments }