Martin Van Buren's Liberty First Spouse gold coin and a bronze medal replica are now available from the United States Mint. The 1/2-ounce gold proof and uncirculated versions are priced at $549.95 and $524.95, respectively. Both have a face value of $10, are composed of 24-karat gold, and have an overall mintage limit of 40,000.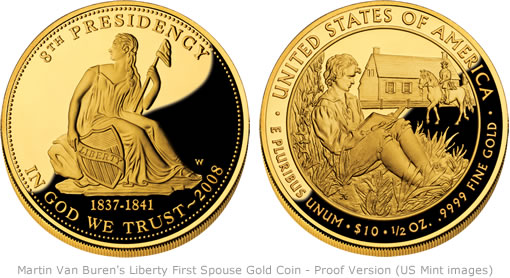 A bronze medal bearing the likeness of Van Buren's Liberty coin is also available for $3.50.
Dubbed "The Red Fox of Kinderhook" for his red hair, political acumen and birthplace in New York, Martin Van Buren was the eighth President of the United States. America was prosperous when Van Buren took office, but less than three months later the panic of 1837 occurred and was quickly followed by a five-year depression. Van Buren was voted out of office, making him the third president to serve only one term.
Read the rest of this numismatic news article »
{ 1 comment }