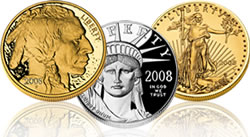 The collector's eye is scanning for scarcer gold and platinum coins to purchase after the United States Mint's announcement on Monday to slash future coins from its numismatic portfolio.
With 22 collector American Eagle and Buffalo gold and platinum coins to face elimination in 2009, opportunities have improved for several to rise in value based on that alone. And even more so for others after comparing their prices and sales figures.
But how did we get to this point? Also, what collector bullion coins are the best buy?
Read the rest of this numismatic news article »
{ 1 comment }