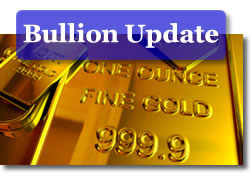 U.S. gold and silver prices rebounded Tuesday, recovering a portion of their previous session losses. A weaker U.S. dollar, inflation sentiment, higher oil prices, and bargain hunting were among the factors analysts cited for gains.
"Gold is embracing the inflationary discussion," Adam Klopfenstein, a senior market strategist at Lind-Waldock in Chicago, was quoted on Bloomberg. "The huge rally in the S&P gave gold the risk-on attitude that it so dearly needed. Gold is acting more as a reflection of the growth element in the economy."
August gold prices added $8.80, or 0.6 percent, to close at $1,524.40 an ounce on the Comex in New York. Gold traded between $1,512.80 and $1,524.90. Gold prices fell $13.60 to a three-week low during the previous session. The yellow metal has advanced 7.2 percent in 2011.
Silver prices for July delivery rebounded 67.4 cents, or 1.9 percent, to $35.411 an ounce. The metal ranged from a low of $34.400 to a high of $35.470. Silver prices plummeted $1.590 during the previous session. With Tuesday's pick-up, silver has now advanced 14.5 percent on the year. Jim Wyckoff, of Kitco Metals Inc., noted the following on Tuesday:
"July Comex silver futures prices closed near the session high Tuesday after hitting a fresh three-week low early on. Prices on Monday also dropped below some key near-term technical support but were able to rebound Tuesday to repair minor chart damage. Silver bulls have the overall near-term technical advantage, but still need to show more power soon to keep that advantage.

The next downside price breakout objective for the bears is closing prices below solid technical support at the May low of $32.30. Bulls' next upside price objective is producing a close above solid technical resistance at last week's high of $37.86 an ounce. First resistance is seen at $36.00 and then at $36.50. Next support is seen at $35.00 and then at Tuesday's low of $34.40. Wyckoff's Market Rating: 5.5."
Platinum prices for July delivery declined $11.90, or 0.7 percent, to settle at $1,794.90 an ounce. Prices ranged from a low of $1,788.70 to a high of $1,812.60.
Palladium prices for September delivery declined $7.60, or 0.9 percent, to $792.75 an ounce. Palladium traded between $787.50 and $805.85.
For the year, platinum has risen 0.9 percent while palladium has fallen 1.3 percent.
London precious metals were lower for a second straight day. When comparing London fix prices on Tuesday (PM) from those on Monday (PM), gold declined $10.25 to $1,516.00 an ounce, silver lost 83.0 cents at $34.680 an ounce, platinum declined $19.00 to $1,796.00 an ounce, and palladium lost $12.00 at $794.00 an ounce.
United States Mint published bullion coin sales as of 4:25 p.m. ET remained unchanged from revised Monday figures. The latest numbers follow:
US Mint 2011 Bullion Coin Sales
Daily
Gains
June
2011
YTD
2011
Gold Eagle Coin (1 oz.)
0
29,500
481,000
Gold Eagle Coin (1/2 oz.)
0
0
55,000
Gold Eagle Coin (1/4 oz.)
0
0
56,000
Gold Eagle Coin (1/10 oz.)
0
20,000
235,000
Gold Buffalo Coin (1 oz.)
0
0
74,000
Silver Eagle (1 oz.)
0
1,617,000
20.5185 M
ATB Silver Bullion (5 oz.)*
0
0
326,800
*ATB Silver bullion coin sales figures are not published by the Mint daily. The current figure has an "as of date" of more than two weeks ago (Thursday, May 26).