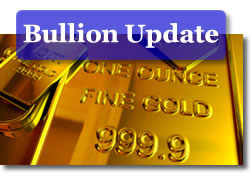 U.S. gold and silver prices declined Wednesday, pressured by a firmer U.S. dollar that benefited, opined analysts, from Federal Reserve Chairman Ben Bernanke's comments on the previous day.
"Bernanke wasn't as bearish on the economy as everyone thought he was going to be, and that was supportive for the dollar," Frank Lesh, a trader at FuturePath Trading LLC in Chicago, was quoted on Bloomberg. "Gold is reacting to the dollar."
August gold prices lost $5.30, or 0.3 percent, to close at $1,538.70 an ounce on the Comex in New York. The yellow metal traded between $1,531.80 and $1,547.40. Gold is up 8.3 percent this year.
"It is very doubtful now that the United States will be raising interest rates over the next 12 months, which means the negative interest rate environment in the U.S. is going to stay," VM Group analyst Carl Firman, was quoted on Reuters. "That will leave investors looking for higher returns elsewhere, and gold is one beneficiary of that."
Silver prices for July delivery shed 42.6 cents, or 1.1 percent, to settle at $36.620 an ounce, trading between $36.065 and $37.250. Silver prices have advanced 18.4 percent in 2011.
Platinum prices for July delivery rose 50 cents to $1,831.20 an ounce. Platinum moved from a low of $1,816.00 to a high of $1,836.80.
Palladium prices for September delivery declined $3.80, or 0.5 percent, to finish at $805.70 an ounce. The metal ranged between $795.10 and $811.50.
London bullion prices were all lower. In comparing London fix prices on Wednesday (PM) from those on Tuesday (PM), gold declined $7.25 to $1,537.75 an ounce, silver prices lost $1.190 at $36.220 an ounce, platinum declined $6.00 at $1,818.00 and palladium lost $5.00 to $799.00.
United States Mint bullion coin sales levels remained unchanged as of 4:23 p.m. ET. The following are the latest coin totals for June and 2011.
US Mint 2011 Bullion Coin Sales
Daily
Gains
June
2011
YTD
2011
Gold Eagle Coin (1 oz.)
0
24,500
476,000
Gold Eagle Coin (1/2 oz.)
0
0
55,000
Gold Eagle Coin (1/4 oz.)
0
0
56,000
Gold Eagle Coin (1/10 oz.)
0
15,000
230,000
Gold Buffalo Coin (1 oz.)
0
0
74,000
Silver Eagle (1 oz.)
0
817,000
19.7185 M
ATB Silver Bullion (5 oz.)*
0
0
326,800
*ATB Silver bullion coin sales figures are not published by the Mint daily. The current figure has an "as of date" of Thursday, May 27.