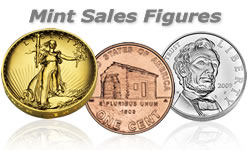 Since many coin collectors spend their time outside of the hobby during the summer months, US Mint weekly sales can tend to be routine and borderline boring. That is not the case with the latest round of coin figures.
Highlights follow:
In a single week, August demand for American Eagle Gold Bullion Coins nearly doubled. 23,000 had been sold up through the 12th. By the 19th, 45,000 were purchased. For the year, the total has jumped to 801,500.

Silver Eagle Bullion Coins continue their blazing sales trail. 17,739,000 have been sold this year. Another 475,000 left US Mint doors in the last seven days alone.

Collectors purchased 2,901 more UHRs in a week (see UHR Double Eagle Sales Top 80K.)

2009 Lincoln Formative Year Cents sold out at 300,000, as inaugural sales of the Illinois Lincoln penny two-roll sets reached 152,146. (See 15.2 Million Professional Life Cents Sold in Four Days.)

Freshly minted Julia Tyler First Spouse Gold Coins reached 2,087 for the proof and 1,125 for the uncirculated. At the same time, the proof Jackson's Liberty First Spouse Coin sold out. The latest US Mint figures show their total at 7,806.

And for the final highlights, 2009 Proof Sets are gliding along. The clad set climbed another 19,906 and is heading toward one million. The silver set rose by 17,277 with an eye toward 500,000.
Read the rest of this numismatic news article »
{ 0 comments }