If, as often has been said, it is true that "good things come in threes," a trio of exceptional coins from an important collection could fare exceedingly well when they are sold in Heritage's US Coins Signature® Auction November 16-19.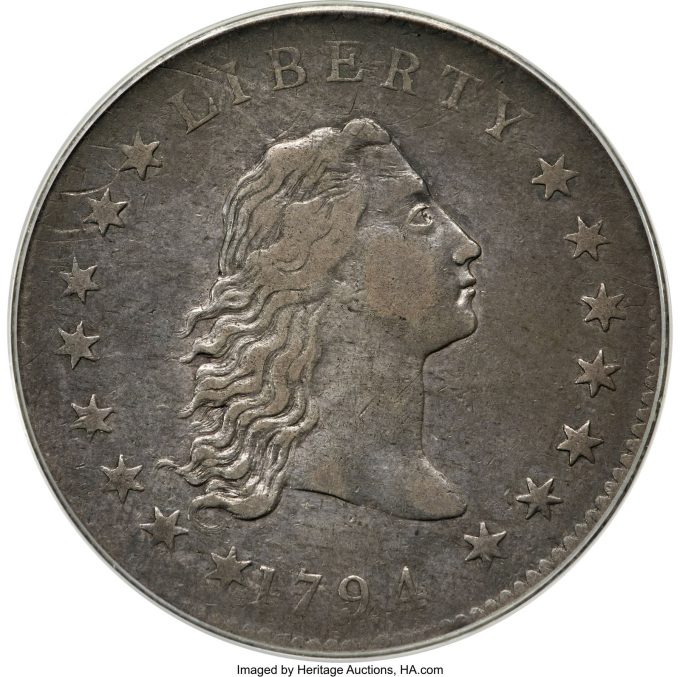 The three coins, each of which will be offered in the event's Premier Session, come from the Bayfield Collection and include:
A 1794 Flowing Hair Dollar B-1, BB-1, R.4, XF45 PCGS. CAC – It has been suggested that no coin in the U.S. series defines the quality of a collection more immediately than the 1794 Flowing Hair dollar, which was the nation's first silver dollar and the premier showpiece denomination among U.S. silver issues since the first 1794 dollar was struck. Its rarity – only 140-150 examples are known to exist – adds to the commercial interest, but the fact that it even exists is fairly remarkable, after only 1,758 "acceptable" pieces were struck on equipment ill-suited for any coinage larger than a half dollar. The vast majority (about 90%) of the remaining examples are individually documented with their pedigrees intact. There are examples with higher grades, but many are damaged and repaired, making this XF45 one of the top two dozen known.
An extraordinary 1808 Capped Bust Left Quarter Eagle, MS63 is tied for the second-finest graded example of the rarest United States type coin; the design was only produced on the quarter eagle for one year, and the mintage was quite small. Locating any example of the 1808 can be challenging, making a Mint State example exceptionally rare.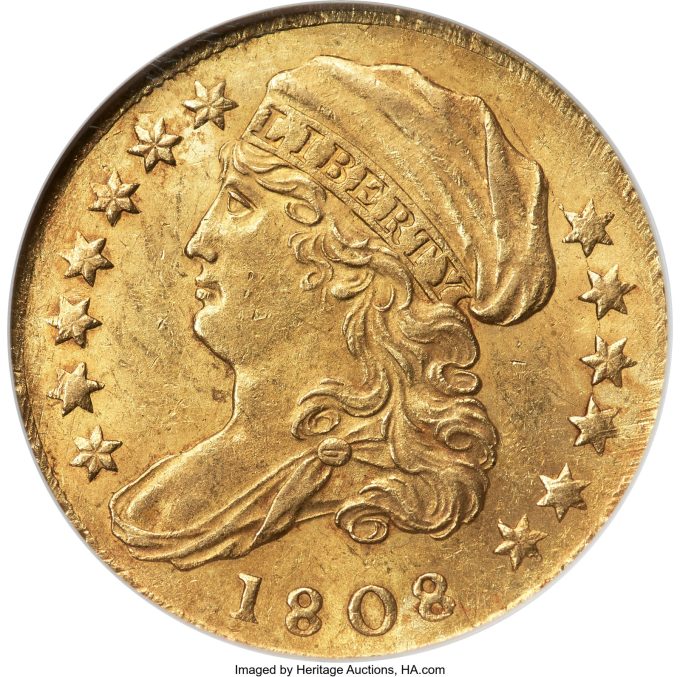 The Philadelphia Mint struck just 2,710 pieces, in 1808, presumably from a single pair of dies. Demand for the 1808 quarter eagle has grown significantly, especially since type collecting has become so popular in recent years. John Dannreuther and PCGS CoinFacts both estimate the surviving population at 125-150 examples in all grades. Heritage Auctions experts suspect the true total is probably closer to the lower end; PCGS and NGC have combined to certify only 113 specimens between them, including an unknown number of resubmissions and crossovers. Mint State examples are decidedly rare and only one coin, the MS65 PCGS example from the Pogue Collection, has been certified in a higher numeric grade than this remarkable MS63 specimen.
A 1796 No Stars Quarter Eagle, BD-2, MS62 – a classic rarity of the early U.S. gold series. The Mint Act of 1792 established the monetary system of the United States, and authorized 10 denominations for the nation's coinage, although it was not until four years later that all 10 denominations actually were struck, including a minute run of just 1,395 Capped Bust Right quarter eagles, which were split between two major design types: With Stars and No Stars on the obverse. John Dannreuther and PCGS CoinFacts both estimate the surviving population at 100-125 examples in all grades, and PCGS and NGC have combined to certify 116 specimens, including an unknown number of resubmissions and crossovers.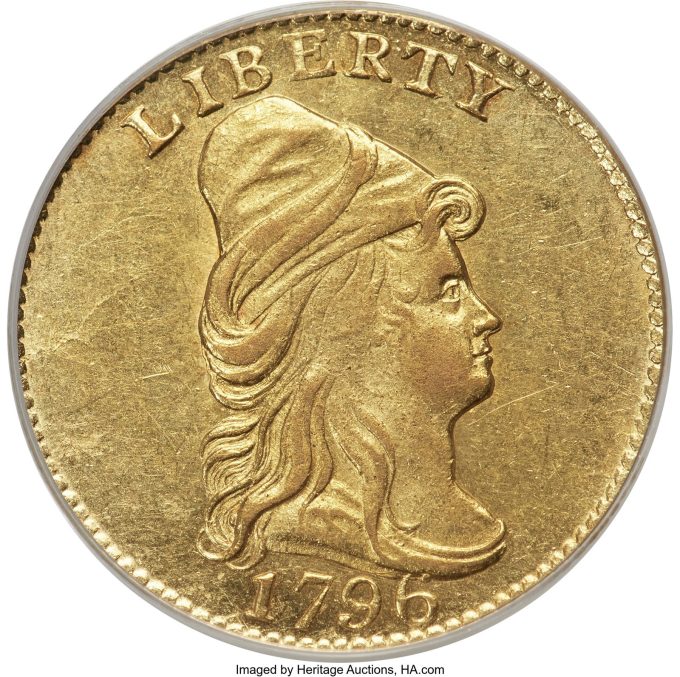 The consignor of this coin purchased it privately from coin dealer Kevin Lipton in 2007, and it has been off the market ever since. The offered example is one of just four graded in 62 (1 in 62+), and there are only two that carry a higher grade.
"The coins from the Bayfield Collection that are offered in this auction are exceptional keepsakes that immediately will assume prominent positions in their new collections," says Todd Imhof, Executive Vice President at Heritage Auctions. "There are just three coins in the auction from the collection, but each is a coveted rarity that will appeal to those hoping to add historically significant pieces to their collections."
Among the top independent lots (not part of a collection) is a 1776 Continental Dollar, MS63. Several varieties of Continental Currency coins, often called Continental dollars, are known in brass, pewter or silver. These coins are exceptionally popular, in part because of the 1776 date that features so prominently in American history. This design is notable for only having one "R" in "CURENCY" on the obverse legend; the reverse shows a sun dial with the word FUGIO (time passes quickly) and the phrase MIND YOUR BUSINESS that is interpreted to mean "take care of your affairs."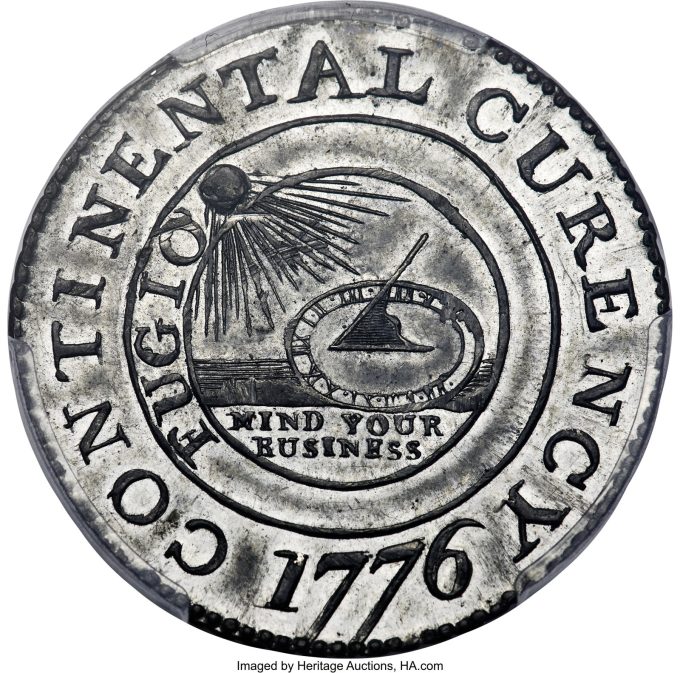 A rare Prooflike specimen of an 1889-CC Morgan Dollar, MS64 was called "the rarest and most desired among Carson City Morgan dollars" by David Bowers in Silver Dollars an Trade Dollars of the United States. He estimates the surviving population at somewhere between 400 and 800 pieces in MS64 – a significant portion of which qualify for Prooflike designation. The numeric grade of this coin is nearly unimprovable within the Prooflike designation, and just 15 have been certified in MS64 Prooflike at NGC and PCGS combined, with only two finer.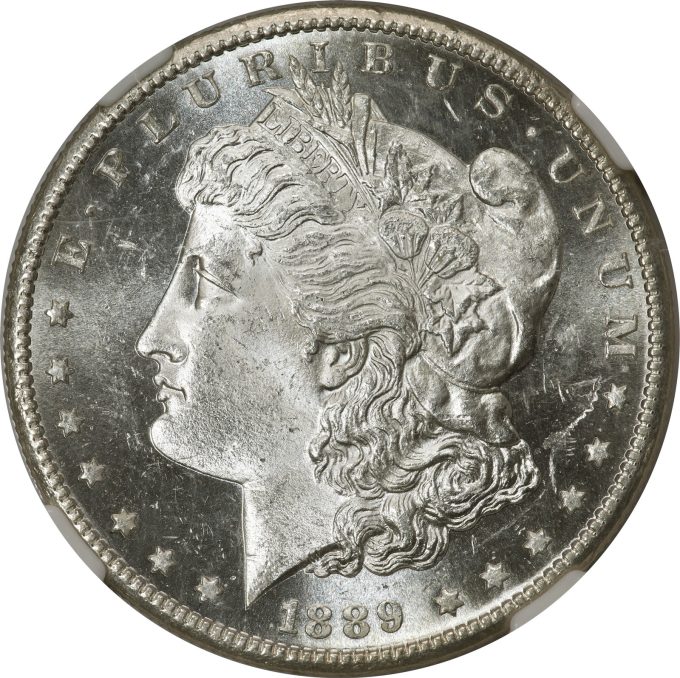 A seldom-seen Specimen 1891-O quarter certified SP65 NGC headlines the Roxie Collection, a group of 23 lots that includes a transitional 1865 With Motto Seated dollar, Judd-434, PR64 PCGS with CAC, and a backdated 1864 With Motto Seated dollar, Judd-396, graded PR64 PCGS with a CAC sticker, and an assortment of Gem-or-finer better-date Buffalo nickels. The 1891-O quarter is one of only two confirmed examples and has rarely appeared on the numismatic market and can be traced back to the personal collection of Robert Weisblut.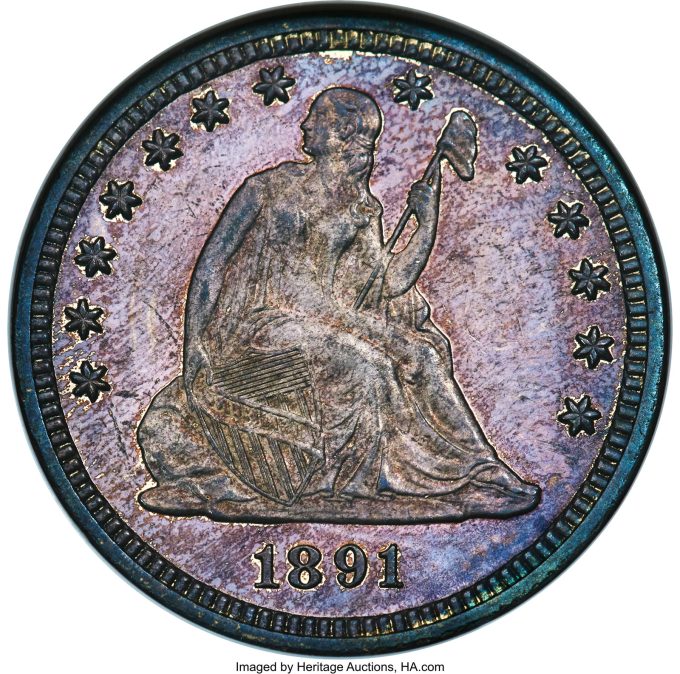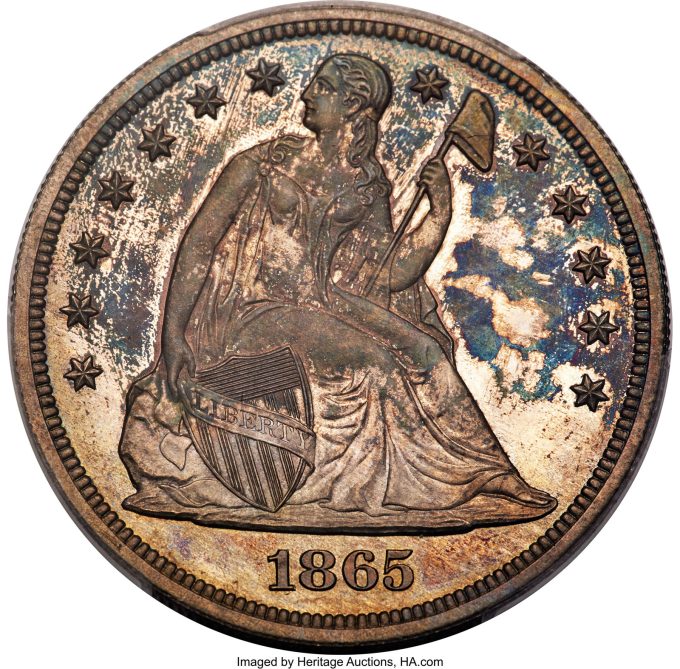 Another important collection in the auction is from the 266-lot Estate of Charles W. "Chaz" Montgomery, who spent more than 60 years as a numismatic collector, first with cents, nickels and dimes before assembling a world-class trove of gold patterns and dollar pieces. The selections from his collection in this auction include extensive sets of gold dollars, Saint-Gaudens double eagles, U.S. patterns, Indian eagles, a fine group of Territorial gold pieces and a selection of high-quality Standing Liberty quarters. Lots from his collection include, but are not limited to:
1929 Double Eagle, AU55 – one of what might be as few as 350 remaining examples. As the first of the late-date Saint-Gaudens double eagles, the 1929 issue was nearly wiped out during the Gold Recall meltings despite a mintage of almost 1.8 million pieces.

1929 Double Eagle, AU55

1861-D Gold Dollar, MS61 – a historic rarity that was produced by the Confederate States of America after the Dahlonega Mint was seized in the spring of 1861. The exact mintage is unknown, but research by prominent dealer Doug Winter estimates a production of 1,000-1,500 and a surviving population of the most elusive D-mint gold dollar in terms of overall availability at just 65-75 examples in all grades. It is believed that as few as a dozen have survived in Mint State.

1861-D Gold Dollar, MS61

1852 Annular Gold Dollar in Copper – struck on an annular copper-nickel planchet with a plain edge, this piece is an earlier die state than the Simpson coin sold at Heritage Auctions in 2022.
Another important compilation represented in the auction is Part I of the Collection of William K. Harter, whose collecting interests ranged from numismatics to Arms & Armor to Rare Books. Highlights from his collection include a pair of Gem MCMVII High Relief twenties – one is an MS65+ PCGS Wire Rim example, the other its Flat Rim counterpart, certified MS65 NGC. This initial Saint-Gaudens double eagle offering highlights several better dates – many with CAC stickers. Upcoming selections will include a nearly complete set of high-grade Indian cents and additional Saint-Gaudens twenties.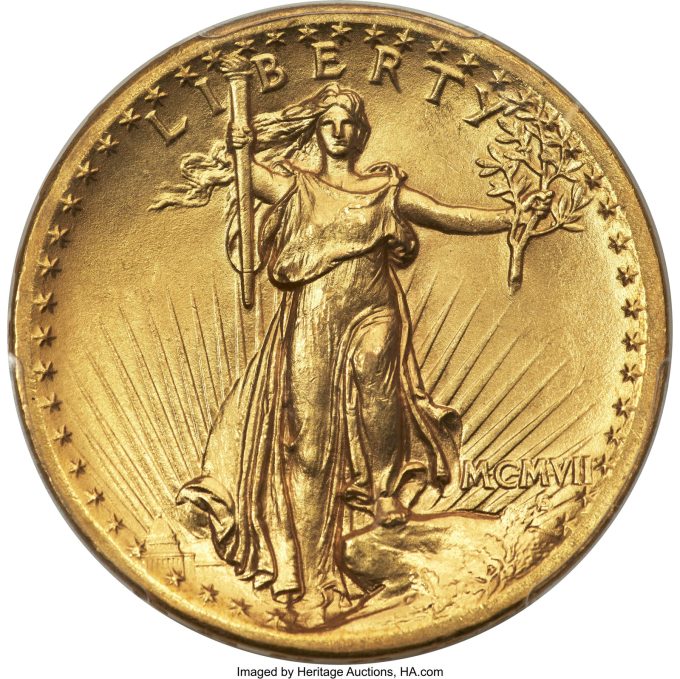 The Lawrence Selig Collection includes 43 lots, a trove that includes Liberty Head and Saint-Gaudens double eagles, as well as a pair of MS63 1915-S Panama Pacific fifty dollar gold pieces – one in the traditional round format, the other featuring the popular octagonal shape.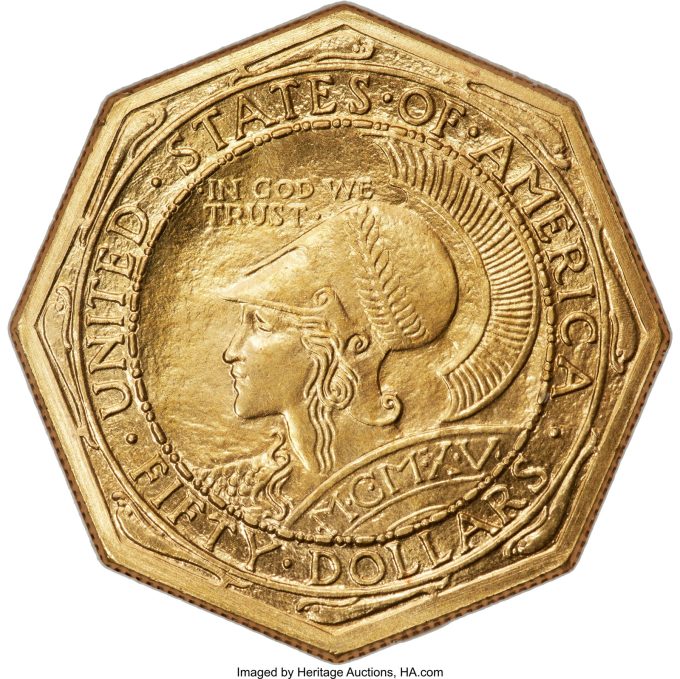 The Samuel Zacellas Collection is an extraordinary assemblage of Mercury dimes that the consignor dedicated to his father, who helped his son embark on his journey as a numismatic collector. All 90 lots in the collection are in the auction, spread throughout the Premier Session, Floor Session 2 and other exceptional examples in Sunday's online Signature® Session. The collection is complete by date and mintmark including multiple examples of some key issues. Most examples grade from MS63 to MS68 – each is PCGS-certified – many with CAC endorsement.
Images and information about all lots in the auction can be found at HA.com/1366.
About Heritage Auctions
Heritage Auctions is the largest fine art and collectibles auction house founded in the United States, and the world's largest collectibles auctioneer. Heritage maintains offices in New York, Dallas, Beverly Hills, Chicago, Palm Beach, London, Paris, Geneva, Amsterdam, Brussels and Hong Kong.
Heritage also enjoys the highest Online traffic and dollar volume of any auction house on earth (source: SimilarWeb and Hiscox Report). The Internet's most popular auction-house website, HA.com, has more than 1,750,000 registered bidder-members and searchable free archives of more than 6,000,000 past auction records with prices realized, descriptions and enlargeable photos. Reproduction rights routinely granted to media for photo credit.