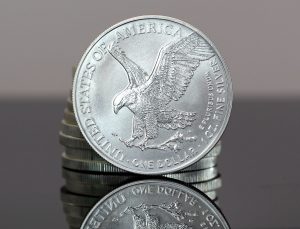 In October, sales of bullion coins from the United States Mint surged significantly, with triple-digit percentage gains for the Mint's flagship American Gold Eagles and robust double-digit increases for the bureau's core American Silver Eagles. Further, their year-to-date totals are already higher than each coin's sales in all of 2022.
Last month, American Eagle gold bullion coin sales reached 108,000 ounces, the highest since April. This total represents a significant increase of 137.4% compared to the previous month's sales of 45,500 ounces and a substantial 72.8% rise from October 2022, when sales amounted to 62,500 ounces. Year-to-date sales have also shown growth, totaling 1,022,500 ounces, reflecting a 5.4% uptick compared to the 970,000 ounces sold during the same period in the previous year, and marking a 4.3% increase over the 980,000 ounces sold in the entirety of 2022.
In October, American Eagle silver bullion coin sales totaled 3.938 million ounces, registering the highest figure since January when the 2023-dated edition was first introduced. This number signifies a 32.6% surge compared to September's sales of 2.97 million ounces and an impressive 213% increase compared to the 1.258 million ounces sold in October 2022. Year-to-date sales have also demonstrated substantial growth, totaling 21.847 million ounces, which is 50.3% higher than the 14.534 million ounces sold during the same period last year, and 36.5% higher than the 16 million ounces sold in all of 2022.
Meanwhile, October sales of American Buffalo gold bullion rose by 36,500 ounces, jumping 97.3% from September's 18,500 ounces but sliding 7.6% from the 39,500 ounces sold in October 2022. Their year-to-date sales at 367,500 ounces are down 9.4% from the 405,500 ounces moved during the first ten months of last year.
The U.S. Mint released the 2023-dated American Platinum Eagle bullion coin in March, with 7,500 ounces purchased. In April, a modest 500 ounces were added; another 1,200 ounces sold in May, and the last increase of 3,500 ounces was reported in June, bringing the cumulative total to 12,700 ounces. In contrast, last year's 2022 platinum coin was released a month earlier and saw 25,800 ounces sold in February, followed by 14,200 ounces in March, 23,500 ounces in April, 15,500 ounces in May, and the final addition of 1,000 ounces in June, resulting in a total of 80,000 ounces sold during the year.
Here is a sales breakdown of U.S. Mint bullion products showing the number of coins (not ounces) sold during different periods.
U.S. Mint Bullion Sales (# of coins)
October 2022
September 2023
October 2023
2023 Sales
$50 American Eagle 1 Oz Gold Coin
59,500
27,500
97,000
869,000
$25 American Eagle 1/2 Oz Gold Coin
2,000
13,000
7,000
95,000
$10 American Eagle 1/4 Oz Gold Coin
2,000
30,000
18,000
182,000
$5 American Eagle 1/10 Oz Gold Coin
15,000
40,000
30,000
605,000
$50 American Buffalo 1 Oz Gold Coin
39,500
18,500
36,500
367,500
$1 American Eagle 1 Oz Silver Coin
1,258,000
2,970,000
3,938,000
21,847,000
$100 American Eagle 1 Oz Platinum Coin
0
0
0
12,700