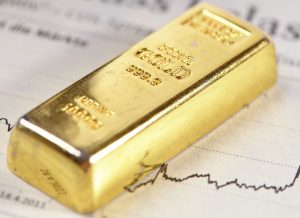 Precious metals ended lower on Friday compared to a week earlier, solidifying sharp monthly and quarterly losses for both gold and silver. Additionally, both metals recorded notable settlement lows, dating back to March for gold and June for silver.
Falling for the fifth consecutive day, gold for December delivery gave back $12.50, or 0.7%, to settle at $1,866.10 an ounce on the Comex division of the New York Mercantile Exchange. The settlement was the lowest since March 9.
"Gold has been holding up fairly well, but investors are now coming to grips with the fact that the Fed is not going to lower interest rates anytime soon. Higher rates are here to stay; because of this, gold got smacked," said Kevin Grady, president of Phoenix Futures and Options.
Gold's losses for the week, in September, and for the quarter amounted to 4.1%, 5.1% and 3.3%, reducing its year-to-date gain to 2.2%.
Looking to the week ahead, Kitco News offers the following forecasts via their Wall Street vs. Main Street surveys:
"This week, 13 Wall Street analysts participated in the Kitco News Gold Survey. Seven experts, or 54%, expected to see higher gold prices next week, while four analysts, or 31%, predicted a drop in price. Only two analysts, or 15%, were neutral on gold for the coming week.

Meanwhile, 540 votes were cast in online polls. Of these, 245 retail investors, or 45%, looked for gold to rise next week. Another 219, or 41%, expected it would be lower, while 76 respondents, or 14%, were neutral about the near-term prospects for the precious metal."
Elsewhere, silver for December delivery dropped by 29.1 cents, or 1.3%, closing at $22.45 an ounce, marking its weakest finish since June 23. Silver experienced significant weekly, monthly, and quarterly losses of 5.9%, 9.5%, and 2.5%. Year to date, prices have declined by 6.6%.
In other precious metals, both on Friday, for the week, and during the month of September:
January platinum inched higher by 80 cents, or nearly 0.1%, to end at $915.90 an ounce, even as the metal pulled back 2% from a week ago. Meanwhile, for the month, prices registered a 6% drop.

Palladium for December delivery fell by $22.50, or 1.8%, to close at $1,256 an ounce, erasing earlier gains and causing prices to decrease by 10 cents for the week. In September, palladium saw a 3.1% increase.
In the third quarter, the pair of metals posted gains, with platinum rising 0.3% and palladium advancing 2.8%.
Assessing their year-to-date performance, platinum has seen a decrease of 15.4%, while palladium has experienced a more substantial decline of 30.1%.
US Mint Bullion Sales in 2023
U.S. Mint bullion sales have remained unchanged since Wednesday, Sept. 13. The table below presents a breakdown of U.S. Mint bullion products sold, with columns indicating the number of coins sold (not total ounces) during different time periods.
US Mint Bullion Sales (# of coins)
Friday / This Week
Last Week
July
August
September
2023 Sales
$50 American Eagle 1 Oz Gold Coin
0
0
41,000
78,000
12,000
756,500
$25 American Eagle 1/2 Oz Gold Coin
0
0
0
2,000
10,000
85,000
$10 American Eagle 1/4 Oz Gold Coin
0
0
0
2,000
22,000
156,000
$5 American Eagle 1/10 Oz Gold Coin
0
0
0
150,000
35,000
570,000
$50 American Buffalo 1 Oz Gold Coin
0
0
16,500
19,500
15,500
328,000
$1 American Eagle 1 Oz Silver Coin
0
0
209,100,000
3,124,000
1,502,000
16,441,000
$100 American Eagle 1 Oz Platinum Coin
0
0
0
0
0
12,700