A collector from the East Coast was the lucky recipient of the VaultBox 1995 Silver Eagle Superset, featuring the key date 1995-W Silver Eagle graded NGCX Mint State 10 and two other 1995 Silver Eagles. The coins were consigned to GreatCollections who will auction the three individually on Sunday, May 28th.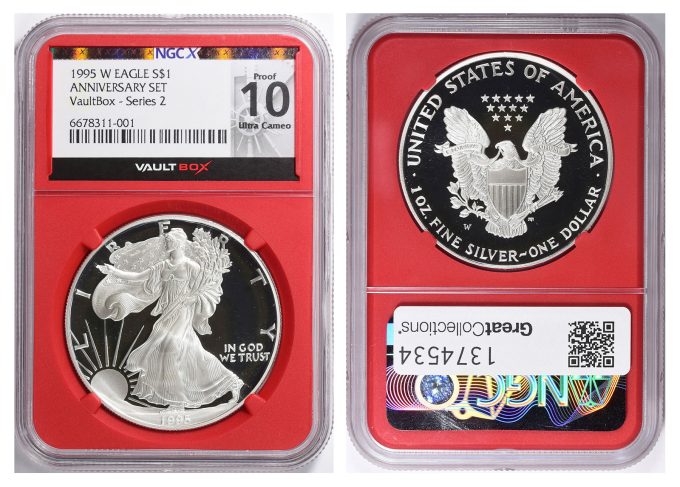 VaultBox is the first firm to sell sealed boxes of NGCX-certified coins that mimic the thrill of opening sealed boxes of sports and trading card packs. In each VaultBox series, there are a few Supersets such as this 1995 trio. This is the first ever Superset to appear in auction.
The buyer of the sealed box is a member of the U.S. military who plans to fund the cost of his upcoming wedding with the proceeds. He paid just $739 and bidding has already exceeded $15,000.
The 1995 Silver Eagle Superset includes:
Each of the coins will be auctioned individually by GreatCollections and are housed in special NGCX holders with a striking red insert. All NGCX coins are graded on the new 10-point grading scale, with the perfect 10 equaling the 70 grade on the Sheldon scale used by parent company NGC and other leading grading services.
Bidding started at $1, with no reserve. Over 50 bids have already been placed and more are expected before bidding ends on Sunday, May 28th.
To find out more and view high quality images, please visit www.greatcollections.com or telephone 1-800-442-6467.
About GreatCollections
GreatCollections, the official auction house of the American Numismatic Association, specializes in auctioning certified coins and banknotes, handling transactions from start to finish. Since its founding in 2010, GreatCollections has successfully auctioned over 1 million certified coins, making it one of the leading certified coin companies in the United States with annual sales in 2022 exceeding $270 million. Ian Russell, owner/president of GreatCollections, is a member of the prestigious Professional Numismatists Guild and member of the National Auctioneers Association. For more information about GreatCollections, visit www.greatcollections.com or call 800-442-6467.