One of the most sought after and famous coin errors in the world, the 1943 Copper Penny, will be featured in GreatCollections' auctions on November 13th. Only about two dozen examples are known in all grades.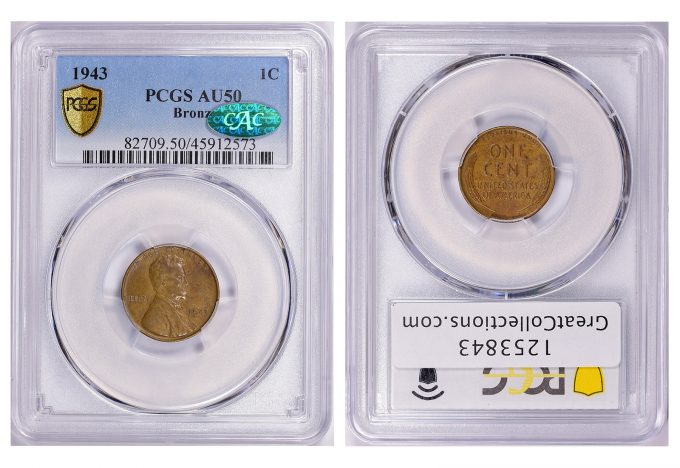 The coin has been lightly circulated and is graded PCGS AU-50 with CAC approval. It is expected to realize over $200,000 when bidding concludes at www.greatcollections.com.
When the U.S. Mint switched to using zinc-coated steel to produce 1943 Lincoln Cents, a small number of copper planchets leftover from 1942 slipped into the buckets of the steel planchets and then into circulation.
Although there were rumors of some 1943 pennies being struck in error (using copper/bronze planchets), none were discovered until 1947, and they were instantly coveted by collectors and even appeared in magazines, comic books and newspapers.
"Over the past decade at GreatCollections, we have had countless calls, emails and letters about people purporting to have a new discovery of this famous error. Not a single coin was genuine, and this is only the third authentic example we have had the pleasure to handle," said Ian Russell, president of GreatCollections.
The numismatic world has been lucky to have had several opportunities to bid on 1943 Copper Pennies over the past few years, however, almost all now reside in long-term collections, cherished by their owners. This is important to take into account when considering a bid on this iconic error coin.
In all five editions of the 100 Greatest U.S. Coins by Jeff Garrett and Ron Guth, the 1943 Copper Cent has been ranked in the top 11, and in the 5th edition, ranks ahead of the unique 1822 Gold Half Eagle and 1861 Paquet Gold Double Eagle.
GreatCollections has set many records in Lincoln Cents over the years, including the highest prices ever paid for a Proof Lincoln Cent at $365,625, as well as many individual date and grade world records.
The 1943 Copper Penny will be available to view at the Irvine, California headquarters of GreatCollections by appointment. To view high-quality images and register to bid visit www.greatcollections.com or call 800-442-6467.
About GreatCollections
GreatCollections, the official auction house of the American Numismatic Association, specializes in auctioning certified coins and banknotes, handling transactions from start to finish. Since its founding in 2010, GreatCollections has successfully auctioned over 1 million certified coins, making it one of the leading certified coin companies in the United States with annual sales in 2021 exceeding $235 million. Ian Russell, owner/president of GreatCollections, is a member of the prestigious Professional Numismatists Guild and member of the National Auctioneers Association. For more information about GreatCollections, visit www.greatcollections.com or call 800-442-6467.