One of the banknotes that is among the most popular with collectors will offer a savory treat to its next owner, after it is sold in Heritage Auctions' CSNS Currency Signature® Auction May 3-5.
The Fr. 377 $100 1890 Treasury Note PCGS Banknote About Unc 50 Details is known as the "Watermelon $100" because of the iconic design on the reverse, in which the zeroes resemble the popular large fruit from the same family as cucumbers and pumpkins.
"Watermelon notes are always in exceptionally high demand, and Watermelon $100s are exceedingly rare," says Dustin Johnston, Vice President of Numismatics at Heritage Auctions. "The example in this auction is one of only 35 known examples of this beautiful banknote. Eliminate the eight government-held pieces and this is one of just 27 available to the public."
The offered example is one of the finer known pieces, and can be traced to the holdings of William Philpott and Bob Medlar, who offered the note in a 1972 advertisement. Shortly thereafter, it was acquired by well-known New York collector Frank Levitan, and then it was later offered in the sale of Frank's Large Size Type collection in 1998. Aside from a PMG Choice 63 EPQ piece, which sold at auction for $372,000 three years ago, no finer example of this rare and popular type note has been offered at public auction since Heritage sold the Tom Flynn collection in 2008, from which a PMG 53 Net example brought a winning bid of $195,500.
Coming to auction for the first time is an exceedingly rare Wailuku $5 Brown Back, one of just four notes — all $5 Brown Backs — reported from this short-lived issuer, and the first of the foursome to make a public appearance since the note in the J. L. Irish collection sold at auction in 1997. In 1901, the First National Bank of Wailuku became the first of four note issuers to be chartered on the Island of Maui. Three of the banks, which were located in Wailuku, Lahaina and Paia, were organized by Charles D. Lufkin — whose signature appears on this offering as Cashier — a teller from the First National Bank in Honolulu. The example in this auction is the first to reach the open market since 1997.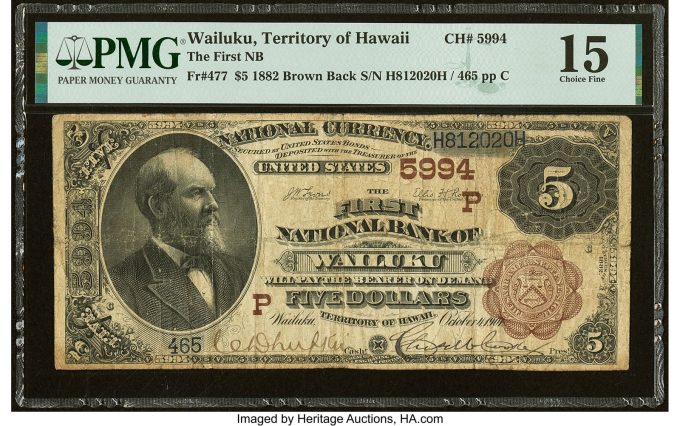 Another prize from the 50th state in this auction is a Territory of Hawaii 1882 Series $5 Value Back. This Honolulu, HI – $5 1882 Value Back Fr. 574 The First National Bank of Hawaii Ch. # (P)5550 PMG Choice Uncirculated 63 is the only 1882 Series Hawaii National with an Uncirculated designation. The significance of this grade continues, as this is also one of less than a dozen Uncirculated 1882 Series Territorial National Bank Notes known across all Territorial issuers. The note bears the portrait of former U.S. president James A. Garfield, who was assassinated the previous year.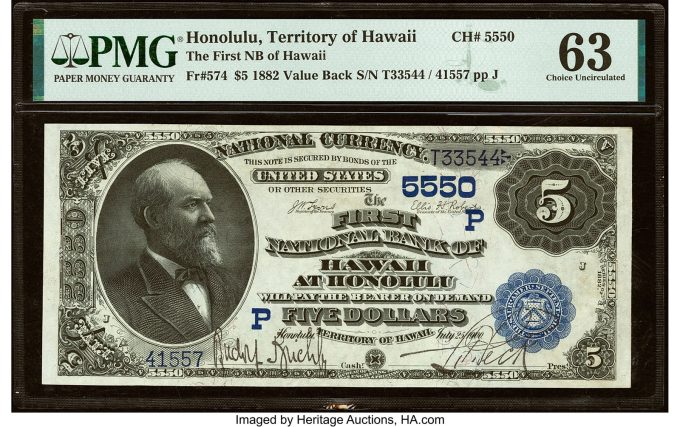 According to Track & Price census, there are 25 notes known for Fr. 1072a. This Fr. 1072a $100 1914 Red Seal Federal Reserve Note Cut Sheet of Four PMG Choice Uncirculated 64 offering is from an extraordinary cut sheet of $100 Red Seals, with each piece displaying a vivid red overprint, excellent centering, and spectacular eye appeal. The back design features vignettes of Labor, Plenty, America, Peace and Commerce by Kenyon Cox, incorporated a classic sculptural interpretation. These notes belong to the only cut sheet extant from a run of 16 consecutive notes discovered more than 30 years ago and now are widely distributed among collectors looking for just a single example for their high-end type sets.
From the James Cole Collection comes a Military Endorsement "Capt. T(homas) G. Williams Capt & CS" T3 $100 1861 PF-2 Cr. 3 PMG Choice Uncirculated 63. Bearing serial no. 813, this note was part of a second shipment of 1,000 $50-100 two-subject sheets that was spirited out of New York City, according to some sources, just minutes ahead of federal authorities who were determined to intercept this shipment before it left by sea.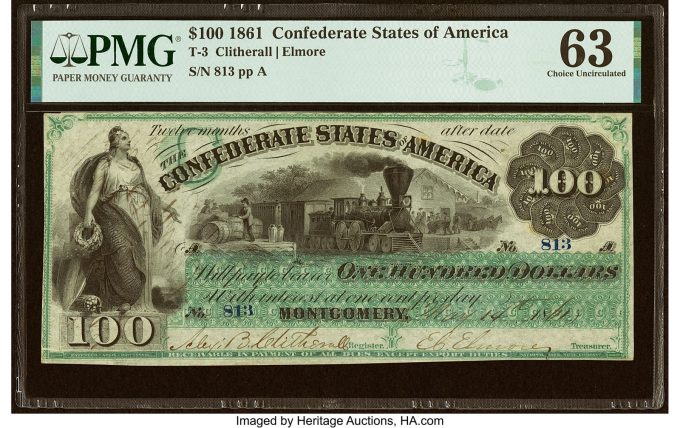 On April 25, federal officers raided the New York plants of both ABNCo and National Bank Note Co. putting a permanent end to further production and shipments of fiscal instruments for the Confederacy by either company (although the New Orleans branch of the ABNCo continued to produce notes into early 1862 under the name of the Southern Bank Note Company). The back has an endorsement that this note was paid out May 20, 1861, by Capt. T[homas] G. Williams Capt[ain] C[ommissary] S[ubsistence] in Lynchburg, Virginia.
Baton Rouge Bassett Collection
Featured in the sale are 110 lots from the Baton Rouge Bassett Collection. The whereabouts have been unknown for nearly half a century.
"The Baton Rouge Bassett Collection was rumored to exist as far back as a Midwest coin show in the early 1980s," Johnston said. "The notes feature some of the rarest Louisiana and Mississippi National Bank Notes in existence. It's appearance four decades later, is a boon for collectors. Many of the notes have never been offered publicly, including unique examples from Jennings, Opelousas, Starkville and Welsh."
Top lots from the Baton Rouge Bassett Collection include, but are not limited to:
A Serial Number 1 Starkville, MS – $5 1882 Brown Back Fr. 469 The First National Bank Ch. # 3688 PMG Very Fine 30 is crossing the auction block for the first time. All of the major superlatives apply to this $5 Brown Back: not only does it represent a rare type for Mississippi, but it is the only serial number 1 Brown Back known for the entire state. It also hails from the only bank in this central Mississippi location, an institution that issued just $5 Brown Backs during its brief existence from 1887 until its failure in 1893, leaving a mere $290 outstanding in 1916. One other note is reported from this charter but it has not been seen since a 1991 auction appearance.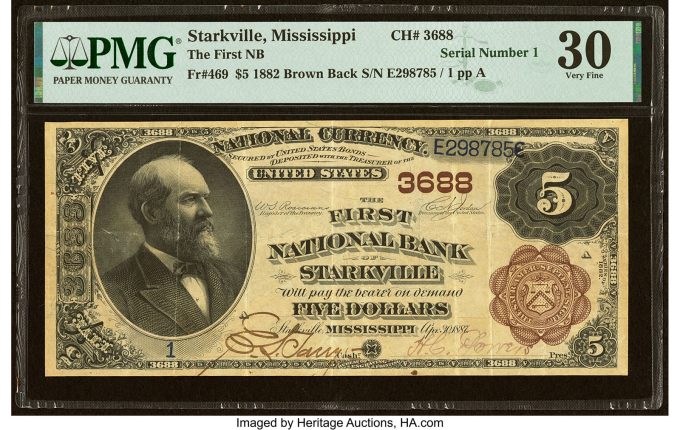 A Shreveport, LA – $5 1882 Brown Back Fr. 469 The First National Bank Ch. # (S)3595 PMG Choice About Unc 58 EPQ is one of only six $5 Brown Backs carrying the coveted fancy layout reported from this sought-after Shreveport bank. It comes from one of only two cities in the United States that were home to more than one bank which issued $5 Brown Backs featuring "Circus Poster" layouts, a roster which is limited to Philadelphia and Shreveport — each of which had two issuing institutions. In the case of Shreveport, the two banks were chartered within days of each other, with the First NB and the Commercial NB receiving charters within five numbers of each other.
Only one $5 Brown Back has been reported from the Commercial NB, which Heritage Auctions sold in 2015 for $28,200. While examples from the First NB are somewhat more plentiful, most are somewhat circulated. This magnificent note has just one other competitor in the census: a note that was called Choice CU in a 2001 auction and which has not been since that time.
Other top lots in the auction include, but are not limited to:
A Fr. 165a $100 1862 Legal Tender PMG Choice Fine 15
A T1 $1,000 1861 PF-1 Cr. 1 PMG Very Fine 20 Net, POCs from the James Cole Collection
A T2 $500 1861 PF-1 Cr. 2 PMG Very Fine 20 from the James Cole Collection
A Fr. TN-6 Kagin TN-6a Hessler X74C $100 Act of March 4, 1814 Treasury Note Double Signature Remainder PMG Choice Extremely Fine 45
A Fr. 299 $10 1891 Silver Certificate PMG Superb Gem Unc 67 EPQ — tied for the highest-graded Fr. 299 $10 1891 Silver Certificate
A Fr. 1133-L $1,000 1918 Federal Reserve Note PMG Very Fine 30
A Fr. 1217 $500 1922 Gold Certificate PCGS Very Fine 25 Details
Images and information about all lots in the auction can be found at HA.com/3592.
About Heritage Auctions
Heritage Auctions is the largest fine art and collectibles auction house founded in the United States, and the world's largest collectibles auctioneer. Heritage maintains offices in New York, Dallas, Beverly Hills, Chicago, Palm Beach, London, Paris, Geneva, Amsterdam, Brussels and Hong Kong.
Heritage also enjoys the highest Online traffic and dollar volume of any auction house on earth (source: SimilarWeb and Hiscox Report). The Internet's most popular auction-house website, HA.com, has more than 1,600,000 registered bidder-members and searchable free archives of more than 6,000,000 past auction records with prices realized, descriptions and enlargeable photos. Reproduction rights routinely granted to media for photo credit.