Those in need of a gift idea have a new option from the United States Mint with launch of the 2019 Congratulations Set on Jan. 10.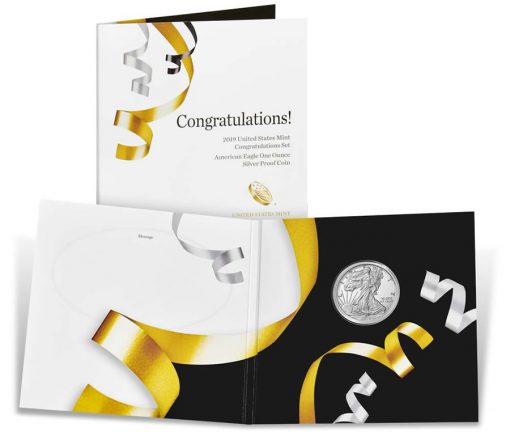 Found within the set is one 2019-W Proof American Silver Eagle, which also makes its debut on the 10th as a stand-alone option. Pricing of the Congratulations Set is $56.95, a one dollar increase over the individual proof Silver Eagle.
It joins two other special occasion products released last week, the 2019 Birth Set and the 2019 Happy Birthday Coin Set. However, whereas those are designed for specific celebrations, the Congratulations Set can be given for a variety of special occasions.
Congratulations Sets date back to 2013 and have been an annually released ever since. Their popularity has varied but thousands are sold each year. Last year's set realized sales of more than 19,260 units.
The set's proof American Silver Eagle is encapsulated in a special presentation folder so that both its obverse (heads) and reverse (tails) can be seen. On the outside of the folder, the word "CONGRATULATIONS!" is printed along with "2019 United States Mint Congratulations Set" and "American Eagle One Ounce Silver Proof Coin."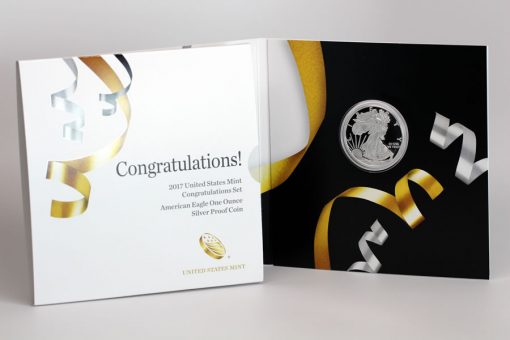 Inside, plenty of room has been allotted for a personalized message. On the back of the folder, the U.S. Mint's Certificate of Authenticity appears.
American Silver Eagles are composed in 1.000 troy oz. (31.103 grams) of 99.9% silver and have a diameter of 1.898 inches (40.60 mm). Proof coins feature frosted designs against a mirror-like background. The set's American Silver Eagle is produced at the West Point Mint and bears its 'W' mint mark.
Ordering
Those interested in ordering a 2019 Congratulations Set may do so directly from the United States Mint when it becomes available on Jan. 10 at Noon ET. Place orders from the U.S. Mint's Gift Ideas section or by call 1-800-USA-MINT (1-800-872-6468).
There is no product or household order limits.