An error 1943 Copper Penny realized $298,125 in GreatCollections' auctions on Nov. 13. The rarity saw 138 bids, nearly 10,000 page views, and 226 GreatCollections members tracking its sale.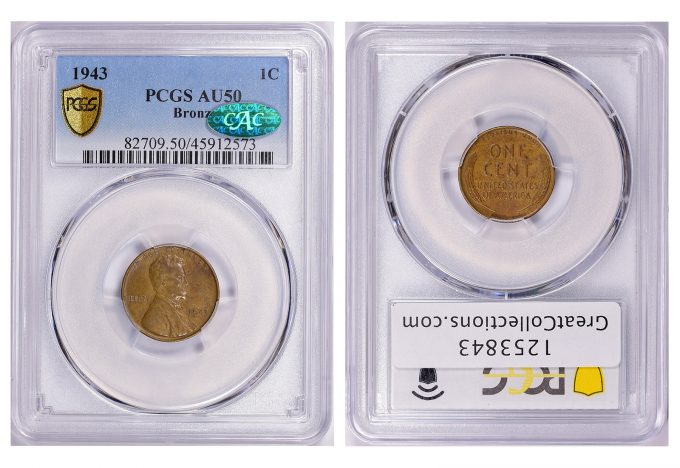 Graded PCGS AU-50, CAC, the auctioned copper penny is among one of the roughly two dozen known to exist, although many believe they have seen one.
"Over the past decade at GreatCollections, we have had countless calls, emails and letters about people purporting to have a new discovery of this famous error. Not a single coin was genuine, and this is only the third authentic example we have had the pleasure to handle," said Ian Russell, president of GreatCollections.
In 1943, the United States Mint switched to using zinc-coated steel in manufacturing Lincoln cents to save copper for the war effort. All cents for the year were supposed to be struck on these steel planchets. Experts speculate that some copper planchets leftover from 1942 made their way into one or more press hoppers when production started on the new steel pennies, resulting in the circulation of some 1943 copper cents.
Although there were rumors of some 1943 pennies being struck in error, none were found until 1947. They were instantly coveted, becoming one of the most famous and sought-after error coin in American numismatics. Because of their values, they have also been counterfeited.
About GreatCollections
GreatCollections, the official auction house of the American Numismatic Association, specializes in auctioning certified coins and banknotes, handling transactions from start to finish. Since its founding in 2010, GreatCollections has successfully auctioned over 1 million certified coins, making it one of the leading certified coin companies in the United States with annual sales in 2021 exceeding $235 million. Ian Russell, owner/president of GreatCollections, is a member of the prestigious Professional Numismatists Guild and member of the National Auctioneers Association. For more information about GreatCollections, visit www.greatcollections.com or call 800-442-6467.