With the holidays right around the corner, gift-giving is the topic of the day as the United States Mint released two ornaments for sale to the public. They include the United States Mint Ornament with a festive wreath-like design and the Mighty Minters™ Ornament with a more kid-friendly theme titled "Winter is Sweet."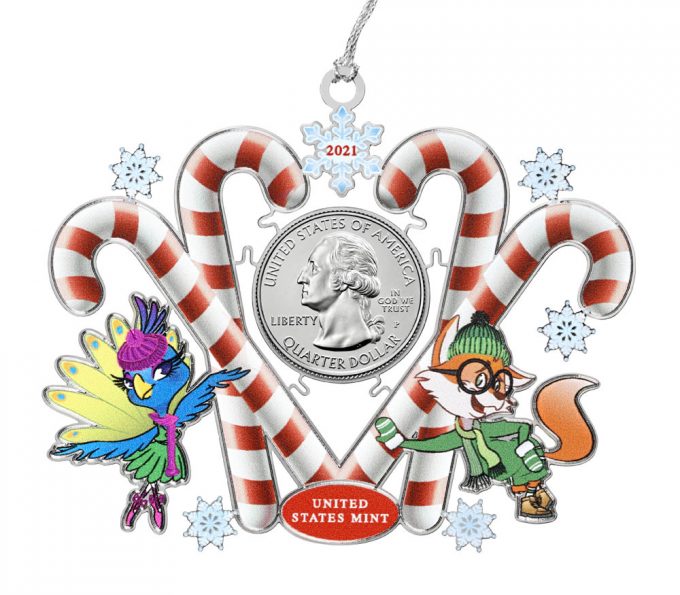 At the center of each ornament is an uncirculated quarter bearing the final design from the U.S. Mint's America the Beautiful Quarters® Program. Struck at the U.S. Mint facility in Philadelphia, the quarters' obverse portrait of George Washington appears prominently. The backs of the ornaments also share an engraving of the United States Mint Seal along with "Made in the U.S.A." and "©2021 U.S. Mint." Both are crafted in solid brass and imitation rhodium.
The holiday ornament series is now in its third straight year following a multi-year hiatus. The 2019 ornaments hold uncirculated Kennedy half dollars while last year's 2020 ornaments contain uncirculated Jefferson nickels. The Mint describes them all as uniquely designed and hand-crafted completely in the U.S.A.
This year's Winter is Sweet-themed 2021 Mighty Minters Ornament is designed more with kids in mind. Its overall appearance is playful with the Mint's kid-oriented mascots — Layla the peahen and Eli the fox, four red-striped candy canes, several surrounding snowflakes, and an attached silver-colored cord.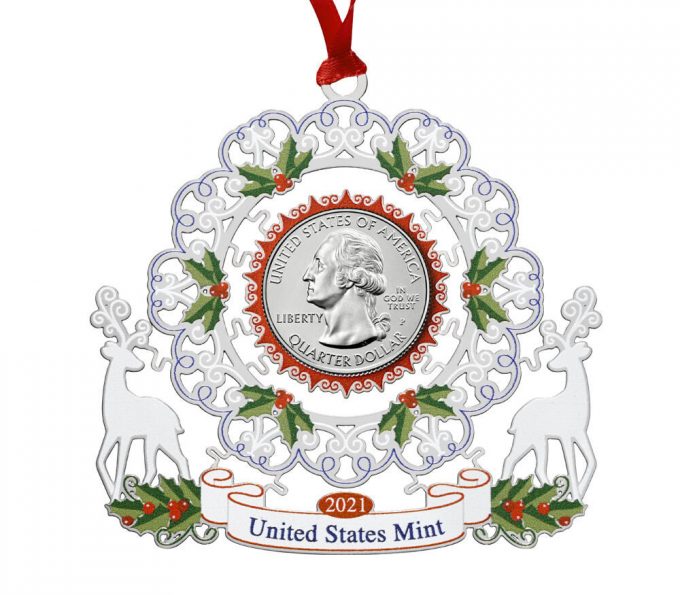 This year's United States Mint Ornament has a festive wreath-like design with a holly motif along with a deer on each side. The intricate and reflective holly design includes berries shaded in red and a stylized red ring that encircles the quarter. It has an attached red-colored cord.
Ordering
Both the 2021 United States Mint Ornament and the 2021 Mighty Minters Ornament ship in presentation boxes suitable for gift-giving. The United States Mint ornament is offered for $29.95 while the Mighty Minters ornament is sold for $27.95. They have no stated mintage or product limits, but each has a household order limit of 15 for the first 24 hours of sale.
The pair, as well as prior-year issues, are available for ordering via the Mint's online store page dedicated to Holiday Ornaments.