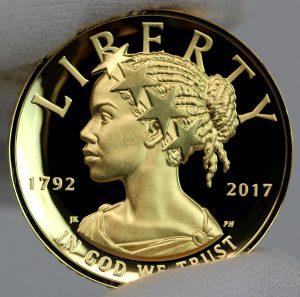 The United States Mint promotion of a free 2018-W $10 American Liberty 1/10 Ounce Gold Coin when buying a 2018-W $100 American Liberty 1 Ounce Gold Coin ends on Saturday, Aug. 20.
This offer was originally set to expire on Aug. 15, but it was extended five days.
Prices for the pair of 24-karat gold coins, which share the same designs, are $2,715 and $335 apiece. The promotion takes away the smaller coin's $335 price.
Based on U.S. Mint weekly sales reports, the offer has enjoyed some success since it was introduced on Aug. 1. The three weekly reports before the promo began showed gains for the 1-ounce gold coin of 158; 74; and 48. The two reports since the promo's start have the gold coin increasing by 1,004 and 595.
U.S. Mint sales through Aug. 14 have the 2017 $100 American Liberty at 37,506 and the 2018 $10 American Liberty at 51,323. The Mint initially stated the authorized mintages for each gold coin at 100,000 and 135,000, respectively.
The body of a Mint email to customers about the promotion follows.
American Liberty Offer Extended to August 20!

24-Karat Bonus Offer – Add Two Gold Coins to Your Collection for the Price of One

For a limited time, when you buy the award-winning 2017 American Liberty One Ounce 225th Anniversary High-Relief Gold Coin at regular price, you will receive a companion 2018 One-Tenth Ounce American Liberty Gold Coin at no additional cost. The price for both coins together will be the same as the price for the one ounce version by itself.

To get this offer, you must order at the link below.

Both coins were struck in 24-karat gold and feature the design that won "Gold Coin of the Year" at the International Coin of the Year awards.

There is no household limit on this special offer, but inventory is depleting. Don't miss out! Offer expires on August 20!