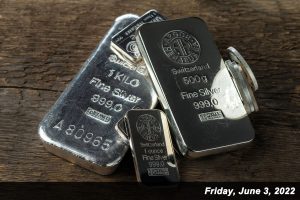 Precious metals declined on Friday, resulting in weekly losses for all but platinum which still advanced nearly 8% to extend its winning streak to three weeks in a row. Weekly losses for gold, silver and palladium were their first in three.
Gold for August delivery fell $21.20, or 1.1%, to settle at $1,850.20 an ounce on the Comex division of the New York Mercantile Exchange.
"Over the past week, spot gold rose slightly above the upper end of its trading range between the $1800 and $1850 area," said Peter Cardillo, chief market economist at Spartan Capital Securities, in a note reported by MarketWatch. "We continue see this trading range prevailing in the near-term as the dollar's strength caps the market's ability to break out from the trading range."
Gold prices dipped 0.4% this week after increases of 0.5% last week and 1.9% in the week ending May 20. On Thursday, the yellow metal notched a one-month settlement high. Gold is 1.2% higher on the year to date.
In looking ahead to next week, Kitco News offers the following forecasts via their Wall Street & Main Street surveys:
"This week 15 Wall Street analysts participated in Kitco News' gold survey. Among the participants, seven analysts, or 47%, called for gold prices to rise next week. At the same time, five analysts, or 36%, were bearish on gold in the near term, and three analysts, or 20%, were neutral on prices.

Meanwhile, 637 votes were cast in online Main Street polls. Of these, 448 respondents, or 70%, looked for gold to rise next week. Another 117, or 18%, said lower, while 72 voters, or 11%, were neutral in the near term."
Elsewhere, silver for July delivery dropped 36.7 cents, or 1.7%, to close at $21.908 an ounce. Silver prices shed 0.9% this week following gains of 2% last week and 3.2% in the week ending May 20. Like gold, silver prices ended Thursday at their best level in a month. They are now 6.2% lower on the year.
In PGM prices on Friday and for the week:
July platinum lost $12, or 1.2%, to end at $1,016.40 an ounce, but posted a 7.8% weekly gain.

Palladium for September delivery tumbled $61.60, or 3%, to end at $1,985.90 an ounce, for a 3.4% weekly loss
Both metals are higher on the year so far with advances of 5.2% for platinum and 3.9% for palladium.
US Mint Bullion Sales in 2022
Published U.S. Mint bullion sales were unchanged this week. Last week, the Mint reported gains of:
46,000 ounces in American Gold Eagles
15,500 ounces in American Gold Buffalos
American Silver Eagles were flat
Below is a sales breakdown of U.S. Mint bullion products with columns listing the number of coins sold during varying periods.
US Mint Bullion Sales (# of coins)
Friday / Week / June
Last Week
March
April
May
2022 Sales
$50 American Eagle 1 Oz Gold Coin
0
44,500
140,500
80,500
137,500
568,000
$25 American Eagle 1/2 Oz Gold Coin
0
3,000
5,000
3,000
5,000
58,000
$10 American Eagle 1/4 Oz Gold Coin
0
0
20,000
14,000
8,000
110,000
$5 American Eagle 1/10 Oz Gold Coin
0
0
75,000
25,000
50,000
370,000
$50 American Buffalo 1 Oz Gold Coin
0
15,500
64,500
27,500
52,000
234,000
$1 American Eagle 1 Oz Silver Coin
0
0
1,080,500
850,000
850,000
9,281,500
$100 American Eagle 1 Oz Platinum Coin
0
0
14,200
0
0
40,000
$25 American Eagle 1 Oz Palladium Coin
0
0
0
0
0
0
CoinNews will take a one-week break from publishing precious metals pricing articles.