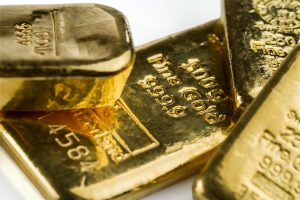 Gold rose slightly on Friday while silver, platinum and palladium declined. All the metals posted weekly gains, however, with those for gold and silver the first in five weeks.
Gold for June delivery edged up 90 cents, or 0.0%, to settle at $1,842.10 an ounce on the Comex division of the New York Mercantile Exchange. The settlement was the highest since May 11.
Gold prices rose 1.9% this week following four straight weekly losses that reduced prices by a combined $166.70 or 8.4%. They are 0.7% higher on the year to date.
In looking ahead to next week, Kitco News offers the following forecasts via their Wall Street & Main Street surveys:
"This week 16 Wall Street analysts participated in Kitco News' gold survey. Among the participants, 12 analysts, or 75%, called for gold prices to rise next week. At the same time, one analyst, or 6%, was bearish on gold in the near term, and three analysts, or 19%, were neutral on prices.

Meanwhile, 1,003 votes were cast in online Main Street polls. Of these, 558 respondents, or 56%, looked for gold to rise next week. Another 243, or 24%, said lower, while 202 voters, or 20%, were neutral in the near term."
Elsewhere, silver for July delivery declined 23.4 cents, or 1.1%, to settle at $21.674 an ounce. Silver prices jumped 3.2% this week following four weekly losses that cut prices by a combined $4.70 or 22.4%. They are down the year by 7.2%.
In PGM prices on Friday and for the week:
July platinum fell $12.60, or 1.3%, to end at $941.10 an ounce, but logged a 1.1% weekly gain.

Palladium for June delivery lost $38.70, or 2%, to end at $1,939.70 an ounce, but also registered an increase on the week of 1.1%.
The two remained divided on the year so far with platinum 2.6% lower and palladium 1.4% higher.
US Mint Bullion Sales in 2022
Published United States Mint bullion sales last week were limited to an increase of 5,000 ounces in American Gold Eagles. The bureau this week released broader gains with advances of 58,500 ounces in American Gold Eagles and 425,000 ounces in American Silver Eagles.
Below is a sales breakdown of U.S. Mint bullion products with columns listing the number of coins sold during varying periods.
US Mint Bullion Sales (# of coins)
Friday
Last Week
This Week
March
April
May
2022 Sales
$50 American Eagle 1 Oz Gold Coin
0
0
57,000
140,500
80,500
93,000
523,500
$25 American Eagle 1/2 Oz Gold Coin
0
0
1,000
5,000
3,000
2,000
55,000
$10 American Eagle 1/4 Oz Gold Coin
0
0
4,000
20,000
14,000
8,000
110,000
$5 American Eagle 1/10 Oz Gold Coin
0
50,000
0
75,000
25,000
50,000
370,000
$50 American Buffalo 1 Oz Gold Coin
0
0
20,000
64,500
27,500
36,500
218,500
$1 American Eagle 1 Oz Silver Coin
0
0
425,000
1,080,500
850,000
850,000
9,281,500
$100 American Eagle 1 Oz Platinum Coin
0
0
0
14,200
0
0
40,000
$25 American Eagle 1 Oz Palladium Coin
0
0
0
0
0
0
0