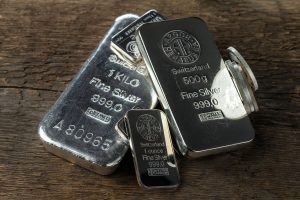 Precious metals finished mostly higher on Thursday, they divided on the month, and they soared in the first quarter. Gold and silver were alone in gaining on the day, month, and quarter.
Gold for June delivery rose $15, or 0.8%, to settle at $1,954 an ounce on the Comex division of the New York Mercantile Exchange.
"Gold prices are modestly higher in midday U.S. trading Thursday, as the bulls stepped in to buy the early slight dip in prices. Oil prices pushing well up from their daily lows after trading sharply down early on also supported the metals markets. Now, the marketplace awaits what is arguably the most important U.S. data point of the month on Friday morning (the jobs data for March)," Jim Wyckoff, a senior analyst at Kitco Inc, said in a daily research note.
Gold futures traded 2.8% higher this month, boosting their first quarterly gain to 6.9%.
Meanwhile, silver for May delivery edged up 2 cents, or 0.08%, to close at $25.133 an ounce. Silver futures traded higher this month by 3.2%, lifting their increase on the quarter to 7.6%. 
In other precious metals futures prices on Thursday and for March:
July platinum dipped $5.40, or 0.5%, to end at $995.80 an ounce, for a monthly loss of 4.1%.

Palladium for June delivery climbed $12.50, or 0.6%, to finish at $2,255.60 an ounce, but logged a monthly decline of 9.9%.
The two registered first quarter increases of 3.1% for platinum and 18% for palladium.
US Mint Bullion Sales in 2022
U.S. Mint bullion sales in March picked up for gold coins but slowed for silver coins. In headline monthly comparisons:
American Eagle gold coins advanced 155,500 ounces in March, logging increases of 73.7% from 89,500 ounces in February and 135.6% from 66,000 ounces in March 2021. American Gold Eagle sales for the year to date at 426,500 ounces are 3.5% higher than the 412,000 ounces sold in the first quarter of last year.

American Eagle silver coins increased 1,080,500 ounces last month, marking declines of 28% from 1.5 million ounces in February and 73.6% from 4,087,000 ounces in March of last year. 2022 American Silver Eagle sales at 7,581,500 ounces are down 37.1% from the 12,053,500 ounces sold during the first three months of 2021.

American Buffalo gold coins advanced 64,500 ounces in March, registering increases of 126.3% from 28,500 ounces in February and 92.5% from 33,500 ounces in March 2021. American Gold Buffalo sales for the year at 154,500 ounces are 39.2% higher than the 111,000 ounces sold in the first quarter of last year.

American Eagle platinum coins increased by 14,200 ounces in March, after starting their yearly gains in February with 25,800 ounces, bringing their 2022 total to 40,000 ounces. Last year's edition did not post any increases until March, rising 35,000 ounces.
Below is a sales breakdown of U.S. Mint bullion products with columns listing the number of coins sold during varying periods.
US Mint Bullion Sales (# of coins)
Thursday
Last Week
This Week
January
February
March
2022 Sales
$50 American Eagle 1 Oz Gold Coin
0
52,500
19,000
123,500
86,000
140,500
350,000
$25 American Eagle 1/2 Oz Gold Coin
0
3,000
1,000
45,000
0
5,000
50,000
$10 American Eagle 1/4 Oz Gold Coin
0
6,000
2,000
64,000
4,000
20,000
88,000
$5 American Eagle 1/10 Oz Gold Coin
0
25,000
5,000
195,000
25,000
75,000
295,000
$50 American Buffalo 1 Oz Gold Coin
0
26,500
11,000
61,500
28,500
64,500
154,500
$1 American Eagle 1 Oz Silver Coin
0
480,500
0
5,001,000
1,500,000
1,080,500
7,581,500
$100 American Eagle 1 Oz Platinum Coin
0
3,000
0
N/A
25,800
14,200
40,000
$25 American Eagle 1 Oz Palladium Coin
0
0
0
0
0
0
0
Tuskegee Airmen 5 oz Silver Coin
0
0
0
0
0
0
0