Celebrated author, poet and civil rights activist Maya Angelou is featured on the first release in the new four-year American Women Quarters™ Program, which debuts today from the United States Mint. Rolls and bags of quarters showcasing Angelou's likeness are available beginning at Noon EST.
| | |
| --- | --- |
| U.S. Mint image of a 2022 Maya Angelou quarter and P, D, and S rolls of them | U.S. Mint image of a 2022 Maya Angelou quarter and a 100-coin bag of them |
Coins included in the collectible products are produced at the U.S. Mint facilities in Philadelphia, Denver, and San Francisco. Each is struck with an uncirculated finish — a better quality compared to coins in general circulation as they are hand-loaded into coining presses, and they are struck on specially burnished blanks.
Angelou was born in 1928 and initially rose to fame through a series of seven autobiographies focusing on her childhood and early adult life. The most noted of these was I Know Why the Caged Bird Sings.
However, being an author was far from her only talent and ambition. She was also prominent in the fields of dance, theater, journalism, and social activism among many other pursuits and passions. Angelou became the first African American woman to write and present a poem at a presidential inauguration and received more than 30 honorary degrees in her acknowledging her contributions of the day. She passed away in 2014 at the age of 86.
Maya Angelou Quarter Designs and Specifications
The reverse or tails side of the new quarter shows Maya Angelou with her arms uplifted. Behind her are a bird in flight and a rising sun meant to symbolize the way she lived and inspired by her poetry. Created by U.S. Mint Artistic Infusion Program (AIP) artist Emily Damstra, the image was selected from among several candidate designs. It was sculpted for coins by United States Mint Medallic Artist Craig A. Campbell.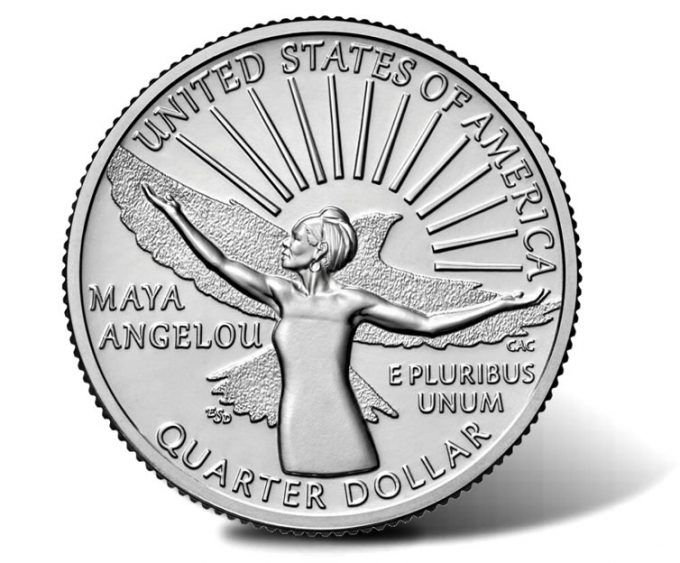 Reverse inscriptions include "UNITED STATES OF AMERICA," "MAYA ANGELOU," "E PLURIBUS UNUM," and "QUARTER DOLLAR."
As the first of this new series, this coin also introduced a new obverse (heads side) likeness of the first President of the United States, George Washington.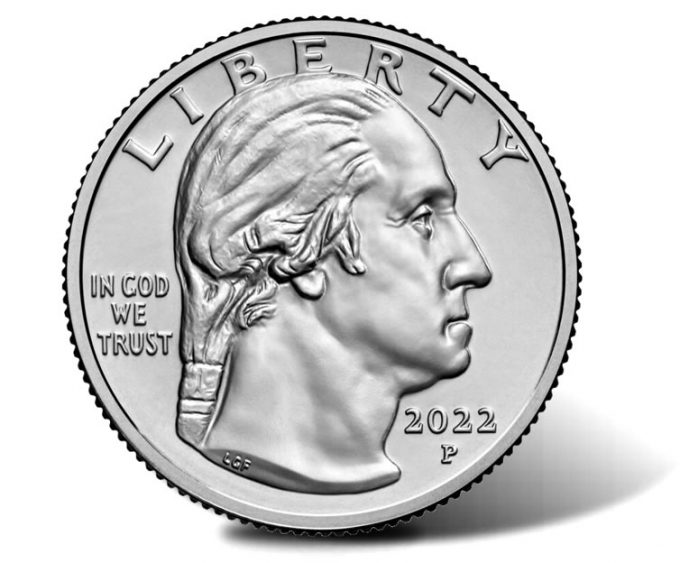 The image of Washington was created by Laura Gardin Fraser, one of the most prolific female sculptors of the early 20th century. She crafted and sculpted the design as a candidate for the 1932 circulating quarter dollar to mark the 200th anniversary of the birth of Washington.
Inscriptions on the obverse include "LIBERTY," "IN GOD WE TRUST," and "2022."
Quarter Specifications
Denomination:
Quarter
Finish:
Uncirculated
Composition:
8.33% nickel, balance copper
Weight:
5.670 grams
Diameter:
0.955 inch (24.26 mm)
Edge:
Reeded
Mint and Mint Mark:
Philadelphia – P
Denver – D
San Francisco – S
Privy Mark:
None
Products and Pricing
There are four options for the release with the following pricing:
Maya Angelou 100-Coin Bag (P) for $40
Maya Angelou 100-Coin Bag (D) for $40
Maya Angelou 2-Roll Set (P&D) with 40 coins per roll for $36
Maya Angelou 3-Roll Set (P, D & S) with 40 coins per roll for $54
P, D or S indicate the facility of production for the coins and represent Philadelphia, Denver and San Francisco.
Ordering
Rolls and bags of Maya Angelou quarters may be ordered from the U.S. Mint's online catalog of American Women Quarters.
U.S. Mint's American Women Quarters™ Program
Authorized under Public Law 116-330, the Mint's new series of quarters will honor 20 trailblazing American women from 2022 to 2025. The four upcoming 2022 quarters celebrate (see 2022 quarter images):
Dr. Sally Ride – physicist, astronaut, educator, and first American woman to soar into space
Wilma Man killer – first woman elected principal chief of the Cherokee Nation and an activist for Native American and women's rights
Nina Otero-Warren – a leader in New Mexico's suffrage movement and the first female superintendent of Santa Fe public schools
Anna May Wong – first Chinese American film star in Hollywood, who left a legacy for women in the film industry
Rolls and bags of Dr. Sally Ride quarters are currently scheduled to launch on March 22. Rolls and bags of the remaining 2022 quarters currently have general U.S. Mint release dates of spring, summer, and fall.
In addition, the Mint will issue a 2022 American Women Quarters Proof Set on March 8 and a 2022 American Women Quarters Proof Set on March 29. Each set will include all five 2022 quarters in collector proof finish, with the silver set featuring coins minted in .999 fine silver. Proof coins feature frosted designs against mirror-like backgrounds.
Special American Women Quarters Ornaments will also be available later this year.