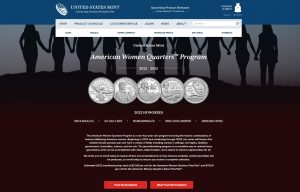 Collectors will have to spend more this year to get new quarter products made and sold by the United States Mint. There are also changes in product offerings.
U.S. Mint prices will be higher for rolls of quarters, bags of quarters, and proof sets showcasing quarters — both clad and silver.
The product adjustments relate to the rolls and bags and explain their higher prices. The quarters' quality changed to uncirculated from circulating. More care is taken in producing uncirculated coins as they are hand-loaded into coining presses and are struck on specially burnished blanks. Older rolls and bags of quarters contain regular circulating strikes like those found in general circulation — they were simply pulled from production floors before getting bagged and shipped for everyday transactions.
In another change to the product line, the U.S. Mint is no longer selling San Francisco-minted quarters in bags, and rolls of them will only be available as a part of a three-roll set. The Mint will continue to offer rolls and bags of quarters from the Philadelphia and Denver Mints.
Kicking off the Mint's four-year series of American Women Quarters™, this year's five uniquely designed quarters celebrate Maya Angelou, Dr. Sally Ride, Wilma Mankiller, Nina Otero-Warren, and Anna May Wong. (See images of the 2022 quarters.)
Along with rolls and bags of each coin, with the first release of Maya Angelou quarters on Monday, Feb. 7, the Mint will also sell all five quarters together in custom-packaged proof sets.
Proof sets hold coins that feature frosted designs and mirror-like backgrounds. Proofs are the highest quality coin produced by the Mint. The clad 2022 American Women Quarters Proof Set launches March 8 and the 99.9% fine 2022 American Women Quarters Silver Proof Set is available March 29. The price increase of the silver set is most noticeable.
Finally, the U.S. Mint will offer five holiday ornaments containing a 2022 quarter. How they will compare to the pair released in 2021, aside from price, is unknown as of this writing.
Product options and pricing for the 2022 quarter products include:
| Product | U.S. Mint Production Facility | Old Prices | New Prices |
| --- | --- | --- | --- |
| 40-coin rolls | San Francisco | $19.75 | N/A |
| Two-roll sets | 40 Philadelphia and 40 Denver | $34.50 | $36 |
| Three-roll sets | 40 San Francisco, 40 Philadelphia, and 40 Denver | $49.25 | $54 |
| 100-coin bags | Philadelphia | $36.75 | $40 |
| 100-coin bags | Denver | $36.75 | $40 |
| 100-coin bags | San Francisco | $36.75 | N/A |
| Clad Quarters Proof Set | San Francisco | $18.50 | $21 |
| Silver Quarters Proof Set | San Francisco | $60.00 | $73 |
| Holiday Ornaments | Philadelphia | $27.95 and $29.95 | $30.95 |
When released, new U.S. Mint quarters may be ordered directly from the Mint's online catalog of quarter products.