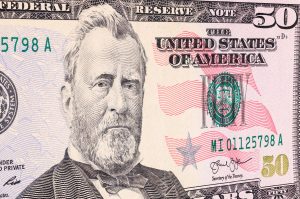 Money production in the United States will be more fluid in 2022 for a second year in a row, according to a 2022 Federal Reserve order for banknotes submitted and published mid-December to the Bureau of Engraving and Printing (BEP). The BEP is a government agency within the Treasury Department that is responsible for printing U.S. currency.
Like last year and unlike those previously, the print order includes ranges of notes by denomination instead of specific amounts, with the overall production total for FY 2022 placed between 6.9 and 9.7 billion notes. This change from the past is attributed to COVID-19.
"The FY 2022 print order is heavily influenced by the COVID-19 pandemic as the Federal Reserve continues to experience unprecedented demand for currency. To better address possible shifts in note demand and note production due to the pandemic, the FY 2022 print order is summarized below as a range by denomination," described the published money order. "During FY 2022, Board and BEP staff will adjust production of each denomination within these ranges to best match available production with demand throughout the year."
The Federal Reserve print order for FY 2021 ranged from 7.5 to 9.6 billion notes. Data for the year shows that the BEP ended up delivering a total of about 7 billion notes.
The figures come from an order approved and submitted by the Board of Governors of the Federal Reserve, the issuing authority for U.S. banknotes. It reflects the board's estimate of net demand for currency in FY 2022 from both domestic and international customers.
"The lower range of the [FY 2022] order is a decrease of about 0.1 billion notes, or 1.6 percent, from the BEP's final delivery of 7.0 billion notes in FY 2021. The upper range of the order is an increase of about 2.7 billion notes, or 32.1 percent, of the FY 2021 final delivery," the print order noted.
Like past years, the latest order shows that most of the banknotes will be $1s, $20s and $100s. It also includes $2 notes for a second straight time. None were ordered in 2020.
Traditionally, most banknotes are produced to replace those taken out of circulation because their condition no longer meets the criteria for recirculation or because they are of older designs. Tradition resumes for 2022.
"As in past years, the primary purpose of the print order is to replace the unfit notes that the Reserve Banks will destroy during normal processing of notes returned from circulation," the Feb Board said in its order.
In 2021, the main driver for money production was to increase "net payments."
Cost of Making Federal Reserve Notes
The BEP's cost of making money varies by banknote. For example, government figures for 2021 show production costs per note at:
6.2 cents for $1s and $2
10.8 cents for $5s
10.8 cents for $10s
11.2 cents for $20s
11.0 cents for $50s
14.0 cents for $100s
The Fed approved a currency operating budget of $1,095.8 million for calendar year 2021, up $271.4 million, or 32.9%, from 2020 forecasted expenses of $824.5 million and includes $1,030 million in BEP costs and $65.8 million in Board costs. A currency budget for 2022 is yet to be published.
Banknote Orders by Denomination
The following table shows how the Fed's latest order breaks down by denomination, number of notes and dollar value:
FY 2022 Federal Reserve Note Print Order
Denomination
Number of Notes
(000s of pieces)
Dollar Value
(000s of dollars)
$1
800,000 to 2,297,600
$800,000 to $2,297,600
$2
102,400 to 204,800
$204,800 to $409,600
$5
403,200 to 601,600
$2,016,000 to $3,008,000
$10
256,000 to 601,600
$2,560,000 to $6,016,000
$20
2,361,600 to 2,598,400
$47,232,000 to $51,968,000
$50
752,000 to 851,200
$37,600,000 to $42,560,000
$100
2,201,600 to 2,499,200
$220,160,000 to $249,920,000
Total
6,876,800 to 9,654,400
$310,572,800 to $356,179,200
The BEP operates on a fiscal year that begins on Oct. 1 and ends on Sept. 30. They agency produces all U.S. banknotes, and the order for 2021 includes currency set aside for numismatic products.
For reference, the next two tables show banknote order totals placed for fiscal years 2021 and 2020:
FY 2021 Federal Reserve Note Print Order
Denomination
Number of Notes
(000s of pieces)
Dollar Value
(000s of dollars)
$1
709,120 to 1,030,400
$709,120 to $1,030,400
$2
38,400 to 51,200
$76,800 to $102,400
$5
419,200 to 467,200
$2,096,000 to $2,336,000
$10
300,800 to 428,800
$3,008,000 to $4,288,000
$20
3,107,200 to 3,968,000
$62,144,000 to $79,360,000
$50
483,200 to 499,200
$24,160,000 to $24,960,000
$100
2,482,176 to 3,196,800
$248,217,600 to $319,680,000
Total
7,568,896 to 9,612,800
$341,237,120 to $430,931,200
FY 2020 Federal Reserve Note Print Order
Denomination
Number of Notes
(000s of pieces)
Dollar Value
(000s of dollars)
$1
1,574,400
$1,574,400
$2
0
$0
$5
736,000
$3,680,000
$10
460,800
$4,608,000
$20
1,241,600
$24,832,000
$50
76,800
$3,840,000
$100
1,078,400
$107,840,000
Total
5,168,000
$146,374,400
Lastly, this Fed chart shows orders from FY 2013 to FY 2022: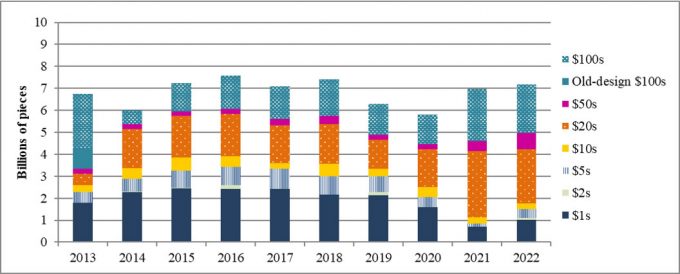 The Bureau of Engraving and Printing produces banknotes at facilities in Fort Worth, TX and Washington, D.C. According to government data, currency in circulation topped $2.23 trillion through the week ended Jan. 12, 2022.