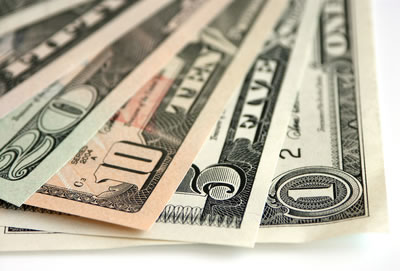 U.S. money production in 2017 is expected to exceed 7.1 billion notes valued at more than $209 billion, according to an order submitted June 27, 2016 to the Bureau of Engraving and Printing (BEP).
Most of the bills will be $1s, $20s and $100s. And for the first time since 2013, the Federal Reserve is not ordering any $2s.
The figures originate from a print order approved and submitted by the Board of Governors of the Federal Reserve, the issuing authority for U.S. banknotes. It reflects the Board's estimate of net demand for currency in FY 2017 from both domestic and international customers. The 7.1 billion total marks a decrease of nearly 0.5 billion notes, or 6.3%, from the almost 7.6 billion notes ordered for 2016.
A majority of the notes needed are to replace those already in or taken out of circulation. Federal Reserve Banks destroy billions of banknotes each year because their condition no longer meets the criteria for recirculation or because they are of older designs. Based on estimates, about 71% of the new notes for 2017 will be replacements.
Cost of Making Federal Reserve Notes
The BEP cost of producing money varies by banknote. Government figures for 2016 show production costs per denomination at:
5.5 cents for each $1 and $2 — up 0.6 cents from 2015.
10.9 cents for every $5 — the same as in 2015.
10.3 cents per $10 — down 0.4 cents from 2015.
10.6 cents for each $20 and $50 — up 0.1 cents from 2015.
14.3 cents for every $100 — up 2 cents from 2015.
Bureau of Engraving and Printing produces all U.S. banknotes, and the 2017 order includes currency set aside for use in products for money collectors.
Lack of $2 Notes for 2017
Fed orders for $2s totaled 44.8 million in 2014; 32 million in 2015; and 179.2 million in 2016. The latest request lacks the denomination since the amount made in 2016 is expected to satisfy demand for multiple years.
Here is a table showing how the Fed's order breaks down by face value, quantity and dollar value:
2017 Federal Reserve Note Print Order
Denomination
Number of Notes
(000s of pieces)
Dollar Value
(000s of dollars)
$1
2,425,600
$2,425,600
$2
0
0
$5
915,200
$4,576,000
$10
262,400
$2,624,000
$20
1,715,200
$34,304,000
$50
268,800
$13,440,000
$100
1,516,800
$151,680,000
Total
7,104,000
$209,049,000
This Fed chart shows print orders between FY 2007 and FY 2017:
The BEP makes banknotes at facilities in Fort Worth, TX and Washington, DC. According to government data, there was approximately $1.46 trillion in circulation as of June 1, 2016, of which $1.4 trillion was in banknotes
The Bureau of Engraving and Printing operates on a fiscal year that begins on October 1 and ends on September 30.