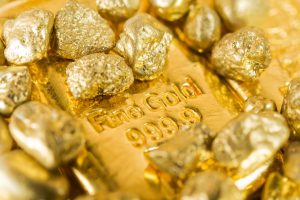 Most precious metals gained on the last trading day of 2021. They were divided on the week, they surged in November, they notched decent to impressive gains for the fourth quarter, but they logged steep yearly declines
Gold for February delivery on Friday rose $14.50, or 0.8%, to settle at $1,828.60 an ounce on the Comex division of the New York Mercantile Exchange. The settlement was the highest since Nov. 19 when gold ended at $1,851.60 an ounce.
Gold prices scored increases of 0.9% for the week, 2.9% for the month, and 4.1% for the quarter. That said, the yellow metal gave back 3.5% this year.
Elsewhere, silver for March delivery tacked on 29.2 cents, or 1.3%, to close at $23.352 an ounce. The settlement was the highest since Nov. 24 when silver ended at $23.496 an ounce. Silver prices posted gains of 1.8% this week, 2.4% in November, and 5.9% in the fourth quarter. They, however, sank 11.6% in 2021.
April platinum added $1.60, or 0.2%, to end at $966.20 an ounce, trimming its weekly loss to 0.9%. Platinum registered gains of 4.2% for the month and 0.4% for the quarter, but it stepped back 10.5% on the year.
Palladium for March delivery dropped $71.10, or 3.6%, to end at $1,912.10 an ounce, dragging prices down this week by 2.3%. Prices soared 12.1% in November and they edged up 0.7% in the fourth quarter, but they sank 22.1% in 2021.
US Mint Bullion Sales in 2021
Demand this year for United States Mint bullion products fared from strong for silver coins to exceptional for gold coins. Here is a summary of the U.S. Mint's 2021 bullion sales by product:
American Eagle silver coins advanced by 28,275,000 ounces this year, down 6% from the 30,089,500 ounces sold in 2020. The most recent two years have been solid for the 1-ounce silver coin. For example, silver Eagles sales logged in at 14,863,500 ounces in 2019 for their lowest sales year since 2007.

Sales of American Eagle gold coins combined to 1,252,500 ounces this year — the most since 2009 and up 48.4% from the 844,000 ounces sold last year. As another recent comparison, they ended at just 152,000 ounces in 2019 for their lowest annual total since the series was introduced in 1986. The U.S. Mint strikes American Gold Eagles in four formats — 1 oz. coin; 1/2 oz. coin; 1/4 oz. coin; and 1/10 oz. coin.

American Buffalo gold coins posted 2021 sales of 350,500 ounces for their best year since the series was introduction in 2006. Last year was also strong for the 24-karat gold pieces at 242,000 ounces — their third best year with intro year 2006 at 323,000 ounces now ranking second. In contrast, they reached 61,500 ounces in 2019 for their weakest sales year on record.

Last year, the Mint limited sales of the five different 2020-dated America the Beautiful 5-ounce silver bullion coins to 45,000 apiece, for a total of 225,000 sold. This year, with the America the Beautiful series ending, only one five-ounce design was released and 52,900 sold.

The final allotment of 2021 American Platinum Eagles sold in May with their total for the year ending at 75,000 coins. Last year's edition topped out at 56,500 coins, with sales ending in April.

In November, the Mint started selling 2021-dated American Palladium Eagles. All 8,700 sold. No bullion edition was issued last year.
Below is a sales breakdown of U.S. Mint bullion products with columns listing the number of coins sold during varying periods. Products with an asterisk (*) are no longer available.
US Mint Bullion Sales (# of coins)
Friday / This Week
Last Week
October
November
December
2021 Sales
$50 American Eagle 1 Oz Gold Coin
0
0
135,500
125,500
41,000
1,115,500
$25 American Eagle 1/2 Oz Gold Coin
0
0
7,000
6,000
1,000
95,000
$10 American Eagle 1/4 Oz Gold Coin
0
0
22,000
10,000
2,000
162,000
$5 American Eagle 1/10 Oz Gold Coin
0
0
85,000
40,000
0
490,000
$50 American Buffalo 1 Oz Gold Coin
0
0
41,000
39,500
10,500
350,500
$1 American Eagle 1 Oz Silver Coin*
0
0
1,076,000
1,523,500
0
28,275,000
$100 American Eagle 1 Oz Platinum Coin*
0
0
0
0
0
75,000
$25 American Eagle 1 Oz Palladium Coin*
0
0
0
8,700
0
8,700
Tuskegee Airmen 5 oz Silver Coin*
0
0
0
0
0
52,900