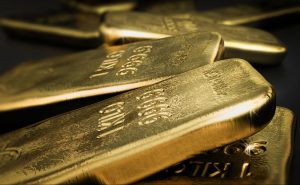 Most precious metals declined on Friday but most of them also scored weekly wins — modest ones for gold and silver and a sharp one for platinum.
Climbing from a six-week settlement low, gold for December delivery edged up $1.90, or 0.1%, to $1,751.70 an ounce on the Comex division of the New York Mercantile Exchange.
"Moving forward, investors should understand that, unless anything noteworthy happens to the dollar index, gold prices will likely be influenced more by investors' risk appetite," wrote Naeem Aslam, chief market analyst at AvaTrade, in a daily note reported by MarketWatch.
Despite gains in four of the last five sessions, gold prices rose just 30 cents this week. The yellow metal posted losses of 2.3% in each of the last two weeks. Gold is 7.6% lower on the year to date.
In looking ahead to next week, Kitco News offers the following forecasts via their Wall Street & Main Street surveys:
"This week 18 Wall Street analysts participated in Kitco News' gold survey. Among the participants, 4, or 22%, called for gold prices to rise. At the same time, 11 analysts, or 61%, called for lower gold prices next week. Three analysts, or 17%, were neutral on gold in the near term.

Meanwhile, a total of 850 votes were cast in online Main Street polls. Of these, 382 respondents, or 45%, looked for gold to rise next week. Another 309, or 36%, said lower, while 159 voters, or 19%, were neutral."
Elsewhere, silver for December delivery declined 25.4 cents, or 1.1%, to $22.425 an ounce, trimming its weekly gain to 0.4%. The precious metal sank 6.5% last week and dropped 3.6% in the week ended Sept. 10. On Monday, at $22.204 an ounce, it logged its weakest close since July 21, 2020. Silver is down 15.1% on the year.
In other precious metal futures on Friday and for the week:
October platinum declined $17.10, or 1.7%, to $979.90 an ounce, but registered a 5.3% weekly gain.

Palladium for December delivery fell $20.70, or 1.1%, to $1,951.10 an ounce, for a 1.7% weekly decline. On Monday, at $1,865.20 an ounce, the metal posted its lowest finish since June 25, 2020.
Both are lower on the year so far with losses of 9.2% for platinum and 20.5% for palladium.
US Mint Bullion Sales in 2021
United States Mint bullion sales this week softened overall for gold and silver coins. In week-over-week comparisons:
Sales of American Gold Eagles rose 22,000 ounces after increasing 33,000 ounces last week.

Sales of American Buffalo gold coins increased 8,500 ounces after climbing 5,500 ounces last week.

Sales of American Silver Eagles rose 485,000 ounces after increasing 1.5 million ounces last week.
Below is a sales breakdown of U.S. Mint bullion products with columns listing the number of coins sold during varying periods.
US Mint Bullion Sales (# of coins)
Friday
Last Week
This Week
August
September
2021 Sales
$50 American Eagle 1 Oz Gold Coin
0
29,500
18,500
112,000
67,500
813,500
$25 American Eagle 1/2 Oz Gold Coin
0
3,000
1,000
21,000
4,000
81,000
$10 American Eagle 1/4 Oz Gold Coin
0
6,000
2,000
34,000
8,000
128,000
$5 American Eagle 1/10 Oz Gold Coin
0
5,000
25,000
50,000
35,000
365,000
$50 American Buffalo 1 Oz Gold Coin
0
5,500
8,500
27,500
24,000
259,500
$1 American Eagle 1 Oz Silver Coin
0
1,500,000
485,000
3,930,000
2,735,000
25,675,500
$100 American Eagle 1 Oz Platinum Coin
0
0
0
0
0
75,000
Tuskegee Airmen 5 oz Silver Coin
0
0
0
0
0
52,900