A trio of captivating gold pieces from three prominent monarchs top the list of 52 English gold coins certified by Numismatic Guaranty Company (NGC) that are being offered in an upcoming Spink auction. Bidding is already underway online for the Horace Hird Collection of Tudor, Stuart and Commonwealth Gold Coins and Patterns sale, scheduled for September 28, 2021.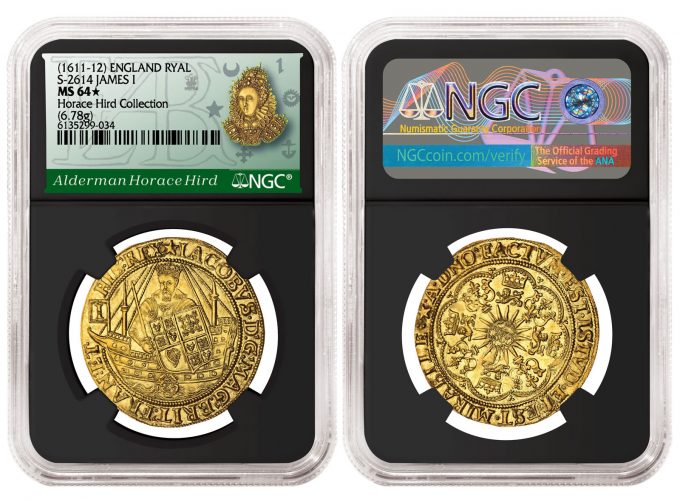 Experts believed that Hird's entire collection had been sold or gifted prior to his death in 1973, but these exquisite coins were recently rediscovered by his family. The sale of these "forgotten" coins provides collectors with a rare opportunity to acquire extraordinary pieces, many of which are the only known example in private hands.
"NGC is pleased to have been entrusted to examine and certify these extremely important rarities from England," said Ben Wengel, NGC Senior Grading Finalizer of World Coins. "One of the wonderful things about numismatics is that such a fascinating group of coins can re-surface at any time and energize the collecting world."
A rare 'Spur Ryal'
Topping the list of the dozens of rarities in the sale is an England (1611-12) Ryal graded NGC MS 64★. Issued during the reign of King James I, the hammered gold coin is sometimes called a "Spur Ryal" because of the image on the reverse, which shows a rose upon a sun with multiple pointed rays radiating outward like spurs.
The front side of the coin, which is also referred to as a "Ship Noble," shows a galleon at sea upon which stands the crowned monarch holding his sword and royal shield. The legend surrounding the design declares him: James, by the grace of God, King of Great Britain, France and Ireland. This obverse design is considered one of the most remarkable to be displayed on English coins.
The awe-inspiring Hird example is considered to be the finest known of the coin either in public or private hands. It has an estimate of £50,000 to £80,000 (about $69,000 to $110,000 USD).
A coin to honor Catherine of Aragon
The Hird sale also offers a very rare England (1526-29) George Noble graded NGC AU 53. The piece was issued by Henry VIII to honor his first wife, Catherine of Aragon.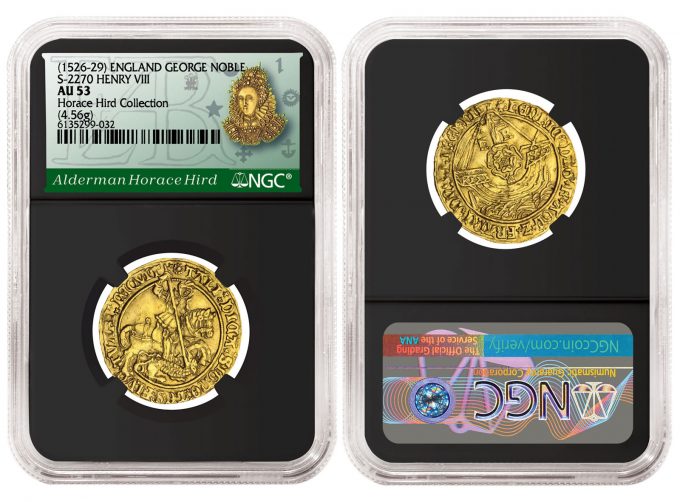 One side of the coin features a sailing ship decorated with a cross and a rose. The ship's mast is flanked by the letters H and K, representing the names of the king and queen. The encircling legend states: Henry by the Grace of God, King of England and France and Lord of Ireland. The other side of the coin shows St. George, patron saint of England, on horseback and slaying a dragon.
The George Noble was struck in limited quantities over a short period of history, making this example a great rarity. It has an estimate of £40,000 to £60,000 (about $55,000 to $83,000 USD).
An Elizabeth I coin rarely seen
An extremely rare coin known as an "Armada Rose Noble" is also among the pieces being offered in the Hird sale. Graded NGC AU 58+, the England (1587-89) Ryal is described by Spink as an "extremely elusive and exclusive Tudor rarity."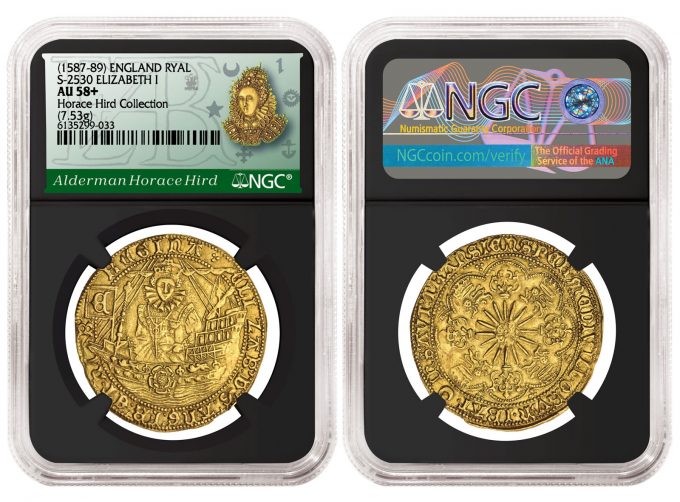 The coin features Elizabeth I on the deck of a Tudor Galleon while holding the royal orb and scepter. It is dubbed the "Armada Rose Noble" due to being struck at the time of the Spanish Armada and bearing the iconic Tudor rose. It is the only example of the coin to appear for sale since Hird acquired it in 1950. It has an estimate of £40,000 to £60,000 (about $55,000 to $83,000 USD).
"Some of these coins may very well represent a once-in-a-lifetime opportunity," said Gregory Edmund, World Coins Specialist with Spink. "Collectors can bid with confidence knowing that these great rarities have been expertly authenticated, graded and encapsulated by NGC."
To celebrate the significance of these "forgotten" coins being discovered, NGC has encapsulated them with a custom-designed label that identifies them as part of the Horace Hird legacy. The label's design includes the NGC logo along with the name "Alderman Horace Hird," acknowledging the official government position held by Hird. It also features the monogram of Queen Elizabeth I and a portrait of the queen as she appears on a rare 1601 Groat coin that is part of the Hird sale. Each coin is encapsulated with a distinguished black core that further enhances their artistry.
Other NGC-certified highlights in the sale include:
an England (1584-86) Sovereign graded NGC MS 62+ (lot 46) with an estimate of £30,000 to £40,000 (about $41,000 to $55,000 USD)
an England 1642 Oxford Triple Unite graded NGC AU 58 (lot 50) with an estimate of £30,000 to £40,000 (about $41,000 to $55,000 USD)
an England (1621-23) Ryal graded NGC MS 62 (lot 35) with an estimate of £20,000 to £30,000 (about $28,000 to $41,000 USD)
an England (1505-09) Sovereign graded NGC XF 40 (lot 42) with an estimate of £20,000 to £30,000 (about $28,000 to $41,000 USD)
an England (1582-84) Sovereign graded NGC AU 55 (lot 45) with an estimate of £20,000 to £30,000 (about $28,000 to $41,000 USD)
an England (1613) Ryal graded NGC MS 63 (lot 49) with an estimate of £20,000 to £30,000 (about $28,000 to $41,000 USD)
To read more about the background of these exceptional coins and their remarkable pedigrees, click here. Watch a video of the coins immediately below.
All estimates are provided by the auction house.
About Numismatic Guaranty Company™ (NGC®)
NGC is the world's largest and most trusted third-party grading service for coins, tokens and medals, with more than 50 million collectibles certified. Founded in 1987, NGC provides an accurate, consistent and impartial assessment of authenticity and grade. Every coin that NGC certifies is backed by the comprehensive NGC Guarantee of authenticity and grade, which gives buyers greater confidence. This results in higher prices realized and greater liquidity for NGC-certified coins. To learn more, visit NGCcoin.com.