Honoring the 41st President of the United States and his wife, the U.S. Mint at noon ET releases the George Herbert Walker Bush Coin & Chronicles Set.
Found within the set are a uniquely minted coin, two medals — one in an ounce of .999 fine silver, a U.S. postage stamp and a biographical booklet. The set comes at a price of $120 with a product limit of 35,000.
"This elegant set makes a unique and memorable gift — perfect for coin and Presidential memorabilia collectors, history buffs, students, or anyone who admires or has an interest in the former President and First Lady," the U.S. Mint notes.
Specifically, the George H.W. Bush Coin & Chronicles Set holds these five items:
One 2020-S Reverse Proof George H.W. Bush Presidential $1 Coin
One George H.W. Bush Presidential Silver Medal
One Barbara Bush First Spouse Bronze Medal
One U.S. postage stamp issued in 2019 to honor President Bush
One 20-page biographical booklet that includes images from the life of Bush and his presidency
Struck at the San Francisco Mint, the reverse proof coin and the silver medal are exclusive to this set.
The $1 coin has another unique aspect in that it features polished, mirror-like design elements that attractively contrast against frosted backgrounds (opposite of a regular proof coin).
Of note, the Mint released an uncirculated version of this same coin in 2020 as a part of its Presidential $1 Coin Program.
Selected from among 11 design candidates, its right-facing portrait was designed by Elana Hagler and sculpted by Joseph Menna. Inscribed around the likeness is "GEORGE H.W. BUSH," "IN GOD WE TRUST," "41st PRESIDENT" and "1989-1993."
As for the $1 coin's reverse (tails side), it depicts the Statue of Liberty as designed and sculpted by Don Everhart. Encircling inscriptions include "UNITED STATES OF AMERICA" and "$1."
Edge-incused inscriptions are "2020," "S" for the mint mark, and "E PLURIBUS UNUM."
Designed and engraved by John Mercanti, the obverse side of the Presidential Silver Medal offers another portrait of Bush with the White House in the background and "GEORGE BUSH" inscribed on the upper left.
The silver medal's reverse, created and engraved by Chester Martin, shows a version of the Presidential Seal, flanked by draped, burning torches of liberty. An inscription at the top reads: "OUR TIME IS A TIME OF HISTORIC CHANGE, WHEN MEN AND NATIONS CAN TRANSFORM HISTORY." An inscription of "INAUGURATED JANUARY 20, 1989" is centered below.
As for the bronze medal, it bears the same basic imagery as the Barbara Bush First Spouse Gold Coins issued earlier in her honor. This includes a portrait of Ms. Bush that was designed by Benjamin Sowards and sculpted by Phebe Hemphill. Added inscriptions are "BARBARA BUSH," "41st" and "1989-1993."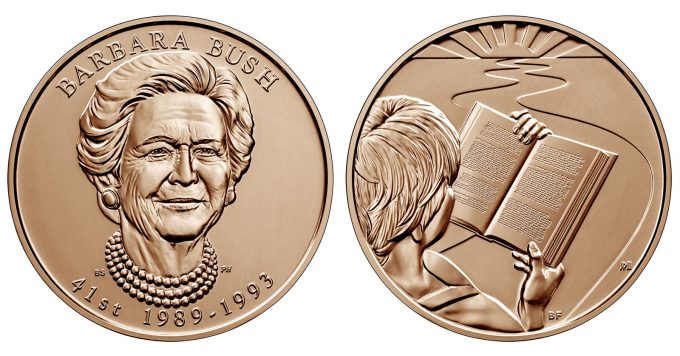 Designed by Barbara Fox and sculpted by John P. McGraw, the medal's reverse shows a person reading a book with an open road before them, symbolizing literacy, knowledge, and life's journey. A depiction of the sun appears above, representing the promise of a brighter future.
The medal is struck at the Philadelphia Mint but does not carry a "P" mint mark. It features a 1 5/16-inch diameter and a composition of 95% copper and 5% zinc.
Ordering
Purchase George H.W. Bush Coin and Chronicles Sets from this U.S. Mint catalog page.
Orders are limited to 10 set per household for the first 24 hours of sales.