Today, Aug. 20, the United States Mint released 2020-W $10 Barbara Bush First Spouse Gold Coins in collector qualities of proof and uncirculated.
An extension of a series last seen from the U.S. Mint four years ago, the coins honor Barbara Bush, wife of George H.W. Bush, the 41st President of the United States. Each features a portrait of the former first lady and is struck from one-half ounce of 24-karat gold.
Barbara Pierce was born in New York City on June 8, 1925. She married George H.W. Bush on Jan. 6, 1945 while he was on leave from his wartime deployment as a Navy pilot. As first lady, she promoted volunteerism to support such causes as homeless, HIV/AIDS patients, and the elderly, but she was best known for her efforts in family literacy. Barbara passed away on April 17, 2018, at the age of 92.
Barbara Bush Gold Coin Designs
Appearing on the coins' obverse (heads side) is a portrait of the first lady. The image was created by AIP artist Benjamin Sowards and sculpted by Mint Medallic Artist Phebe Hemphill.
Around the likeness are inscriptions of "BARBARA BUSH," "IN GOD WE TRUST," "LIBERTY," "2020," "41st" and "1989-1993" for her years as first lady.
Reverses (tails side) feature a design emblematic of Barbara's advocacy for family literacy. The image, created by AIP artist Barbara Fox and sculpted by Mint Medallic Artist John P. McGraw, shows a person reading a book with an open road before them, symbolizing literacy, knowledge, and life's journey. A depiction of the sun appears above, representing the promise of a brighter future.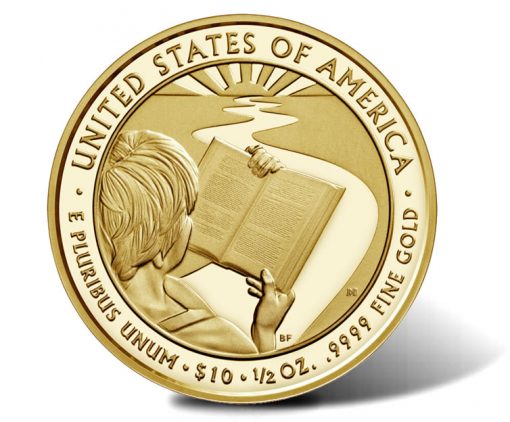 Inscribed around the reverse design are "UNITED STATES OF AMERICA," "E PLURIBUS UNUM," "$10" "1/2 oz.," and ".9999 FINE GOLD."
Coin Specifications
| | |
| --- | --- |
| Denomination: | $10 |
| Finish: | Uncirculated |
| Composition: | 99.99% Gold |
| Diameter: | 1.043 inches (26.49 mm) |
| Weight: | 0.5000 troy oz. (15.554 grams) |
| Edge: | Reeded |
| Mint and Mint Mark: | West Point — W |
First Spouse and Associated Presidential Coins
The Barbara Bush coins are issued by the United States Mint as a continuation of its First Spouse Gold Coin Program, which was originally authorized under the Presidential $1 Coin Act of 2005 (Public Law 109-145). Also part of this same Act is $1 coins honoring the Presidents themselves.
The coin programs were extended earlier this year with the passage of the President George H.W. Bush and First Spouse Barbara Bush Coin Act (Public Law 116-112).
A George H.W. Bush Presidential $1 Coin will be issued with an on-sale date announced by the U.S. Mint later this year.
Pricing, Ordering and Limits
Prices are $1,360 for the proof and $1,340 for the uncirculated. These are subject to change weekly according to the U.S. Mint pricing schedule for gold coins. Current prices are based on an average of LBMA gold that is within the range of $1,950.00 to $1,999.99 an ounce.
Barbara Bush First Spouse Gold Coins are available directly from the United States Mint online store for gold products.
Mintage limits are 3,000 for the proof and 2,000 for the uncirculated. In addition, an initial household order limit of one per version applies.