Designs have been reviewed and a final one recommended for the upcoming 2020 George H.W. Bush Presidential dollar. The selected artwork features a portrait of the 41st president of the United States.
The last dollars issued from the U.S. Mint's Presidential $1 Coin Program launched in 2016 and featured Richard Nixon, Gerald Ford, and Ronald Reagan. The program was extended earlier this year with the passage of the President George H.W. Bush and First Spouse Barbara Bush Coin Act (Public Law 116-112).
Made for coin collectors, the dollars are produced and sold by the U.S. Mint. They are not distributed into circulation like cents, nickels, dimes and quarters.
All series' dollars bear a unique presidential portrait on their obverse (heads side). They share the same reverse design depicting the Statue of Liberty.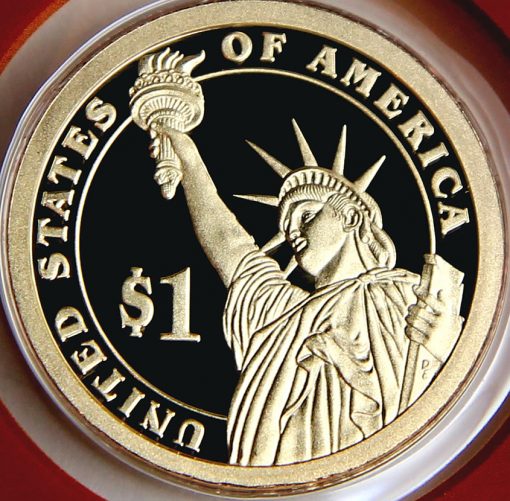 The Citizens Coinage Advisory Committee (CCAC) reviewed the George H.W. Bush dollar designs today, April 14, and the Commission of Fine Arts (CFA) appraised them on Feb. 20. The CFA lacked a quorum on the 20th but confirmed their selection in their meeting held March 19.
Both panels recommended obverse design #1 which shows a three-quarter portrait of the president smiling. This design was also favored by the Bush family.
Bush Presidential $1 Coin Design Candidates
In total, 11 candidates were presented. An image of them follows.
U.S. Treasury Secretary Steven Mnuchin has the last say in all coin designs but a switch from the recommended design is unlikely.