The United States Mint last week started selling its limited-production U.S. Air Force 2.5 Ounce Silver Medal. The government agency's latest sales stats show that the medal was its best weekly seller.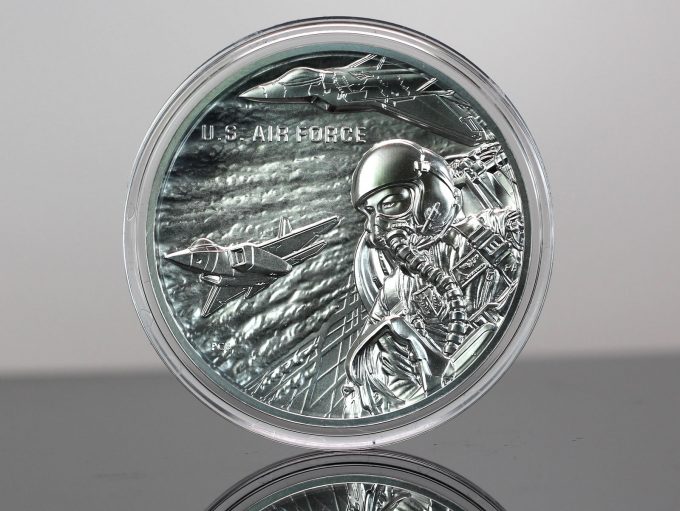 Released Tuesday, July 13 for $160, the "currently unavailable" collectible posted sales of 9,302 units through Sunday, July 18. The Mint's allotted mintage for the 2-inch diameter piece is 10,000 units.
Weekly U.S. Mint Top Sellers
Here's the listing of the Mint's most popular numismatic products for the week ending July 18:
U.S. Air Force 2.5 Ounce Silver Medal (+9,302)
2021 Proof Set (+2,510 to 319,382)
2021 Silver Proof Set (+1,370 to 213,387)
2020-S Reverse Proof Massachusetts American Innovation Dollar (+595 to 40,394)
2021-P Proof Christa McAuliffe Silver Dollar (+415 to 41,901)
2021 Birth Set (+339 to 20,595)
2021-P Proof National Law Enforcement Silver Dollar (+234 to 23,195)
2020 American Innovation Dollar Proof Set (+226 to 93,452)
2020-S Reverse Proof Maryland American Innovation Dollar (+167 to 38,213)
2021-P New Hampshire American Innovation 25-Coin Rolls (+142 to 6,120)
In its latest report, the U.S. Mint published sales data for 279 numismatic products. Thirty-five of them outperformed their prior weekly gains compared to 71 previously. Not counting the new medal so as to compare apples to apples, 2 products increased by more than 1,000 units just like in the previous report.
In addition, 19 products saw their sales reduced compared to 2 previously. The reductions ranged from 1 to 34 with the latter tagged to the 2021-P Tuskegee Airmen Five Ounce Silver Uncirculated Coin.
US Mint Sales: Numismatic Products
Below are tables showing the latest available sales for U.S. Mint numismatic products. The sales period covers from July 13 to 18. Products with an asterisk (*) are no longer available or had no reported sales.
2021 Morgan and Peace Silver Dollars

Old
Sales
Latest
Sales
Gain/
Loss
%
Increase
2021 Morgan Silver Dollar with CC Privy Mark
173,646
173,616
-30
-0.02%
2021 Morgan Silver Dollar with O Privy Mark
173,578
173,567
-11
-0.01%

2021 Christa McAuliffe Silver Dollars

Old
Sales
Latest
Sales
Gain/
Loss
%
Increase
2021-P Proof Silver Dollar
41,486
41,901
415
1.00%
2021-P Uncirculated Silver Dollar
12,921
12,992
71
0.55%

2021 National Law Enforcement Memorial and Museum Commemorative Coins

Old
Sales
Latest
Sales
Gain/
Loss
%
Increase
2021-W Proof $5 Gold Coin
1,111
1,131
20
1.80%
2021-W Uncirculated $5 Gold Coin
1,183
1,197
14
1.18%
2021-P Proof Silver Dollar
22,961
23,195
234
1.02%
2021-P Uncirculated Silver Dollar
7,491
7,523
32
0.43%
2021-S Proof Half Dollar
18,978
19,102
124
0.65%
2021-D Uncirculated Half Dollar
8,459
8,509
50
0.59%
2021 Three-Coin Proof Set
3,776
3,793
17
0.45%

Armed Forces Silver Medal

Old
Sales
Latest
Sales
Gain/
Loss
%
Increase
U.S. Air Force 2.5 Ounce Silver Medal
–
9,302
–
–

2020 Basketball Hall of Fame Commemorative Coins

Old
Sales
Latest
Sales
Gain/
Loss
%
Increase
2020-W Proof $5 Basketball Gold Coin
8,070
8,070
–
–
2020-W Uncirculated $5 Basketball Gold Coin
3,261
3,261
–
–
2020-P Proof Basketball Silver Dollar
68,756
68,756
–
–
2020-P Uncirculated Basketball Silver Dollar
21,317
21,317
–
–
2020-S Proof Basketball Half Dollar
26,572
26,572
–
–
2020-D Uncirculated Basketball Half Dollar
13,635
13,635
–
–
2020 Basketball Kids Set
22,533
22,533
–
–
2020-P Colorized Basketball Silver Dollar
25,719
25,719
–
–
2020-S Colorized Basketball Half Dollar
32,581
32,581
–
–

2020 Women's Suffrage Centennial Products

Old
Sales
Latest
Sales
Gain/
Loss
%
Increase
2020-P Proof Silver Dollar
33,441
33,441
–
–
2020-P Uncirculated Silver Dollar
12,601
12,601
–
–
2020-P Proof Silver Dollar and Medal Set
9,995
9,995
–
–

American Liberty Products

Old
Sales
Latest
Sales
Gain/
Loss
%
Increase
2019-W $100 American Liberty Gold Coin
24,610
24,609
-1
0.00%
2019-P American Liberty Silver Medal
44,928
44,928
–
–
2018-W $10 American Liberty Gold Coin
42,675
42,685
10
0.02%
2017 American Liberty Silver Four-Medal Set*
32,647
32,647
–
–
2017-S Enhanced Uncirculated Coin Set*
210,419
210,419
–
–
2017-W $100 American Liberty Gold Coin
33,809
33,821
12
0.04%
2017-P Proof American Liberty Silver Medal*
55,187
55,187
–
–

400th Anniversary of Mayflower Voyager Products

Old
Sales
Latest
Sales
Gain/
Loss
%
Increase
2020 Mayflower 400th Anniversary Two-Coin Gold Proof Set
4,744
4,743
-1
-0.02%
2020 Mayflower 400th Anniversary Reverse Proof Gold Coin
4,881
4,881
–
–
2020 Mayflower 400th Anniversary Proof Silver Coin and Medal Set
9,073
9,072
-1
-0.01%
2020 Mayflower 400th Anniversary Reverse Proof Silver Medal
19,613
19,613
–
–

2020 End of WWII Coins and Medal

Old
Sales
Latest
Sales
Gain/
Loss
%
Increase
2020-W $25 Gold Coin
7,367
7,367
–
–
2020 Silver Medal
19,703
19,703
–
–

Clad Proof Set

Old
Sales
Latest
Sales
Gain/
Loss
%
Increase
2021 Proof Set
316,872
319,382
2,510
0.79%
2020 Proof Set
465,096
465,091
-5
0.00%
2019 Proof Set
600,428
600,428
–
–
2018 Proof Set*
517,081
517,081
–
–
2017 Proof Set*
568,678
568,678
–
–
2020 American Innovation Dollars Proof Set
93,226
93,452
226
0.24%
2019 American Innovation Dollars Proof Set
130,763
130,889
126
0.10%
2020 America the Beautiful Quarters Proof Set
64,242
64,242
–
–
2019 America the Beautiful Quarters Proof Set
77,294
77,320
26
0.03%
2018 America the Beautiful Quarters Proof Set*
86,697
86,697
–
–
2021 Happy Birthday Gift Set
16,985
16,985
–
–
2020 Happy Birthday Gift Set
16,738
16,738
–
–
2019 Happy Birthday Gift Set
19,097
19,097
–
–
2018 Happy Birthday Gift Set*
17,719
17,719
–
–
2021 Birth Gift Set
20,256
20,595
339
1.67%
2020 Birth Gift Set
29,330
29,330
–
–
2019 Birth Gift Set
29,530
29,530
–
–
2018 Birth Gift Set
34,032
34,032
–
–

Silver Proof Sets

Old
Sales
Latest
Sales
Gain/
Loss
%
Increase
2021 Silver Proof Set
212,017
213,387
1,370
0.65%
2020 Silver Proof Set
313,246
313,246
–
–
2019 Silver Proof Set*
412,508
412,508
–
–
2018 Silver Proof Set*
332,274
332,274
–
–
2018 Silver Reverse Proof Set*
199,116
199,116
–
–
2020 America the Beautiful Quarters Silver Proof Set
64,016
64,012
-4
-0.01%
2019 America the Beautiful Quarters Silver Proof Set
78,585
78,585
–
–
2018 America the Beautiful Quarters Silver Proof Set*
79,301
79,301
–
–
2021 Congratulations Gift Set
39,997
39,997
–
–
2020 Congratulations Gift Set
24,443
24,443
–
–
2019 Congratulations Gift Set
31,639
31,639
–
–
2020 Limited Edition Silver Proof Set
49,506
49,506
–
–
2019 Limited Edition Silver Proof Set*
47,404
47,404
–
–
2018 Limited Edition Silver Proof Set*
49,479
49,479
–
–

US Mint Uncirculated Sets

Old
Sales
Latest
Sales
Gain/
Loss
%
Increase
2019 Native American $1 Coin and Currency Set
46,964
46,964
–
–
2020 Uncirculated Mint Set
211,798
211,788
-10
0.00%
2019 Uncirculated Mint Set
346,117
346,117
–
–
2018 Uncirculated Mint Set*
257,536
257,536
–
–
2017 Uncirculated Mint Set*
286,813
286,813
–
–

Kids Coin Sets

Old
Sales
Latest
Sales
Gain/
Loss
%
Increase
2019 Youth Coin and Currency Set
15,266
15,330
64
0.42%
2019 Explore and Discover Coin Set
36,564
36,573
9
0.02%
2019 Rocketship*
49,921
49,921
–
–
2014 Coin Discovery Set*
13,151
13,151
–
–

Ornaments

Old
Sales
Latest
Sales
Gain/
Loss
%
Increase
2020 Mighty Minters Ornament
3,345
3,351
6
0.18%
2020 U.S. Mint Ornament
4,844
4,853
9
0.19%
2019 Mighty Minters Ornament
5,890
5,894
4
0.07%
2019 U.S. Mint Ornament
10,026
10,029
3
0.03%

Proof Silver Eagles

Old
Sales
Latest
Sales
Gain/
Loss
%
Increase
2021-W Proof Silver Eagle
299,525
299,521
-4
0.00%
2021-W Proof Silver Eagle (Bulk – 40 Coins)
686
686
–
–
2020-W End of WWII Proof Silver Eagle
74,743
74,743
–
–
2020-W Proof Silver Eagle
357,112
357,112
–
–
2020-W Proof Silver Eagle (Bulk – 40 Coins)
600
600
–
–
2020-S Proof Silver Eagle
191,271
191,271
–
–
2020-S Proof Silver Eagle (Bulk – 40 Coins)
440
440
–
–
2019-S Enhanced Reverse Proof Proof Silver Eagle*
29,909
29,909
–
–
2019-S Proof Silver Eagle
146,799
146,799
–
–
2019-S Proof Silver Eagle (Bulk – 40 Coins)*
137
137
–
–
2019 Pride of Nations Two-Coin Set*
99,675
99,675
–
–
2019-W Proof Silver Eagle*
345,380
345,380
–
–
2019-W Proof Silver Eagle (Bulk – 40 Coins)*
745
745
–
–

Uncirculated Silver Eagles

Old
Sales
Latest
Sales
Gain/
Loss
%
Increase
2020
154,264
154,264
–
–
2020 Bulk 40*
15
15
–
–
2019
138,390
138,390
–
–
2019 Bulk 40*
66
66
–
–

2021 Proof American Eagle Gold Coins

Old
Sales
Latest
Sales
Gain/
Loss
%
Increase
1 oz
4,409
4,408
-1
-0.02%
1/2 oz
1,586
1,586
–
–
1/4 oz
2,682
2,682
–
–
1/10 oz
7,951
7,951
–
–
4-Coin Set
8,157
8,155
-2
-0.02%

2020 Proof American Eagle Gold Coins

Old
Sales
Latest
Sales
Gain/
Loss
%
Increase
1 oz End of WWII
1,939
1,939
–
–
1 oz
5,784
5,784
–
–
1/2 oz
2,446
2,446
–
–
1/4 oz
4,232
4,232
–
–
1/10 oz
12,466
12,466
–
–
4-Coin Set
11,200
11,229
29
0.26%

2019 Proof American Eagle Gold Coins

Old
Sales
Latest
Sales
Gain/
Loss
%
Increase
1 oz
5,872
5,872
–
–
1/2 oz*
1,876
1,876
–
–
1/4 oz*
3,035
3,035
–
–
1/10 oz*
10,231
10,231
–
–
4-Coin Set
8,825
8,823
-2
-0.02%

Uncirculated American Eagle Gold Coins

Old
Sales
Latest
Sales
Gain/
Loss
%
Increase
2020
6,284
6,284
–
–
2019*
5,851
5,851
–
–
2018*
8,518
8,518
–
–
2017*
5,800
5,800
–
–

Proof American Buffalo Gold Coins

Old
Sales
Latest
Sales
Gain/
Loss
%
Increase
2021 Proof Gold Buffalo
12,660
12,708
48
0.38%
2020 Proof Gold Buffalo
11,887
11,887
–
–
2019 Proof Gold Buffalo
14,844
14,844
–
–
2018 Proof Gold Buffalo*
15,756
15,756
–
–
2017 Proof Gold Buffalo*
15,810
15,810
–
–

Proof American Platinum Eagle

Old
Sales
Latest
Sales
Gain/
Loss
%
Increase
2021
8,404
8,508
104
1.24%
2020
8,630
8,655
25
0.29%
2019
11,268
11,268
–
–
2018
14,867
14,885
18
0.12%
2017*
8,890
8,890
–
–

American Palladium Eagle

Old
Sales
Latest
Sales
Gain/
Loss
%
Increase
2020-W Uncirculated
9,320
9,314
-6
-0.06%
2019-W Reverse Proof
18,480
18,482
2
0.01%
2018-W Proof*
14,986
14,986
–
–

First Spouse Gold Coins

Old
Sales
Latest

Sales

Gain/
Loss
%
Increase
2020-W Proof Barbara Bush First Spouse Gold Coin
2,686
2,688
2
0.07%
2020-W Uncirculated Barbara Bush First Spouse Gold Coin
1,719
1,724
5
0.29%

America the Beautiful 5 Oz Silver Coins

Old
Sales
Latest
Sales
Gain/
Loss
%
Increase
2021-P Tuskegee Airmen Silver Uncirculated Coin
19,857
19,823
-34
-0.17%
2020-P Tallgrass Prairie Silver Uncirculated Coin
13,618
13,618
–
–
2020-P Marsh-Billings-Rockefeller Silver Uncirculated Coin
13,551
13,550
-1
-0.01%
2020-P Salt River Bay Silver Uncirculated Coin
13,566
13,566
–
–
2020-P Weir Farm Silver Uncirculated Coin
15,328
15,328
–
–
2020-P National Park of American Samoa Silver Uncirculated Coin
15,781
15,781
–
–
2019-P River of No Return Silver Uncirculated Coin
16,310
16,310
–
–
2019-P San Antonio Missions Silver Uncirculated Coin
16,211
16,211
–
–
2019-P War In The Pacific Silver Uncirculated Coin
16,277
16,277
–
–
2019-P American Memorial Park Silver Uncirculated Coin
16,287
16,287
–
–
2019-P Lowell Five Ounce Silver Uncirculated Coin
16,644
16,644
–
–
2018-P Block Island Silver Coins*
15,913
15,913
–
–
2018-P Cumberland Island Silver Coins*
16,377
16,377
–
–
2018-P Voyageurs Silver Coins*
16,839
16,839
–
–
2018-P Apostle Islands Silver Coins*
16,802
16,802
–
–
2018-P Pictured Rocks Silver Coins*
17,773
17,773
–
–
2017-P George Rogers Clark Silver Coins*
14,731
14,731
–
–
2017-P Ellis Island Silver Coins*
17,670
17,670
–
–
2017-P Ozark Riverways Silver Coins
17,694
17,694
–
–
2017-P Frederick Douglass Silver Coins*
17,678
17,678
–
–
2017-P Effigy Mounds Silver Coins*
17,251
17,251
–
–

Presidential Silver Medals

Old
Sales
Latest
Sales
Gain/
Loss
%
Increase
2021 William Henry Harrison Presidential Silver Medal
11,059
11,122
63
0.57%
2021 Martin Van Buren Presidential Silver Medal
11,558
11,610
52
0.45%
2020 Andrew Jackson Presidential Silver Medal
14,266
14,292
26
0.18%
2019 John Quincy Adams Presidential Silver Medal
12,986
13,002
16
0.12%
2019 James Monroe Presidential Silver Medal
13,528
13,542
14
0.10%
2019 James Madison Presidential Silver Medal
14,540
14,556
16
0.11%
2019 Thomas Jefferson Presidential Silver Medal
20,111
20,137
26
0.13%
2018 George Washington Presidential Silver Medal
29,216
29,254
38
0.13%
2018 John Adams Presidential Silver Medal
21,023
21,047
24
0.11%

2020 American Innovation Dollars – New Hampshire

Old
Sales
Latest
Sales
Gain/
Loss
%
Increase
25-coin roll set (P)
5,978
6,120
142
2.38%
25-coin roll set (D)
5,525
5,667
142
2.57%
100-coin bag (P)
2,074
2,129
55
2.65%
100-coin bag (D)
2,236
2,309
73
3.26%

2020 American Innovation Dollars – South Carolina

Old
Sales
Latest
Sales
Gain/
Loss
%
Increase
Reverse Proof (S)
33,693
33,732
39
0.12%
25-coin roll set (P)
6,378
6,378
–
–
25-coin roll set (D)
6,204
6,263
59
0.95%
100-coin bag (P)
2,409
2,443
34
1.41%
100-coin bag (D)
2,378
2,378
–
–

2020 American Innovation Dollars – Maryland

Old
Sales
Latest
Sales
Gain/
Loss
%
Increase
Reverse Proof (S)
38,046
38,213
167
0.44%
25-coin roll set (P)
6,493
6,493
–
–
25-coin roll set (D)
6,471
6,471
–
–
100-coin bag (P)
2,725
2,725
–
–
100-coin bag (D)
2,737
2,737
–
–

2020 American Innovation Dollars – Massachusetts

Old
Sales
Latest
Sales
Gain/
Loss
%
Increase
Reverse Proof (S)
39,799
40,394
595
1.50%
25-coin roll set (P)
6,486
6,486
–
–
25-coin roll set (D)
6,482
6,482
–
–
100-coin bag (P)
2,746
2,746
–
–
100-coin bag (D)
2,748
2,748
–
–

2020 American Innovation Dollars – Connecticut

Old
Sales
Latest
Sales
Gain/
Loss
%
Increase
Reverse Proof (S)
42,098
42,125
27
0.06%
25-coin roll set (P)
6,172
6,185
13
0.21%
25-coin roll set (D)
5,981
5,997
16
0.27%
100-coin bag (P)
2,431
2,431
–
–
100-coin bag (D)
2,747
2,747
–
–

2019 American Innovation Dollars – Georgia

Old
Sales
Latest
Sales
Gain/
Loss
%
Increase
Reverse Proof (S)
41,895
41,919
24
0.06%
25-coin roll set (P)
6,771
6,780
9
0.13%
25-coin roll set (D)
6,378
6,388
10
0.16%
100-coin bag (P)
2,555
2,556
1
0.04%
100-coin bag (D)
2,445
2,446
1
0.04%

2019 American Innovation Dollars – New Jersey

Old
Sales
Latest
Sales
Gain/
Loss
%
Increase
Reverse Proof (S)
45,205
45,228
23
0.05%
25-coin roll set (P)
7,355
7,361
6
0.08%
25-coin roll set (D)
6,712
6,720
8
0.12%
100-coin bag (P)
2,913
2,921
8
0.27%
100-coin bag (D)
2,682
2,689
7
0.26%

2019 American Innovation Dollars – Pennsylvania

Old
Sales
Latest
Sales
Gain/
Loss
%
Increase
Reverse Proof (S)
49,346
49,374
28
0.06%
25-coin roll set (P)
8,269
8,278
9
0.11%
25-coin roll set (D)
7,149
7,155
6
0.08%
100-coin bag (P)
2,586
2,591
5
0.19%
100-coin bag (D)
2,474
2,477
3
0.12%

2019 American Innovation Dollars – Delaware

Old
Sales
Latest
Sales
Gain/
Loss
%
Increase
Reverse Proof (S)
65,026
65,046
20
0.03%
25-coin roll set (P)
7,792
7,797
5
0.06%
25-coin roll set (D)
7,283
7,291
8
0.11%
100-coin bag (P)
2,434
2,435
1
0.04%
100-coin bag (D)
2,656
2,656
–
–

2018 American Innovation Dollars

Old
Sales
Latest
Sales
Gain/
Loss
%
Increase
Reverse Proof (S)*
74,720
74,720
–
–
Proof Coin (S)
234,430
234,533
103
0.04%
25-coin roll set (P)
19,392
19,397
5
0.03%
25-coin roll set (D)
22,732
22,738
6
0.03%
100-coin bag (P)*
2,935
2,935
–
–
100-coin bag (D)*
2,954
2,954
–
–

2020 Bush Presidential $1 Coin & First Spouse Medal Set

Old
Sales
Latest
Sales
Gain/
Loss
%
Increase
$1 Coin & Set
9,876
9,876
–
–

2020 George H.W. Bush Presidential $1 Coins

Old
Sales
Latest
Sales
Gain/
Loss
%
Increase
25-coin roll (P)
17,804
17,904
100
0.56%
25-coin roll (D)
15,541
15,624
83
0.53%
100-coin bag (P)
2,670
2,668
-2
-0.07%
100-coin bag (D)
2,098
2,098
–
–
250-coin bag (P)
1,604
1,620
16
1.00%
250-coin bag (D)
3,175
3,183
8
0.25%

Native American Dollar Rolls

Old
Sales
Latest
Sales
Gain/
Loss
%
Increase
2021-P Native American $1 25 Coin Roll
12,209
12,290
81
0.66%
2021-D Native American $1 25 Coin Roll
11,768
11,837
69
0.59%
2021-P Native American $1 100-Coin Bag
1,705
1,704
-1
-0.06%
2021-D Native American $1 100-Coin Bag
1,619
1,618
-1
-0.06%
2021-P Native American $1 250-Coin Box
1,010
1,016
6
0.59%
2021-D Native American $1 250-Coin Box
1,228
1,242
14
1.14%
2020-dated 25-coin roll set (P)
15,752
15,772
20
0.13%
2020-dated 25-coin roll set (D)
15,075
15,101
26
0.17%
2020-dated 100-coin bag (P)
1,960
1,960
–
–
2020-dated 100-coin bag (D)
1,981
1,981
–
–
2020-dated 250-coin box (P)
1,653
1,656
3
0.18%
2020-dated 250-coin box (D)
1,889
1,892
3
0.16%
2019-dated 25-coin roll set (P)
17,776
17,776
–
–
2019-dated 25-coin roll set (D)
17,075
17,075
–
–
2019-dated 100-coin bag (P)
1,829
1,829
–
–
2019-dated 100-coin bag (D)
1,766
1,766
–
–
2019-dated 250-coin box (P)*
1,734
1,734
–
–
2019-dated 250-coin box (D)
1,949
1,949
–
–

Kennedy Half Dollar Rolls

Old
Sales
Latest
Sales
Gain/
Loss
%
Increase
2021-dated 200-coin bag (P&D)
6,528
6,610
82
1.26%
2021-dated 2-roll set (P&D)
21,976
21,964
-12
-0.05%
2020-dated 200-coin bag (P&D)
11,729
11,775
46
0.39%
2020-dated 2-roll set (P&D)
24,312
24,312
–
–
2019-dated 200-coin bag (P&D)
11,534
11,534
–
–
2019-dated 2-roll set (P&D)
24,132
24,132
–
–

America the Beautiful Quarters Uncirculated Coin Set

Old
Sales
Latest
Sales
Gain/
Loss
%
Increase
2020 Issue
24,791
24,791
–
–
2019 Issue
32,252
32,252
–
–
2018 Issue*
32,648
32,648
–
–
2017 Issue*
29,972
29,972
–
–

America the Beautiful Quarters Circulating Coin Set

Old
Sales
Latest
Sales
Gain/
Loss
%
Increase
2020 Issue
24,849
24,849
–
–
2019 Issue
22,819
22,819
–
–
2018 Issue
22,641
22,641
–
–
2017 Issue*
24,765
24,765
–
–
2016 Issue*
23,958
23,958
–
–

America the Beautiful Quarters Three-Coin Sets

Old
Sales
Latest
Sales
Gain/
Loss
%
Increase
Tuskegee Airmen
15,471
15,471
–
–
Tallgrass Prairie
15,239
15,239
–
–
Marsh-Billings-Rockefeller
13,703
13,718
15
0.11%
Salt River Bay
13,763
13,774
11
0.08%
Weir Farm
13,942
13,952
10
0.07%
National Park of American Samoa
15,385
15,385
–
–
River of No Return
14,003
14,011
8
0.06%
San Antonio Missions
15,394
15,394
–
–
War in Pacific
15,419
15,419
–
–
American Memorial Park
15,319
15,331
12
0.08%
Lowell
15,423
15,423
–
–
Block Island
14,503
14,515
12
0.08%
Cumberland Island
14,562
14,571
9
0.06%
Voyageurs
15,266
15,266
–
–
Apostle Islands
15,241
15,241
–
–
Pictured Rocks*
15,397
15,397
–
–
George Rogers Clark*
14,133
14,133
–
–
Ellis Island*
16,947
16,947
–
–
Ozark Riverways*
14,912
14,912
–
–
Frederick Douglass*
15,566
15,566
–
–
Effigy Mounds*
14,516
14,516
–
–
Fort Moultrie*
13,306
13,306
–
–
Theodore Roosevelt*
16,072
16,072
–
–
Harpers Ferry*
14,345
14,345
–
–
Cumberland Gap*
14,973
14,973
–
–
Shawnee*
15,474
15,474
–
–
Saratoga*
14,950
14,950
–
–
Bombay Hook*
13,400
13,400
–
–
Blue Ridge Parkway*
17,165
17,165
–
–
Kisatchie Set*
15,196
15,196
–
–
Homestead Set*
16,114
16,114
–
–
Everglades Set*
14,373
14,373
–
–
Great Sand Dunes Set*
14,119
14,119
–
–
Arches Three-Coin Set*
15,859
15,859
–
–
Shenandoah Three-Coin Set*
17,351
17,351
–
–
Great Smoky Mountains Set*
18,588
18,588
–
–
Mount Rushmore Quarters Set*
17,924
17,924
–
–
Fort McHenry Quarters Set*
16,345
16,345
–
–
Great Basin Quarters Set*
15,526
15,526
–
–
Perry's Victory Quarters Set*
17,643
17,643
–
–
White Mountain Quarters Set*
18,056
18,056
–
–
Denali Quarters Set*
18,193
18,193
–
–
Hawaii Volcanoes Quarters Set*
19,947
19,947
–
–
Acadia Quarters Set*
19,940
19,940
–
–
Chaco Culture Quarters Set*
20,028
20,028
–
–
El Yunque Quarters Set*
19,891
19,891
–
–
Chickasaw Quarters Set*
16,184
16,184
–
–
Vicksburg Quarters Set*
18,095
18,095
–
–
Olympic Quarters Set*
17,718
17,718
–
–
Glacier Quarters Set*
19,046
19,046
–
–
Gettysburg Quarters Set*
22,869
22,869
–
–
Mount Hood Quarters Set*
18,384
18,384
–
–
Grand Canyon Quarters Set*
22,133
22,133
–
–
Yosemite Quarters Set*
22,154
22,154
–
–
Yellowstone Quarters Set*
25,048
25,048
–
–
Hot Springs Quarters Set*
23,203
23,203
–
–

2021 Tuskegee Airmen Quarters

Old
Sales
Latest
Sales
Gain/
Loss
%
Increase
100-Coin Bag (S)
4,031
4,031
–
–
40-Coin Roll (S)
3,358
3,358
–
–
Three-Roll Set
7,642
7,642
–
–
100-Coin Bag (P)
2,367
2,367
–
–
100-Coin Bag (D)
2,380
2,380
–
–
Two-Roll Set
5,376
5,376
–
–

2020 Tallgrass Prairie Quarters

Old
Sales
Latest
Sales
Gain/
Loss
%
Increase
100-Coin Bag (S)
4,193
4,193
–
–
40-Coin Roll (S)
3,954
3,954
–
–
Three-Roll Set
8,839
8,841
2
0.02%
100-Coin Bag (P)
2,500
2,500
–
–
100-Coin Bag (D)
2,478
2,478
–
–
Two-Roll Set
5,688
5,721
33
0.58%

2020 Marsh-Billings-Rockefeller Quarters

Old
Sales
Latest
Sales
Gain/
Loss
%
Increase
100-Coin Bag (S)
4,183
4,183
–
–
40-Coin Roll (S)
3,933
3,933
–
–
Three-Roll Set
8,516
8,533
17
0.20%
100-Coin Bag (P)
2,415
2,415
–
–
100-Coin Bag (D)
2,331
2,331
–
–
Two-Roll Set
5,539
5,549
10
0.18%

2020 Salt River Bay Quarters

Old
Sales
Latest
Sales
Gain/
Loss
%
Increase
100-Coin Bag (S)
4,156
4,156
–
–
40-Coin Roll (S)
4,005
4,005
–
–
Three-Roll Set
8,879
8,879
–
–
100-Coin Bag (P)
2,488
2,488
–
–
100-Coin Bag (D)
2,422
2,422
–
–
Two-Roll Set
5,717
5,728
11
0.19%

2020 Weir Farm Quarters

Old
Sales
Latest
Sales
Gain/
Loss
%
Increase
100-Coin Bag (S)
4,281
4,281
–
–
40-Coin Roll (S)
4,013
4,013
–
–
Three-Roll Set
8,930
8,930
–
–
100-Coin Bag (P)
2,471
2,471
–
–
100-Coin Bag (D)
2,470
2,470
–
–
Two-Roll Set
6,279
6,304
25
0.40%

2020 National Park of American Samoa Quarters

Old
Sales
Latest
Sales
Gain/
Loss
%
Increase
100-Coin Bag (S)
4,236
4,236
–
–
40-Coin Roll (S)
3,974
3,974
–
–
Three-Roll Set
8,930
8,930
–
–
100-Coin Bag (P)
2,456
2,456
–
–
100-Coin Bag (D)
2,480
2,480
–
–
Two-Roll Set
6,991
6,991
–
–