In the first coin session of their April 2021 Hong Kong auction, Stack's Bowers and Ponterio — the leader in Chinese, Japanese, and related numismatics from the Far East — eclipsed their highest total for any previous Hong Kong auction, realizing nearly $19.2 million for the 162 lots in The Pinnacle Collection.
Fierce competition for the incredible offerings in this cabinet resulted in five lots crossing the $1 million mark, two of which brought more than $2 million.
Combined with the outstanding results of additional live and internet auction sessions, the April 2021 Hong Kong auction becomes the firm's highest value sale of non-United States numismatic items, likely to surpass $35 million by its conclusion on April 11. The unprecedented results from this auction affirm Stack's Bowers and Ponterio's expertise at maximizing results for consignors in the current numismatic market.
Among the standouts was the 1825 Pattern Ruble of Constantine, which realized $2.64 million — a personal best for the firm, representing the highest amount achieved by any American auction house for a non-US coin. This was followed closely by the fantastic "Mukden Tiger" Pattern Dollar that sold for $2.28 million, the highest amount ever garnered for a Chinese coin, obliterating the previous record.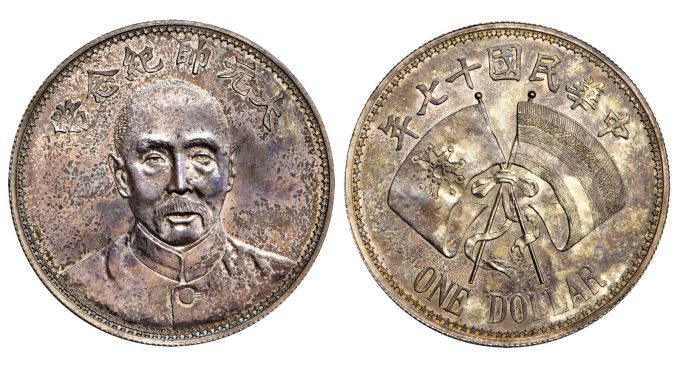 Records were also set among Japanese coins as the incredibly rare first Oban from the Tensho Era brought $1.92 million, now the most expensive Japanese coin.
A record for modern Japanese coins was established as the important 1870 Pattern Set — unique outside of a museum — fetched $1.56 million. Closing out the five $1 million lots was one of the finest seen Long-Whisker Dragon Dollar Patterns, which realized $1.02 million.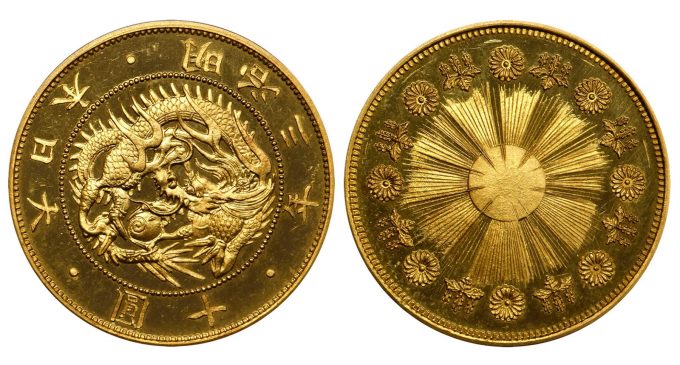 Other stunning prices included a Silver Tael Pattern from Year 29 of Kwang-hsu (1903) and a 20 Yen from Year 10 of the Meiji Emperor (1877), each of which brought $840,000, and a beautifully toned Silver Dollar Pattern from 1907 that sold for $504,000. A Filipino 8 Escudos countermarked over a Mexican Iturbide issue brought $180,000, becoming the most valuable Filipino coin and nearly tripling the previous highest price for a Filipino issue.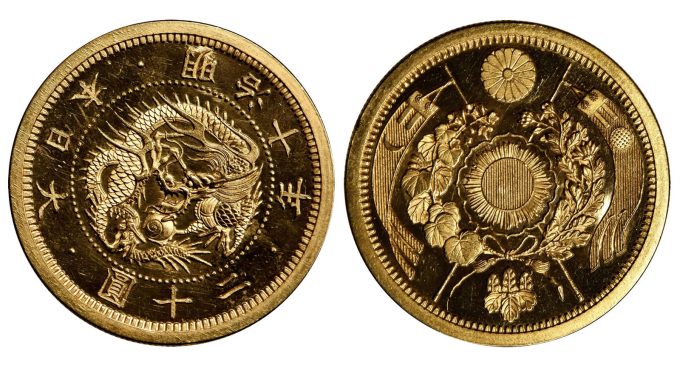 Complete prices realized for the Stack's Bowers and Ponterio sale of The Pinnacle Collection (and further sessions of the April 2021 Hong Kong Auction as they become available), are available on the firm's website at StacksBowers.com. For information about consigning to an upcoming auction call 800-458-4646 or email consign@stacksbowers.com.
About Stack's Bowers Galleries
Stack's Bowers Galleries conducts live, Internet and specialized auctions of rare U.S. and world coins and currency and ancient coins, as well as direct sales through retail and wholesale channels. The company's 85-year legacy includes the cataloging and sale of many of the most valuable United States coin and currency collections to ever cross an auction block.