Christa McAuliffe, an amazing individual whose life ended tragically in a disaster for the United States space program, is commemorated on silver dollars released for pre-order today by the United States Mint.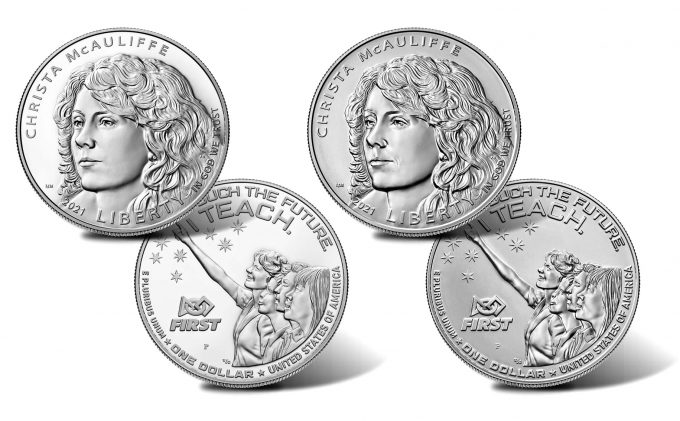 2021 Christa McAuliffe Silver Dollars honor the former social studies teacher who was chosen in 1985 to be the first participant in the National Aeronautics and Space Administration's Teacher in Space program. She perished along with six other astronauts when the Space Shuttle Challenger exploded after launch on January 28, 1986.
"This silver dollar will celebrate the life and legacy of a true pioneer, a passionate educator, and an inspiration to millions," commented U.S. Mint Director David J. Ryder in a video unveiling the McAuliffe Silver Dollar designs last month.

"We hope this coin will honor Christa McAuliffe's memory, and we are proud to assist in the continued legacy of her mission to inspire young people to become science and technology leaders."
Struck in both proof and uncirculated collector-grade finishes, the coins are authorized under Public Law 116-65. No more than 350,000 will be sold across all product options.
Coin Designs and Specifications
Twenty-seven design candidates for the commemorative were reviewed. The final designs were selected by the Treasury Secretary after consulting with the family of Christa McAuliffe, the Commission of Fine Arts (CFA), the Citizens Coinage Advisory Committee (CCAC), and the non-profit organization called FIRST® (For Inspiration and Recognition of Science and Technology). FIRST was founded in 1989 to inspire youth interest and participation in science and technology.
Coin obverses (heads side) offer a portrait of Christa McAuliffe with a hopeful gaze. Encircling inscriptions include "CHRISTA McAULIFFE," "2021," "LIBERTY," and "IN GOD WE TRUST." The portrait was designed by United States Mint Artistic Infusion Program (AIP) Designer Laurie J. Musser and sculpted by United States Mint Medallic Artist Phebe Hemphill.
Appearing on coin reverses (tails side) is an image depicting McAuliffe as a teacher. She is shown smiling as she points forward and upward to symbolize the future. Joining her likeness are three high school-age students who look on with wonder. The seven stars above them pay tribute to those who perished in the Challenger tragedy. The FIRST organization logo is also incorporated into the design.
Reverse inscriptions read: "I TOUCH THE FUTURE. I TEACH.," "E PLURIBUS UNUM," "ONE DOLLAR," and "UNITED STATES OF AMERICA." The reverse design was created by AIP Designer Emily Damstra and sculpted by Chief Engraver Joseph Menna.
Silver Dollar Specifications
| | |
| --- | --- |
| Denomination: | Dollar |
| Finish: | Proof and Uncirculated |
| Composition: | 99.9% Silver |
| Weight: | 26.730 grams |
| Diameter: | 1.500 inches |
| Edge: | Reeded |
| Mint and Mint Mark: | Philadelphia – P |
Introductory Prices, Ordering and Shipping Date
Introductory pricing is $74 per proof coin and $69 per uncirculated coin. These prices will climb by $5 after March 1.
Beginning at noon ET today, pre-order 2021 Christa McAuliffe Silver Dollars from the U.S. Mint's online store for commemorative coins.
Due to the pandemic, U.S. Mint customer service representatives are available to assist with any questions, but are unable to accept credit card information or place orders over the phone. 
Also, keep in mind that the dollars are not expected to begin shipping until March 17, 2021.
Surcharges Benefit FIRST
A surcharge of $10 is a part of the price for each coin. After associated expenses, proceeds from the surcharge will go to the FIRST robotics program for the "purpose of engaging and inspiring young people, through mentor-based programs, to become leaders in the fields of science, technology, engineering, and mathematics."
Companion 2021 Commemorative Coin Program
The McAuliffe Silver Dollars are one of two 2021 U.S. Mint commemorative coin programs. The other program, which also debuts today, celebrates the National Law Enforcement Memorial and Museum.