Today at noon EST, eight silver coins in one product become available with the release of the United States Mint 2020 Limited Edition Silver Proof Set.
This product continues the U.S. Mint's annual tradition of issuing a premier silver set for coin collectors, which is popular, in large part, because of its presentation packaging.
Collectors also favor the set because each of its San Francisco-struck coins is minted in silver. The 2020 set marks the second year in which they are composed of 99.9% silver instead of 90% silver.
The product also has a relatively low limit of 50,000 units, adding for some to its appeal.
At $201, this year finds the set at a much higher price than past releases. For example, last year's set was sold for $149.95 and the one for 2018 was $144.95.
Contents of Limited Edition Silver Proof Set
The eight coins found within the 2020 Limited Edition Silver Proof Set include:
2020-S Proof American Silver Eagle
2020-S Silver Kennedy Half Dollar
2020-S Silver National Park of American Samoa Quarter
2020-S Silver Weir Farm National Historic Site Quarter (Connecticut)
2020-S Silver Salt River Bay National Historical Park and Ecological Preserve Quarter (U.S. Virgin Islands)
2020-S Silver Marsh- Billings-Rockefeller National Historical Park Quarter (Vermont)
2020-S Silver Tallgrass Prairie National Preserve Quarter (Kansas)
2020-S Silver Roosevelt Dime
The five quarter dollars are unique to 2020. In addition, they represent the last full year of issues from the U.S. Mint's America the Beautiful Quarters® Program. The program ends next year with one release.
Set's Silver Weight and Melt Value
Combined, the eight coins have a silver weight of 2.51 troy ounces. Based on Thursday's LBMA silver price of $23.89 per ounce, this gives the set a melt value of $59.96.
For comparison, when last year's 2019 set debuted, it had a melt value of $43.80 when calculated against its associated market rate for silver of $17.45 per ounce.
Previous Set Sales
Demand for these limited edition sets has always been strong. A sampling of sales figures from past years include:
2016 – 49,647 (19,266 initial three day sales)
2017 – 48,901 (sold out in approximately 32 hours)
2018 – 49,479 (24,990 initial three day sales)
2019 – 47,404 (29,691 initial four day sales)
A limited-mintage American Silver Eagle was included in the 2017 set, leading to its quick sell-out. It was not available separately and only issued as part of the limited edition silver proof set and one other set which had already sold out.
Coins Available in Other Products
Like in past years, coins in this year's set are not exclusive to it. They are also held within other U.S. Mint products, although none of them are available for ordering as of this writing.
The individually sold 2020-S Proof American Silver Eagle went on sale Oct. 21 for $73. It has last reported sales of 209,695.
The same silver editions of the Kennedy half dollar, the five quarters, and the Roosevelt dime are part of the standard 2020 Silver Proof Set. It debuted April 17 for $63.25, and later went up to $105. The set has reported sales of 313,416.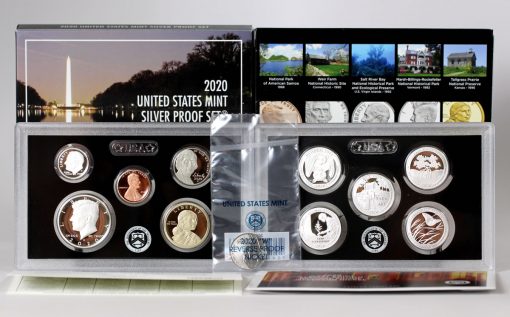 Just the five quarter dollars in silver are in the 2020 Quarters Silver Proof Set, released Feb. 20 for $42.50. Its price was later raised to $60. The set has reported sales of 64,025.
Ordering
Order the new collectible from the U.S. Mint via their online catalog of silver proof sets. An initial household order limit of two has been established.