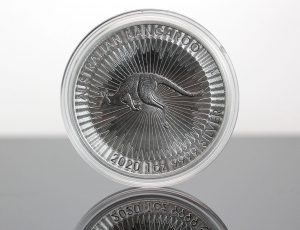 Demand for Australian bullion products in July ranged from solid to strong compared to June and a year ago, according to sales figures from The Perth Mint of Australia.
The monthly gains happened against a backdrop of surging precious metals with LBMA prices last month posting gains of 11.1% for gold and 34.9% for silver.
Bullion Sales in July 2020
Perth Mint sales of gold coins and gold bars reached 56,104 ounces in July, registering increases of 26.4% from June and 160.7% from July of last year.
Year-to-date gold sales at 449,367 ounces are 189.5% higher than the 155,218 sold in the first seven months of 2019.
The Mint's sales of silver coins and silver bars totaled 1,567,900 ounces last month, dipping 0.4% from June yet 58.9% higher than in July of last year.
Silver sales for the year so far at 10,054,295 ounces are 90.9% higher than the 5,268,298 sold through the same period in 2019.
Perth Mint Gold and Silver Sales by Month
Below is a monthly summary of Perth Mint bullion sales from July 2019 to July 2020. The figures show monthly ounces of gold and silver shipped as minted products by The Perth Mint to wholesale and retail customers worldwide. It excludes sales of cast bars and other Group activities including sales of allocated/unallocated precious metal for storage by the Depository.
Perth Mint Bullion Sales (in troy ounces)
Silver
Gold
July 2020
1,567,900
56,104
June 2020
1,573,752
44,371
May 2020
997,171
63,393
April 2020
2,123,121
120,504
March 2020
1,736,409
93,775
February 2020
605,634
22,921
January 2020
1,450,317
48,299
December 2019
1,361,723
78,912
November 2019
1,027,695
54,261
October 2019
1,394,615
32,469
September 2019
1,350,038
46,837
August 2019
1,171,233
21,766
July 2019
987,040
21,518