The United States Mint unveiled candidate designs to replace the imagery on reverses of American Eagle gold and silver coins.
Introduced in 1986, the Mint's program of American Eagle coins quickly achieved worldwide fame because of their beauty and guaranteed precious metal weight, content and purity. They have always featured their original designs except for the change in date for each year of their release.
The newly selected designs will be coupled with yet to be revealed anti-counterfeiting technology, appearing first on bullion editions in 2021 and follow sometime later on proof and uncirculated versions for collectors.
Thirty-Nine Candidate Designs
Thirty-nine pairings of the proposed reverse designs have been unveiled with one version for each type of coin. The Commission of Fine Arts (CFA) reviewed the designs on Thursday, June 18. The Citizens Coinage Advisory Committee (CCAC) will offer their recommendations on Tuesday, June 23. Each design depicts an eagle or eagles.
The following U.S. Mint line art images show the proposed reverse designs for the American Gold Eagle. Candidate designs for the American Silver Eagle are the same with exceptions of their inscribed face value, their precious metal content, and their lack of the "IN GOD WE TRUST" since this inscription already appears on the coin's obverse side.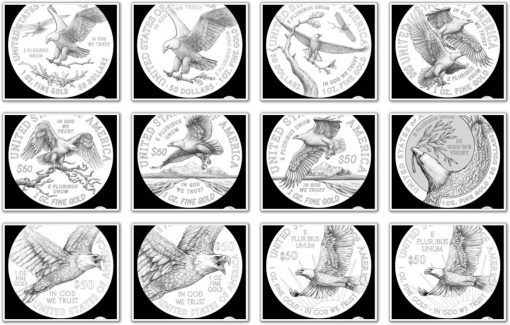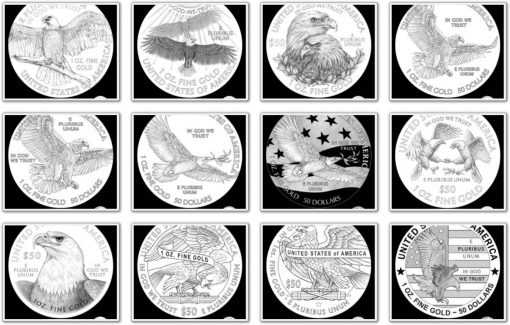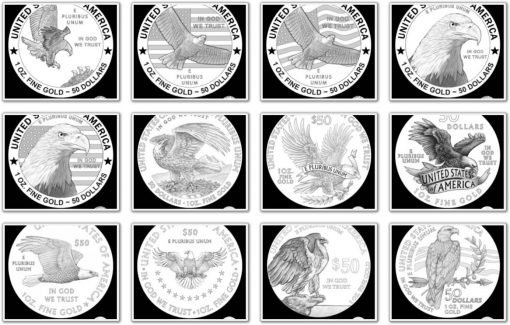 Pairings of all 39 candidate designs are published here.