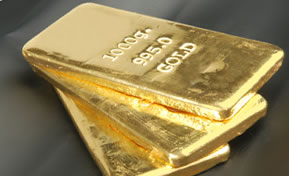 Gold was alone among precious metals in closing higher Friday, its first advance in six sessions, but it joined most of the metals in trading lower on the week.
Gold for June delivery rose $6.70, or 0.4%, to settle at $1,700.90 an ounce on the Comex division of the New York Mercantile Exchange.
"We saw some weakness in the U.S. equities markets … It seemed Trump was hinting at a resurgence of the trade war," Reuters quoted Phil Streible, chief market strategist at Blue Line Futures in Chicago. "That being said, a lot of investors liquidated various asset classes that might be affected by that and went back into safety, specifically gold."
Gold prices declined 2% this week after rising 2.2% last week. They are 11.7% higher on the year to date. The yellow metal ended 1.1% lower on Thursday, but still marked a 6.1% increase in April.
In looking ahead to next week, Kitco News offers the following forecasts via their Wall Street & Main Street surveys:
"Nine out of 15 Wall Street voters, or 60%, said they are bullish for the week ahead. Five voters, or 33%, called for lower prices, while one, or 7%, was neutral.

Meanwhile, 1,750 votes were cast in an online Main Street poll. A total of 943 voters, or 54%, looked for gold to rise in the next week. Another 505, or 29%, said lower, while 302, or 17%, were neutral."
Extending its losing streak to six sessions, silver for July delivery shed 3.5 cents, or 0.2%, to end at $14.938 an ounce. Silver futures traded 2.1% lower this week following losses of 0.2% last week and 4.7% in the week ending April 17. They are down 16.7% on the year. On Thursday, silver closed the month of April with a 5.8% increase.
In other precious metals futures on Friday and for the week:
July platinum fell $39.10, or 4.8%, to close at $773.90 an ounce, paring its weekly gain to 10 cents.

Palladium for June delivery declined $68.20, or 3.5%, to finish at $1,887.80 an ounce, for a 4.9% weekly loss.
The two are split on the year so far with platinum 20.9% lower and palladium 1.1% higher.
London Precious Metals Prices (LBMA)
London precious metals prices declined on Friday and mostly for the week. In comparing their levels from Wednesday PM to Thursday PM:
Gold fell $16.50, or 1%, to $1,686.25 an ounce.
Silver dropped 49 cents, or 3.2%, to $14.845 an ounce.
Platinum declined $2, or 0.3%, to $765 an ounce.
Palladium fell $52, or 2.6%, to $1,934 an ounce.
In LBMA weekly results, prices declined 1.7% for gold, 3.1% for silver and 3.5% for palladium while they edged up 0.3% for platinum.
US Mint Bullion Sales in 2020
In United States Mint bullion sales, orders overall slowed following two weeks of stronger gains. In week-over-week bullion coin comparisons:
Sales of American Platinum Eagles were flat for a second week in a row.

Sales of American Gold Eagles rose by 12,500 ounces after rising by 36,000 ounces last week.

Sales of American Silver Eagles climbed by 400,000 ounces following two weeks of not gaining.

Sales of American Buffalo gold coins increased by 12,500 ounces after climbing by 12,000 ounces last week.
Below is a sales breakdown of U.S. Mint bullion products with columns listing the number of coins sold during varying periods.
US Mint Bullion Sales (# of coins)
Friday / May
Last Week
This Week
January
February
March
April
2020 Sales
$50 American Eagle 1 Oz Gold Coin
0
36,000
12,500
38,000
3,500
133,000
105,000
279,500
$25 American Eagle 1/2 Oz Gold Coin
0
0
0
23,000
2,000
8,000
0
33,000
$10 American Eagle 1/4 Oz Gold Coin
0
0
0
18,000
2,000
20,000
0
40,000
$5 American Eagle 1/10 Oz Gold Coin
0
0
0
60,000
20,000
95,000
0
175,000
$50 American Buffalo 1 Oz Gold Coin
0
12,000
12,500
21,000
1,000
65,500
28,500
116,000
$1 American Eagle 1 Oz Silver Coin
0
0
400,000
3,846,000
650,000
5,482,500
750,000
10,728,500
$1 American Eagle 1 Oz Platinum Coin
0
0
0
14,500
9,300
31,200
1,500
56,500
In terms of 5-ounce silver bullion sales for 2020, the U.S. Mint is working on getting them automated and reported. Initial U.S. Mint-provided figures have the first two 2020-dated pieces at 45,000 produced and sold per issue. These amounts are being verified.