Design recommendations have been voiced for the 2016 Presidential $1 Coin honoring Ronald Reagan, the 40th President of the United States.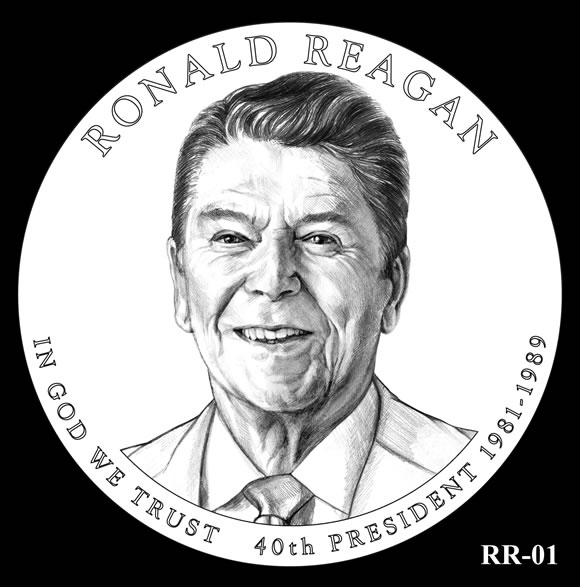 Artists for the U.S. Mint crafted eight candidate designs for the dollar. These went under review by the Citizens Coinage Advisory Committee (CCAC) on March 5 and by the Commission of Fine Arts (CFA) on March 19. Both bodies selected the same design, RR-01, which is shown above.
The CFA noted it was the best design, and commented on the "strength of President Reagan's characteristic smile." Most members of the CCAC felt drawn to it as well, though a few preferred a slightly different version. The first design handily won in CCAC voting. The Secretary of the Treasury has the last say in all coin designs, but a change to another is not expected.
2016 marks the end of the Presidential $1 Coin series which honors former and deceased U.S. presidents in the order of their service. The series started in 2007 and has commemorated four presidents each year. Next year's coin releases celebrate Richard Nixon, Gerald Ford and finally Ronald Reagan. All the dollars feature a portrait of the president on their obverse or heads side and share reverses that depict the Statue of Liberty.