A 1945 Silver Threepence certified by Numismatic Guaranty Corporation® (NGC®) realized £62,000 (almost $74,000 USD) — more than double its presale estimate — in a March 25 onlineonly auction presented by Baldwin's of St. James's. No live bidding was allowed due to the coronavirus situation.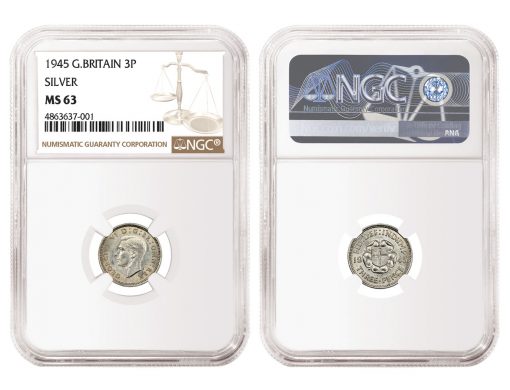 The tiny silver coin, graded NGC MS 63, was found in an ordinary Whitman folder and brought to Baldwin's of St. James's in London in a plastic envelope, or flip. It is only the second example known to numismatists.
"I was just telling somebody the fact it was in the NGC MS 63 holder sold the coin for that price," Baldwin's of St. James' Managing Director Stephen Fenton said. "Especially with online-only bidding these days, grading by a respected third-party certification service gives buyers more confidence."
The silver threepence was unpopular in commerce because it was very small at a diameter of 16 mm (six-tenths of an inch) and a weight of 1.4 grams (five-hundredths of an ounce). A bigger, heavier, 12-sided nickel-brass threepence had been introduced in 1937 and was being minted every year.
King George VI Silver Threepence were minted from 1937 to 1945, with a peak production of almost 8 million annually in 1940 and in 1941. The issues of 1942-44 were all shipped to the British West Indies, however, and the coin's final issue was apparently deemed redundant because of public acceptance of the 12-sided nickel-brass coin. All of the 1945 Silver Threepence were ordered to be melted, their metal used in other mint products.
Only one other survivor has come up for auction, in April 1970 at a Glendining & Co. of London sale. Its condition was described in the catalog as About Very Fine and it realized £260 (about £4,000 in today's money). Its buyer is unknown, and that coin has not resurfaced publicly since.
About Numismatic Guaranty Corporation
NGC is the world's largest and most trusted third-party grading service for coins, tokens and medals, with more than 45 million collectibles certified. Founded in 1987, NGC provides an accurate, consistent and impartial assessment of authenticity and grade. Every coin that NGC certifies is backed by the comprehensive NGC Guarantee of authenticity and grade, which gives buyers greater confidence. This results in higher prices realized and greater liquidity for NGC-certified coins. To learn more, visit NGCcoin.com.