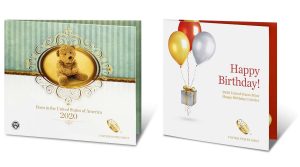 The United States Mint once again is publishing weekly sales figures for its numismatic products. The U.S. Mint's sales updates paused in early November when both the Mint employee primary responsibility for creating the report and their backup left the agency, Mint spokesman Michael White stated at the time.
As of this writing, weekly sales reports are now available for the missing weeks through Jan. 12, 2020. They show early stats for the very first 2020 Mint products, like the Birth, Happy Birthday and Congratulations Sets, and offer a clearer reading on ending performances for the no-longer-available 2019 American Legion and Apollo 11 commemorative coins.
We'll write more about last year's commemoratives when finalized Mint sales adjustments are published.
US Mint Sales: Numismatic Products
Below are tables showing the latest available sales for U.S. Mint numismatic products. The sales period covers from Jan. 5 to 12. Products with an asterisk (*) are no longer available or had no reported sales.
American Liberty Products

Old
Sales
Latest
Sales
Gain/
Loss
%
Increase
2019-W $100 American Liberty Gold Coin
8,587
8,709
122
1.42%
2019-P American Liberty Silver Medal
31,086
31,355
269
0.87%
2018-W $10 American Liberty Gold Coin
30,583
30,685
102
0.33%
2017 American Liberty Silver Four-Medal Set*
32,647
32,647
–
–
2017-S Enhanced Uncirculated Coin Set*
210,419
210,419
–
–
2017-W $100 American Liberty Gold Coin
31,084
31,109
25
0.08%
2017-P Proof American Liberty Silver Medal*
55,187
55,187
–
–

2019 American Legion Commemorative Coins

Old
Sales
Latest
Sales
Gain/
Loss
%
Increase
2019 American Legion Gold Coin and Emblem Print
277
277
–
–
2019 American Legion Silver Dollar and Emblem Print
1,788
1,788
–
–
2019 American Legion 50c and Emblem Print
1,027
1,026
-1
-0.10%
2019 American Legion Silver Dollar and Medal Set
9,888
9,888
–
–
2019-W Proof $5 American Legion Gold Coin
3,191
3,190
-1
-0.03%
2019-W Uncirculated $5 American Legion Gold Coin
2,929
2,927
-2
-0.07%
2019-P Proof American Legion Silver Dollar
44,022
44,018
-4
-0.01%
2019-P Uncirculated American Legion Silver Dollar
13,790
13,789
-1
-0.01%
2019-S Proof American Legion Half Dollar
18,812
18,811
-1
-0.01%
2019-D Uncirculated American Legion Half Dollar
11,430
11,430
–
–
2019 American Legion Three-Coin Proof Set
7,451
7,451
–
–

2019 Apollo 11 Commemorative Coins

Old
Sales
Latest
Sales
Gain/
Loss
%
Increase
2019-W Proof $5 Gold Coin & Intaglio Print
1,162
1,162
–
–
2019-P Proof Apollo 11 Silver Dollar & Intaglio Print
4,985
4,980
-5
-0.10%
2019-W Proof $5 Apollo 11 Gold Coin
32,865
32,862
-3
-0.01%
2019-W Uncirculated $5 Apollo 11 Gold Coin
12,035
12,035
–
–
2019-P Proof Apollo 11 Silver Dollar
219,015
218,995
-20
-0.01%
2019-P Uncirculated Apollo 11 Silver Dollar
59,701
59,700
-1
0.00%
2019-S Proof Apollo 11 Half Dollar
66,824
66,822
-2
0.00%
2019-D Uncirculated Apollo 11 Half Dollar
41,743
41,742
-1
0.00%
2019-S Proof Apollo 11 Half Dollar Set
99,998
99,998
–
–
2019-P Proof Apollo 11 Five Ounce Silver Coin
68,305
68,301
-4
-0.01%

2018 Breast Cancer Awareness Commemorative Coins

Old
Sales
Latest
Sales
Gain/
Loss
%
Increase
2018 Breast Cancer Awareness Coin and Stamp Set*
4,455
4,455
–
–
2018-W Proof $5 Breast Cancer Awareness Gold Coin*
10,386
10,386
–
–
2018-W Uncirculated $5 Breast Cancer Awareness Gold Coin*
4,477
4,477
–
–
2018-P Proof Breast Cancer Awareness Silver Dollar*
34,542
34,542
–
–
2018-P Uncirculated Breast Cancer Awareness Silver Dollar*
12,526
12,526
–
–
2018-S Proof Breast Cancer Awareness Clad Half Dollar*
17,937
17,937
–
–
2018-D Uncirculated Breast Cancer Awareness Clad Half Dollar*
11,301
11,301
–
–

2018 WWI Centennial Silver Dollar and Medal Commemoratives

Old
Sales
Latest
Sales
Gain/
Loss
%
Increase
2018 Proof WWI Silver Dollar*
64,982
64,982
–
–
2018 Uncirculated WWI Silver Dollar*
22,336
22,336
–
–
2018 WWI Silver Dollar and Army Silver Medal Set*
15,621
15,621
–
–
2018 WWI Silver Dollar and Navy Silver Medal Set*
12,253
12,253
–
–
2018 WWI Silver Dollar and Marines Silver Medal Set*
12,648
12,648
–
–
2018 WWI Silver Dollar Coast Guard Silver Medal Set*
9,813
9,813
–
–
2018 WWI Silver Dollar Air Service Silver Medal Set*
12,520
12,520
–
–

Clad Proof Set

Old
Sales
Latest
Sales
Gain/
Loss
%
Increase
2019 Proof Set
558,767
561,495
2,728
0.49%
2018 Proof Set
517,100
517,081
-19
0.00%
2017 Proof Set*
568,678
568,678
–
–
2019 American Innovation Dollars Proof Set
83,407
85,839
2,432
2.92%
2019 America the Beautiful Quarters Proof Set
70,661
71,015
354
0.50%
2018 America the Beautiful Quarters Proof Set
86,698
86,697
-1
0.00%
2020 Happy Birthday Gift Set
2,755
4,250
1,495
54.26%
2019 Happy Birthday Gift Set
17,684
17,775
91
0.51%
2018 Happy Birthday Gift Set
17,719
17,719
–
–
2020 Birth Gift Set
2,594
3,885
1,291
49.77%
2019 Birth Gift Set
26,686
27,002
316
1.18%
2018 Birth Gift Set
31,853
31,893
40
0.13%

Silver Proof Set

Old
Sales
Latest
Sales
Gain/
Loss
%
Increase
2019 Silver Proof Set
381,072
383,590
2,518
0.66%
2018 Silver Proof Set
332,077
332,274
197
0.06%
2017 Silver Proof Set*
358,085
358,085
–
–
2018 Silver Reverse Proof Set*
199,116
199,116
–
–
2019 America the Beautiful Quarters Silver Proof Set
70,366
70,627
261
0.37%
2018 America the Beautiful Quarters Silver Proof Set
79,302
79,301
-1
0.00%
2020 Congratulations Gift Set
–
14,633
–
–
2019 Congratulations Gift Set
26,180
26,455
275
1.05%
2018 Congratulations Gift Set*
19,267
19,267
–
–
2019 Limited Edition Silver Proof Set
46,895
47,404
509
1.09%
2018 Limited Edition Silver Proof Set
49,479
49,479
–
–
2017 Limited Edition Silver Proof Set*
48,901
48,901
–
–

US Mint Uncirculated Sets

Old
Sales
Latest
Sales
Gain/
Loss
%
Increase
2019 Native American $1 Coin and Currency Set
43,696
43,836
140
0.32%
2019 Uncirculated Mint Set
317,234
318,695
1,461
0.46%
2018 Uncirculated Mint Set
257,550
257,536
-14
-0.01%
2017 Uncirculated Mint Set*
286,813
286,813
–
–

Kids Coin Sets

Old
Sales
Latest
Sales
Gain/
Loss
%
Increase
2019 Youth Coin and Currency Set
8,081
8,166
85
1.05%
2019 Explore and Discover Coin Set
32,381
32,432
51
0.16%
2019 Rocketship
49,921
49,921
–
–
2014 Coin Discovery Set
13,151
13,151
–
–

Ornaments

Old
Sales
Latest
Sales
Gain/
Loss
%
Increase
2019 Mighty Minters Ornament
4,271
4,318
47
1.10%
2019 U.S. Mint Ornament
7,450
7,520
70
0.94%

Proof Silver Eagles

Old
Sales
Latest
Sales
Gain/
Loss
%
Increase
2020-W Proof Silver Eagle
–
195,803
–
–
2019-W Proof Silver Eagle (Bulk – 40 Coins)
–
520
–
–
2019-S Enhanced Reverse Proof Proof Silver Eagle
29,709
29,707
-2
-0.01%
2019-S Proof Silver Eagle
135,537
136,168
631
0.47%
2019-S Proof Silver Eagle (Bulk – 40 Coins)
137
137
–
–
2019 Pride of Nations Two-Coin Set
99,748
99,748
–
–
2019-W Proof Silver Eagle
344,221
345,380
1,159
0.34%
2019-W Proof Silver Eagle (Bulk – 40 Coins)
745
745
–
–
2018-S Proof Silver Eagle*
158,785
158,785
–
–
2018-W Proof Silver Eagle
354,032
354,025
-7
0.00%
2018-W Proof Silver Eagle (Bulk Pack – 210 Coins)
182
182
–
–

Uncirculated Silver Eagles

Old
Sales
Latest
Sales
Gain/
Loss
%
Increase
2019
125,442
125,924
482
0.38%
2019 Bulk 40
66
66
–
–
2018
138,947
138,947
–
–
2017*
176,739
176,739
–
–

2019 Proof American Eagle Gold Coins

Old
Sales
Latest
Sales
Gain/
Loss
%
Increase
1 oz
5,027
5,137
110
2.19%
1/2 oz
1,877
1,876
-1
-0.05%
1/4 oz
3,032
3,035
3
0.10%
1/10 oz
10,027
10,231
204
2.03%
4-Coin Set
6,891
7,058
167
2.42%

2018 Proof American Eagle Gold Coins

Old
Sales
Latest
Sales
Gain/
Loss
%
Increase
1 oz*
7,418
7,418
–
–
1/2 oz*
1,815
1,815
–
–
1/4 oz*
4,623
4,623
–
–
1/10 oz*
14,009
14,009
–
–
4-Coin Set*
8,147
8,147
–
–

Uncirculated American Eagle Gold Coins

Old
Sales
Latest
Sales
Gain/
Loss
%
Increase
2019
5,813
5,851
38
0.65%
2018*
8,518
8,518
–
–
2017*
5,800
5,800
–
–

Proof American Buffalo Gold Coins

Old
Sales
Latest
Sales
Gain/
Loss
%
Increase
2019 Proof Gold Buffalo
14,124
14,279
155
1.10%
2018 Proof Gold Buffalo*
15,756
15,756
–
–
2017 Proof Gold Buffalo*
15,810
15,810
–
–

Proof American Platinum Eagle

Old
Sales
Latest
Sales
Gain/
Loss
%
Increase
2019
9,841
9,869
28
0.28%
2018
13,706
13,724
18
0.13%
2017*
8,890
8,890
–
–

American Palladium Eagle

Old
Sales
Latest
Sales
Gain/
Loss
%
Increase
2019-W Reverse Proof
15,662
15,711
49
0.31%
2018-W Proof*
14,986
14,986
–
–

America the Beautiful 5 Oz Silver Coins

Old
Sales
Latest
Sales
Gain/
Loss
%
Increase
2019-P River of No Return Silver Uncirculated Coin
12,651
13,034
383
3.03%
2019-P San Antonio Missions Silver Uncirculated Coin
14,180
14,429
249
1.76%
2019-P War In The Pacific Silver Uncirculated Coin
14,954
15,211
257
1.72%
2019-P American Memorial Park Silver Uncirculated Coin
14,134
14,162
28
0.20%
2019-P Lowell Five Ounce Silver Uncirculated Coin
14,913
14,934
21
0.14%
2018-P Block Island Silver Coins
15,914
15,913
-1
-0.01%
2018-P Cumberland Island Silver Coins
16,377
16,377
–
–
2018-P Voyageurs Silver Coins
16,839
16,839
–
–
2018-P Apostle Islands Silver Coins
16,802
16,802
–
–
2018-P Pictured Rocks Silver Coins*
17,773
17,773
–
–
2017-P George Rogers Clark Silver Coins*
14,731
14,731
–
–
2017-P Ellis Island Silver Coins*
17,670
17,670
–
–
2017-P Ozark Riverways Silver Coins
17,694
17,694
–
–
2017-P Frederick Douglass Silver Coins*
17,678
17,678
–
–
2017-P Effigy Mounds Silver Coins*
17,251
17,251
–
–

Presidential Silver Medals

Old
Sales
Latest
Sales
Gain/
Loss
%
Increase
2019 James Monroe Presidential Silver Medal
10,503
10,550
47
0.45%
2019 James Madison Presidential Silver Medal
11,388
11,422
34
0.30%
2019 Thomas Jefferson Presidential Silver Medal
15,166
15,201
35
0.23%
2018 George Washington Presidential Silver Medal
23,173
23,219
46
0.20%
2018 John Adams Presidential Silver Medal
17,969
17,993
24
0.13%

2019 American Innovation Dollars – New Jersey

Old
Sales
Latest
Sales
Gain/
Loss
%
Increase
Reverse Proof (S)
–
21,101
–
–
25-coin roll set (P)
5,108
5,256
148
2.90%
25-coin roll set (D)
4,861
4,987
126
2.59%
100-coin bag (P)
1,958
2,031
73
3.73%
100-coin bag (D)
1,823
1,860
37
2.03%

2019 American Innovation Dollars – Pennsylvania

Old
Sales
Latest
Sales
Gain/
Loss
%
Increase
Reverse Proof (S)
34,335
36,337
2,002
5.83%
25-coin roll set (P)
5,833
5,922
89
1.53%
25-coin roll set (D)
5,344
5,419
75
1.40%
100-coin bag (P)
1,674
1,695
21
1.25%
100-coin bag (D)
1,725
1,739
14
0.81%

2019 American Innovation Dollars – Delaware

Old
Sales
Latest
Sales
Gain/
Loss
%
Increase
Reverse Proof (S)
52,398
53,724
1,326
2.53%
25-coin roll set (P)
6,030
6,118
88
1.46%
25-coin roll set (D)
5,714
5,794
80
1.40%
100-coin bag (P)
1,925
1,939
14
0.73%
100-coin bag (D)
2,126
2,136
10
0.47%

2018 American Innovation Dollars

Old
Sales
Latest
Sales
Gain/
Loss
%
Increase
Reverse Proof (S)
74,720
74,720
–
–
Proof Coin (S)
206,227
206,886
659
0.32%
25-coin roll set (P)
16,175
16,280
105
0.65%
25-coin roll set (D)
15,285
15,405
120
0.79%
100-coin bag (P)
2,935
2,935
–
–
100-coin bag (D)
2,954
2,954
–
–

Native American Dollar Rolls

Old
Sales
Latest
Sales
Gain/
Loss
%
Increase
2019-dated 25-coin roll set (P)
14,864
14,917
53
0.36%
2019-dated 25-coin roll set (D)
14,415
14,464
49
0.34%
2019-dated 100-coin bag (P)
1,573
1,584
11
0.70%
2019-dated 100-coin bag (D)
1,411
1,429
18
1.28%
2019-dated 250-coin box (P)
1,725
1,734
9
0.52%
2019-dated 250-coin box (D)
1,731
1,736
5
0.29%
2018-dated 25-coin roll set (P)
17,394
17,392
-2
-0.01%
2018-dated 25-coin roll set (D)
16,558
16,555
-3
-0.02%
2018-dated 100-coin bag (P)
1,931
1,931
–
–
2018-dated 100-coin bag (D)
1,930
1,930
–
–
2018-dated 250-coin box (P)
1,865
1,865
–
–
2018-dated 250-coin box (D)
1,874
1,874
–
–

Kennedy Half Dollar Rolls

Old
Sales
Latest
Sales
Gain/
Loss
%
Increase
2019-dated 200-coin bag (P&D)
7,013
7,245
232
3.31%
2019-dated 2-roll set (P&D)
19,652
19,738
86
0.44%
2018-dated 200-coin bag (P&D)
9,498
9,498
–
–
2018-dated 2-roll set (P&D)
22,622
22,622
–
–
2017-dated 200-coin bag (P&D)*
10,321
10,321
–
–
2017-dated 2-roll set (P&D)*
23,747
23,747
–
–

America the Beautiful Quarters Uncirculated Coin Set

Old
Sales
Latest
Sales
Gain/
Loss
%
Increase
2019 Issue
26,290
26,408
118
0.45%
2018 Issue
32,659
32,648
-11
-0.03%
2017 Issue*
29,972
29,972
–
–

America the Beautiful Quarters Circulating Coin Set

Old
Sales
Latest
Sales
Gain/
Loss
%
Increase
2019 Issue
18,985
19,142
157
0.83%
2018 Issue
21,793
21,830
37
0.17%
2017 Issue*
24,765
24,765
–
–
2016 Issue*
23,958
23,958
–
–

America the Beautiful Quarters Three-Coin Sets

Old
Sales
Latest
Sales
Gain/
Loss
%
Increase
River of No Return
12,008
12,121
113
0.94%
San Antonio Missions
14,138
14,199
61
0.43%
War in Pacific
14,566
14,627
61
0.42%
American Memorial Park
14,023
14,056
33
0.24%
Lowell
14,193
14,227
34
0.24%
Block Island
13,445
13,450
5
0.04%
Cumberland Island
13,548
13,560
12
0.09%
Voyageurs
14,405
14,424
19
0.13%
Apostle Islands
14,473
14,486
13
0.09%
Pictured Rocks
15,397
15,397
–
–
George Rogers Clark
14,133
14,133
–
–
Ellis Island*
16,947
16,947
–
–
Ozark Riverways
14,913
14,912
-1
-0.01%
Frederick Douglass
15,566
15,566
–
–
Effigy Mounds
14,516
14,516
–
–
Fort Moultrie*
13,306
13,306
–
–
Theodore Roosevelt*
16,072
16,072
–
–
Harpers Ferry*
14,345
14,345
–
–
Cumberland Gap*
14,973
14,973
–
–
Shawnee*
15,474
15,474
–
–
Saratoga*
14,950
14,950
–
–
Bombay Hook*
13,400
13,400
–
–
Blue Ridge Parkway*
17,165
17,165
–
–
Kisatchie Set*
15,196
15,196
–
–
Homestead Set*
16,114
16,114
–
–
Everglades Set*
14,373
14,373
–
–
Great Sand Dunes Set*
14,119
14,119
–
–
Arches Three-Coin Set*
15,859
15,859
–
–
Shenandoah Three-Coin Set*
17,351
17,351
–
–
Great Smoky Mountains Set*
18,588
18,588
–
–
Mount Rushmore Quarters Set*
17,924
17,924
–
–
Fort McHenry Quarters Set*
16,345
16,345
–
–
Great Basin Quarters Set*
15,526
15,526
–
–
Perry's Victory Quarters Set*
17,643
17,643
–
–
White Mountain Quarters Set*
18,056
18,056
–
–
Denali Quarters Set*
18,193
18,193
–
–
Hawaii Volcanoes Quarters Set*
19,947
19,947
–
–
Acadia Quarters Set*
19,940
19,940
–
–
Chaco Culture Quarters Set*
20,028
20,028
–
–
El Yunque Quarters Set*
19,891
19,891
–
–
Chickasaw Quarters Set*
16,184
16,184
–
–
Vicksburg Quarters Set*
18,095
18,095
–
–
Olympic Quarters Set*
17,718
17,718
–
–
Glacier Quarters Set*
19,046
19,046
–
–
Gettysburg Quarters Set*
22,869
22,869
–
–
Mount Hood Quarters Set*
18,384
18,384
–
–
Grand Canyon Quarters Set*
22,133
22,133
–
–
Yosemite Quarters Set*
22,154
22,154
–
–
Yellowstone Quarters Set*
25,048
25,048
–
–
Hot Springs Quarters Set*
23,203
23,203
–
–

2019 River of No Return Quarters

Old
Sales
Latest
Sales
Gain/
Loss
%
Increase
100-Coin Bag (S)
3,417
3,466
49
1.43%
40-Coin Roll (S)
3,260
3,299
39
1.20%
Three-Roll Set
7,666
7,721
55
0.72%
100-Coin Bag (P)
1,956
1,979
23
1.18%
100-Coin Bag (D)
1,897
1,923
26
1.37%
Two-Roll Set
5,463
5,488
25
0.46%

2019 San Antonio Missions Quarters

Old
Sales
Latest
Sales
Gain/
Loss
%
Increase
100-Coin Bag (S)
3,762
3,791
29
0.77%
40-Coin Roll (S)
3,476
3,498
22
0.63%
Three-Roll Set
8,319
8,365
46
0.55%
100-Coin Bag (P)
2,177
2,192
15
0.69%
100-Coin Bag (D)
2,094
2,110
16
0.76%
Two-Roll Set
5,789
5,800
11
0.19%

2019 War In The Pacific Quarters

Old
Sales
Latest
Sales
Gain/
Loss
%
Increase
100-Coin Bag (S)
3,892
3,912
20
0.51%
40-Coin Roll (S)
3,552
3,560
8
0.23%
Three-Roll Set
8,342
8,373
31
0.37%
100-Coin Bag (P)
2,243
2,251
8
0.36%
100-Coin Bag (D)
2,157
2,163
6
0.28%
Two-Roll Set
5,895
5,902
7
0.12%

2019 American Memorial Park Quarters

Old
Sales
Latest
Sales
Gain/
Loss
%
Increase
100-Coin Bag (S)
3,832
3,865
33
0.86%
40-Coin Roll (S)
3,710
3,722
12
0.32%
Three-Roll Set
8,246
8,265
19
0.23%
100-Coin Bag (P)
2,448
2,455
7
0.29%
100-Coin Bag (D)
2,414
2,421
7
0.29%
Two-Roll Set
5,984
5,991
7
0.12%

2019 Lowell Quarters

Old
Sales
Latest
Sales
Gain/
Loss
%
Increase
100-Coin Bag (S)
3,987
4,006
19
0.48%
40-Coin Roll (S)
3,796
3,801
5
0.13%
Three-Roll Set
8,576
8,596
20
0.23%
100-Coin Bag (P)
2,428
2,435
7
0.29%
100-Coin Bag (D)
2,319
2,325
6
0.26%
Two-Roll Set
6,161
6,168
7
0.11%

2018 Block Island Quarters

Old
Sales
Latest
Sales
Gain/
Loss
%
Increase
100-Coin Bag (S)
3,764
–
–
–
40-Coin Roll (S)
3,683
–
–
–
Three-Roll Set
8,164
–
–
–
100-Coin Bag (P)
2,108
–
–
–
100-Coin Bag (D)
2,071
–
–
–
Two-Roll Set
6,025
–
–
–

2018 Cumberland Island Quarters

Old
Sales
Latest
Sales
Gain/
Loss
%
Increase
100-Coin Bag (S)
4,035
–
–
–
40-Coin Roll (S)
3,728
–
–
–
Three-Roll Set
8,208
–
–
–
100-Coin Bag (P)
2,120
–
–
–
100-Coin Bag (D)
1,987
–
–
–
Two-Roll Set
6,128
–
–
–

2018 Voyageurs Islands Quarters

Old
Sales
Latest
Sales
Gain/
Loss
%
Increase
100-Coin Bag (S)
3,854
–
–
–
40-Coin Roll (S)
3,680
–
–
–
Three-Roll Set
8,370
–
–
–
100-Coin Bag (P)
2,121
–
–
–
100-Coin Bag (D)
2,153
–
–
–
Two-Roll Set
6,231
–
–
–

2018 Apostle Islands Quarters

Old
Sales
Latest
Sales
Gain/
Loss
%
Increase
100-Coin Bag (S)
4,088
–
–
–
40-Coin Roll (S)
3,669
–
–
–
Three-Roll Set
8,338
–
–
–
100-Coin Bag (P)
2,081
–
–
–
100-Coin Bag (D)
2,075
–
–
–
Two-Roll Set
6,306
–
–
–

2018 Pictured Rocks Quarters

Old
Sales
Latest
Sales
Gain/
Loss
%
Increase
100-Coin Bag (S)
4,187
–
–
–
40-Coin Roll (S)
3,869
–
–
–
Three-Roll Set
8,944
–
–
–
100-Coin Bag (P)
2,271
–
–
–
100-Coin Bag (D)
2,382
–
–
–
Two-Roll Set
6,529
–
–
–