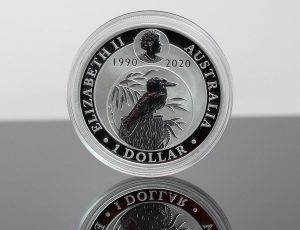 Like a year earlier, Australian bullion demand in September grew for a fourth straight month for gold coins and gold bars and for a third straight month for silver coins and silver bars, according Perth Mint figures published earlier this month.
More notably, multi-month highs were reached. The Mint's silver sales were the strongest since March 2016 and its gold sales the best since November 2018.
The monthly gains happened against a backdrop of falling precious metals with LBMA prices in September plunging 2.8% for gold and 6.1% for silver. The Mint's silver bullion sales saw extra support from the early release of newly dated 2020 coins.
Bullion Sales in September 2019 and YTD
The Perth Mint sold 46,837 ounces in gold coins and gold bars last month, jumping 115.2% from the level reached in August but falling 25.1% from the tally hit in September 2018.
Year-to-date gold sales at 223,821 ounces are 17.6% lower than the 271,715 sold through the first nine months of last year.
September sales of the Mint's silver coins and silver bars at 1,350,038 ounces came in 15.3% higher than the prior month and edged up 3.4% from September 2018.
Perth Mint silver sales for the year at 7,789,569 ounces are 18.1% higher than the 6,593,957 ounces sold in the same months of 2018.
Perth Mint Gold and Silver Sales by Month
Below is a monthly summary of Perth Mint bullion sales from September 2018 to September 2019. The figures show monthly ounces of gold and silver shipped as minted products by The Perth Mint to wholesale and retail customers worldwide. It excludes sales of cast bars and other Group activities including sales of allocated/unallocated precious metal for storage by the Depository.
Perth Mint Bullion Sales (in troy ounces)
Silver
Gold
September 2019
1,350,038
46,837
August 2019
1,171,233
21,766
July 2019
987,040
21,518
June 2019
344,474
19,449
May 2019
681,582
10,790
April 2019
906,219
19,991
March 2019
935,819
32,757
February 2019
584,310
19,524
January 2019
828,854
31,189
December 2018
692,971
29,186
November 2018
876,446
64,308
October 2018
1,079,684
36,840
September 2018
1,305,600
62,552