United States Mint coins will be issued in 2020 to recognize the 60th anniversary of the Naismith Memorial Basketball Hall of Fame (www.hoophall.com).
The program of $5 gold, $1 silver and 50c clad commemoratives will share designs with reverses depicting a basketball and obverses emblematic of the game of basketball. They will be dome-shaped, and possibly feature some color.
As a part of the process leading up to their release, the Citizens Coinage Advisory Committee (CCAC) and the Commission of Fine Arts (CFA) reviewed dozens of Basketball-themed designs which originated from a public competition that generated 19 obverse candidates and from U.S. Mint artists who created 23 reverse candidates.
Obverse Design Recommendation
The pair of panels recommended the same obverse design, BHF-O-19, portraying the intense, hands-on action of the game of basketball. It shows three different figures all reaching for the ball in unison, suggesting how the sport has brought together millions of diverse people around the world. This depiction was among five obverse designs favored by the Basketball Hall of Fame.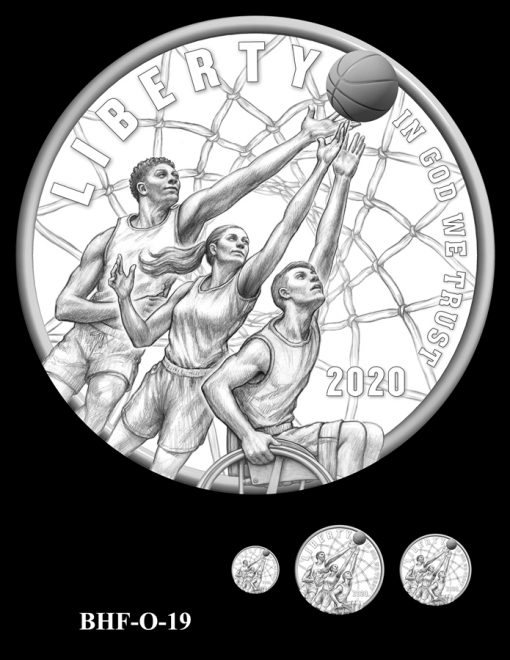 Not entirely satisfied with every element of the design, the CFA suggested some refinements to the length of the players arms and recommended that the ball should be placed equally beyond the reach of all three players.
Reverse Design Recommendations
Two designs are competing strongly to appear on coin reverses. The CCAC recommended design BHF-R-01 which depicts a three-quarter profile of a basketball.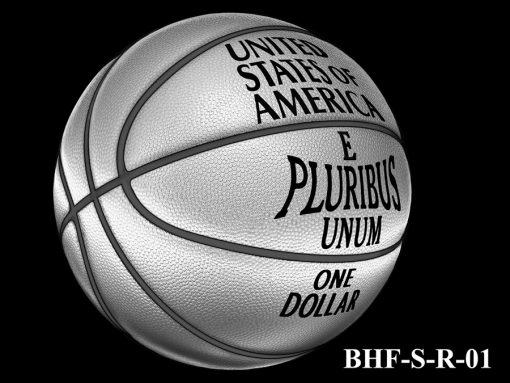 The CFA, meanwhile, preferred design BHF-R-17 which shows a basketball about to pass through a net. By vote count, this design ranked second highest among members of the CCAC. It was also amid four reverses favored by the Basketball Hall of Fame.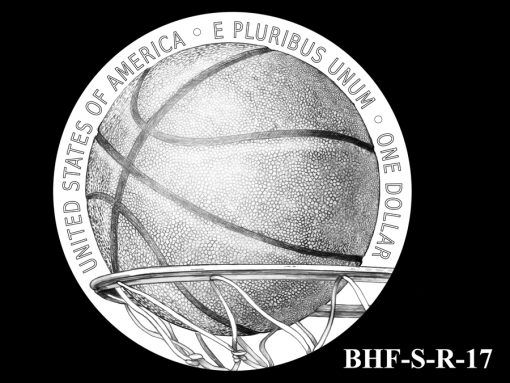 Optional CCAC Design Recommendations
While the CCAC selected BHF-O-19 and BHF-R-01 as their preferred designs, they also passed a motion to recommend an optional selection of BHF-O-02 with BHF-R-18.
Obverse design BHF-O-02 depicts the action of a slam dunk, one of the most exciting plays in the game. Reverse design BHF-R-18 shows two players jumping for a ball.
Final Design Selections
As directed by the Naismith Memorial Basketball Hall of Fame Commemorative Coin Act, Public Law No: 115-343, the Secretary of the Treasury will select the final designs upon receiving CCAC and CFA recommendations and after consultation with liaisons of the Naismith Memorial Basketball Hall of Fame.