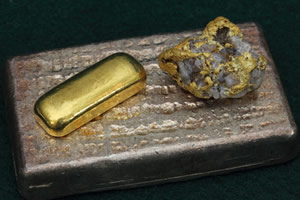 Gold and silver futures declined Friday but the pair still scored their second straight weekly increase. Palladium declined on the day and for the week. Platinum, meanwhile, advanced for both.
Gold for August delivery shed $1.40, or 0.1%, to settle at $1,426.70 an ounce on the Comex division of the New York Mercantile Exchange.
"Some of the hot money driving prices higher in futures and options has clearly closed out the week by taking profit," MarketWatch quoted Adrian Ash, director of research at BullionVault. "Big picture, the switch to weaker interest rates and new stimulus looks set to keep gold on the boil."
Gold futures traded 1% higher this week after rising 0.9% last week. They are up 11.4% on the year to date. On Thursday, gold marked its highest settlement since May 13, 2013.
In looking ahead to next week, Kitco News offers the following forecasts via their Wall Street & Main Street surveys:
"Twelve market professionals took part in the Wall Street survey. A total of eight voters, or 67%, called for gold to be higher. There were three votes, or 25%, for lower, while one respondent, or 8%, looks for the metal to be sideways.

Meanwhile, 643 respondents took part in an online Main Street poll. A total of 477 voters, or 74%, called for gold to rise. Another 96, or 15%, predicted gold would fall. The remaining 70 voters, or 11%, saw a sideways market."
Closing lower for the first time in six sessions, silver for September delivery declined less than a half cent to $16.195 an ounce. Silver futures soared 6.3% this week after climbing 1.6% last week. On Thursday, the precious metal closed at its best price since June 29, 2018. Silver is 4.2% higher on the year.
In PGM futures on Friday and for the week:
October platinum moved up $2.20, or 0.3%, to $852.10 an ounce, for a 2.1% weekly increase.

Palladium for September delivery declined $3.60, or 0.2%, to $1,508.30 an ounce, for a loss on the week of 2.2%. A week ago Wednesday, July 10, palladium notched a record settlement of $1,588.10 an ounce.
Both are higher on the year so far with increases of 6.4% for platinum and 26% for palladium.
London Precious Metals Prices
Aside from palladium, London precious metals prices finished higher on Friday and for the week. In comparing their levels from Thursday PM to Friday PM:
Gold gained $22.25, or 1.6%, to $1,439.70 an ounce.
Silver added 28.5 cents, or 1.8%, to $16.315 an ounce.
Platinum rose $10, or 1.2%, to $854 an ounce.
Palladium fell $22, or 1.4%, to $1,518 an ounce.
In LBMA results for week, platinum dropped 2.3% while the others registered gains totaling 2.3% for gold, 7.8% for silver, and 4.4% for platinum.
US Mint 2019 Bullion Sales
United States Mint bullion sales divided this week from last with sales higher for gold coins and lower for silver coins. In week-over-week comparisons:
Gold bullion coins moved up by 2,000 ounces after rising by 1,500 ounces previously. Sales last week came entirely from American Gold Eagles. Splits this week included 1,500 ounces in American Gold Eagles and 500 ounces in American Gold Buffalo.

American Silver Eagle advanced by 75,000 compared to their increase last week of 262,000.
Below is a sales breakdown of U.S. Mint bullion products with columns listing the number of coins sold during varying periods. Products with an asterisk (*) are no longer available.
US Mint Bullion Sales (# of coins)
Friday
Last Week
This Week
June
July
2019 Sales
$50 American Eagle 1 Oz Gold Coin
0
0
500
4,500
500
79,000
$25 American Eagle 1/2 Oz Gold Coin
0
1,000
1,000
0
2,000
21,000
$10 American Eagle 1/4 Oz Gold Coin
0
2,000
0
0
2,000
28,000
$5 American Eagle 1/10 Oz Gold Coin
5,000
5,000
5,000
5,000
10,000
155,000
$50 American Buffalo 1 Oz Gold Coin
500
0
500
3,000
500
48,000
$1 American Eagle 1 Oz Silver Coin
0
262,000
75,000
1,035,000
337,000
10,359,000
American Memorial Park 5 Oz Silver Coin
0
0
0
0
0
78,000
Lowell 5 Oz Silver Coin*
N/A
80,000
$100 American Eagle 1 Oz Platinum Coin*
N/A
40,000