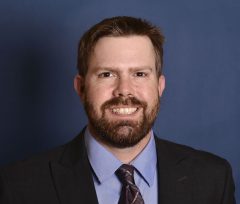 Paper Money Guaranty® (PMG) has hired industry veteran Matt Quinn, who joined its team of expert grading finalizers on May 1.
Quinn has been a professional numismatist for 15 years. Most recently, he operated his own paper money trading company in New Hampshire, which he closed when he accepted a position with PMG due to the company's strict impartiality requirements.
Prior to operating his own business, Quinn spent 8 years with 80-year-old Stack's Bowers Galleries, where he had headed the auction department from 2010 to 2015.
Quinn began his career as a professional numismatist around the same time that PMG was formed in 2005. As a result, he has witnessed first-hand the tremendous impact that PMG's third-party authentication, grading and encapsulation services have had on the marketplace.
"As a dealer, I had great respect for the accuracy, consistency and integrity of PMG's grading," Quinn said. "I'm therefore very excited to join their expert team and help them to build upon their record of great work."
Quinn's addition to the PMG grading team comes as the company faces tremendous growth in demand for its third-party paper money grading services around the world. More than 4 million notes have been certified by PMG since it was established, a number that has increased dramatically in recent years due to the opening of offices in Shanghai, Hong Kong, Munich and London.
The hiring of Quinn and others, along with new technologies and operational efficiencies, will enable PMG to continue to expand and enhance its services around the world while adhering to the high standard of quality that has made it the leader in paper certification.
Founded in 2005, PMG is the world's most comprehensive third-party paper money grading and encapsulation service. All PMG-certified notes are backed by the company's comprehensive guarantee of authenticity and grade, which gives buyers and sellers greater confidence. To learn more about the company and its services, visit PMGnotes.com.