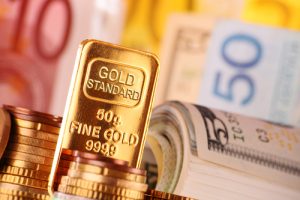 Gold edged down on the final trading day of the holiday-shortened week, ending at another sixteen-week low and extending its weekly losses to four in a row. Major U.S. and European markets are closed tomorrow, April 19, in observance of Good Friday.
Gold for June delivery dipped 80 cents, or less than 0.1%, to close at $1,276 an ounce on the Comex division of the New York Mercantile Exchange. The settlement was the lowest for a most active contract since the close at $1,273 an ounce on Dec. 26.
"The U.S. Dollar Index is firm and gold's chart suggests that gold's path of least resistance is lower in the near-term," MarketWatch quoted Mike Armbruster, managing partner at Altavest.

"I cannot divine any impact on gold or equity markets from the release of the Mueller report. If anything, the Mueller report reduces political risk in the U.S., which would be negative for gold and positive for equity markets," Armbruster added.
Gold futures fell 1.5% this week and have dropped a combined 2.8% in the last four weeks. They are now 0.4% lower on the year to date. In looking ahead to next week, Kitco News offers the following forecasts via their Wall Street & Main Street surveys:
"Fifteen market professionals took part in the Wall Street survey. Six voters, or 40%, look for gold to continue its recent slide. Five voters, or 33%, called for higher prices, while the remaining four, or 27%, expect prices to be sideways or were neutral.

Meanwhile, 522 respondents took part in an online Main Street poll. A total of 242 voters, or 46%, called for gold to rise. Another 206, or 39%, predicted gold would fall. The remaining 74 voters, or 14%, saw a sideways market."
Elsewhere, silver for May delivery rose 1.6 cents, or 0.1%, to settle at $14.955 an ounce. Silver futures slipped less than 0.1% this week. They have registered a combined 2.9% decline through their four consecutive weekly losses. The precious metal is off 3.8% on the year so far.
In PGM futures on Thursday and for the week:
July platinum gained $12.40, or 1.4%, to $903.70 an ounce, for a 0.6% weekly increase.

Palladium for June delivery advanced $19.90, or 1.4%, to $1,398.50 an ounce, surging 3.6% on the week.
Both are higher on the year with gains of 12.9% for platinum and 16.8% for palladium.
London Precious Metals Prices
London precious metals prices ended divided Thursday and mostly lower on the week. In comparing their levels from Wednesday PM to Thursday PM:
Gold dipped 15 cents to $1,275.70 an ounce.
Silver declined 4.5 cent, or 0.3%, to $14.955 an ounce.
Platinum added $4, or 0.5%, to $890 an ounce.
Palladium moved up $25, or 1.8%, to $1,395 an ounce.
In LBMA results for the week, palladium gained 2.2% while other metal prices posted declines of 1.4% for gold, 0.7% for silver and 1% for platinum.
US Mint 2019 Bullion Sales
For a second straight time, overall United States Mint bullion sales slowed from a week ago. In headline week-over-week comparisons:
Gold bullion coins moved up by 500 ounces after rising by 2,000 ounces previously. This week, American Gold Buffalos accounted for all gold sales. Splits last week included 1,500 ounces in American Gold Eagles and 500 ounces in American Gold Buffalos.

American Silver Eagle sales were muted for a second week in a row.

American Platinum Eagles rose by 500 ounces after climbing by the same amount last week.
Below is a sales breakdown of U.S. Mint bullion products with columns listing the number of coins sold during varying periods.
US Mint Bullion Sales (# of coins)
Thursday
Last Week
This Week
February
March
April
2019 Sales
$100 American Eagle 1 Oz Platinum Coin
0
500
500
2,400
4,000
2,100
35,600
$50 American Eagle 1 Oz Gold Coin
0
1,000
0
11,000
8,500
3,000
67,000
$25 American Eagle 1/2 Oz Gold Coin
0
1,000
0
1,000
1,000
1,000
19,000*
$10 American Eagle 1/4 Oz Gold Coin
0
0
0
0
4,000
2,000
26,000
$5 American Eagle 1/10 Oz Gold Coin
0
5,000
0
15,000
15,000
10,000
130,000**
$50 American Buffalo 1 Oz Gold Coin
0
1,000
500
6,000
5,500
4,500
39,500
$1 American Eagle 1 Oz Silver Coin
0
0
0
2,057,500
850,000
550,000
7,475,000***
Lowell 5 Oz Silver Coin
0
0
0
N/A
80,000
0
80,000
*The U.S. Mint on Thursday adjusted upward the $25 Gold Eagle total for January to 16,000 coins from 15,000 coins, lifting their year-to-date total to 19,000 coins.
**In addition, the U.S. Mint on Thursday increased the $5 Gold Eagle total for February to 15,000 coins from 10,000 coins, lifting their year-to-date total to 130,000 coins.
***Finally, the U.S. Mint on Thursday reduced the American Silver Eagle total for February to 2,057,500 coins from 2,157,500 coins, lowering their year-to-date total to 7,475,000.