Gold, gold and more gold is available today with the United States Mint launching their 2019-W Proof American Gold Eagles.
The precious metal products for collectors include five options — a combined four-coin set and individually packaged coins in sizes of 1 oz., 1/2 oz., 1/4 oz. and 1/10 oz. with corresponding denominations of $50, $25, $10 and $5.
Despite their rather hefty price tags, proof Gold Eagles continue to be relatively popular with collectors with thousands sold each year. Demand spikes upon their initial release with last year's version tallying up the following totals in their first four days:
Early Sales of Last Year's 2018-W Proof American Gold Eagles
DEBUT SALES (UNITS)
DEBUT SALES (OUNCES)
1 oz
1,322
1,322.00
1/2 oz
537
268.50
1/4 oz
741
185.25
1/10 oz
2,551
255.10
4-Coin Set
2,803
5,185.55
Totals
7,954
7,216.40
This equated to 16,363 coins when adding those sold individually along with the four included as part of the set. Flashing forward, more than 58,000 have sold according to the Mint's latest data.
American Gold Eagle Designs and Specifications
Since their introduction in 1986, all Gold Eagle obverses (heads side) have depicted Augustus Saint-Gaudens' likeness of Liberty originally featured on the 1907-1933 $20 gold coin. This image has always been a favorite of collectors.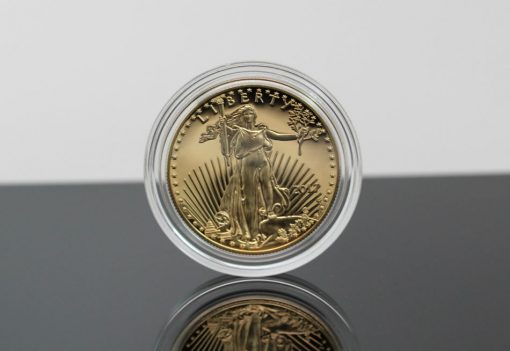 The design has Liberty with flowing hair, holding a torch in her right hand and an olive branch in her left. Fifty stars surround the effigy. Inscriptions read LIBERTY and 2019. We also find a 'W' mint mark indicating that the coins are produced at the U.S. Mint's facility in West Point.
Appearing on the reverse (tails side) is a family of eagles by sculptor Miley Busiek. The male eagle is shown carrying an olive branch while flying above a nest containing a female eagle and eaglets.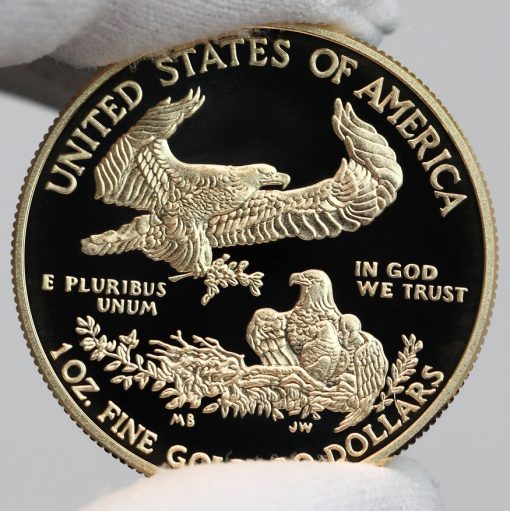 Reveres inscriptions include UNITED STATES OF AMERICA, E PLURIBUS UNUM and IN GOD WE TRUST. The coin's precious metal weight and legal tender face value are also inscribed here.
Coin Specifications

$50
$25
$10
$5
Composition
22 Karat Gold (91.67% Gold
3.0% Silver
Balance Copper)
Weight
1.0909 troy oz.
(33.931 grams)
0.5455 troy oz.
(16.966 grams)
0.2727 troy oz.
(8.483 grams)
.1091 troy oz.
(3.393 grams)
Diameter
1.287 inches
(32.70 mm)
1.063 inches
(27.00 mm)
0.866 inch
(22.00 mm)
0.650 inch
(16.50 mm)
Thickness
0.113 inch
(2.87 mm)
0.085 inch
(2.15 mm)
0.070 inch
(1.78 mm)
0.049 inch
(1.26 mm)
Edge
Reeded
Pricing and Ordering
Proof American Gold Eagle pricing is based on the Mint's precious metal coin pricing matrix. This chart ties coin prices to fluctuations in the gold market. Initial prices, based on a weekly LBMA gold average of between $1,250 and $1,299.99 an ounce, are shown in the table below.
Debut Prices
2019 American Eagle Gold Proof Coin (1 oz.)
$1,627.50
2019 American Eagle Gold Proof Coin (1/2 oz.)
$830.00
2019 American Eagle Gold Proof Coin (1/4 oz.)
$427.50
2019 American Eagle Gold Proof Coin (1/10 oz.)
$182.50
2019 American Eagle Gold Proof Coins (Four-Coin Set)
$3,015.00
Orders for the 2019-W Proof American Gold Eagles and the four-coin set are available from the U.S. Mint's online page of gold coins, located here, or by calling 1-800-USA-MINT (872-6468). The coins have no mintage or household order limits.
Each ships in a satin-lined burgundy velvet presentation case and is accompanied by certificate of authenticity.