The United States Mint unveiled prices and household order limits for its suite of upcoming products that celebrate the 50th anniversary of the Apollo 11 Moon landing. The limits range from 1 to 100 and published prices are from $25.95 to $224.95.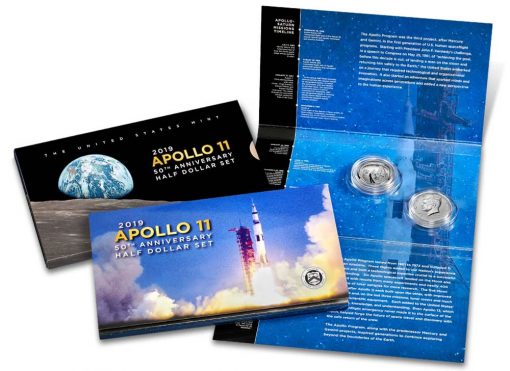 On Jan. 24, the U.S. Mint will release curved-shape Apollo 11 50th Anniversary Commemorative Coins composed from gold, silver or clad and struck in collector qualities of proof and uncirculated. (See images of the coins.) The Mint will also issue a set containing a proof Apollo 11 half-dollar and an enhanced reverse proof Kennedy half-dollar that commemorates the relationship between President Kennedy and the American space program.
Prices of the products and their limits are:
Introductory Price
Mintage Limit
Product Limit
Household Order Limit
2019-W Proof $5 Gold Coin
*
50,000
None
1
2019-W Uncirculated $5 Gold Coin
1
2019-P Proof Silver Dollar
$54.95
400,000
100
2019-P Uncirculated Silver Dollar
$51.95
100
2019-S Proof Clad Half Dollar
$27.95
750,000
None
2019-D Uncirculated Clad Half Dollar
$25.95
None
2019-S Proof Half Dollar Set
$53.95
100,000
5
2019-P Proof $1 Five Ounce Silver Coin
$224.95
100,000
None
5
*Prices for the gold coins will be available the day before their release and based on the trending value of gold. Based on gold's current price of about $1,290 an ounce, today the proof $5 gold would be $418.75 and the uncirculated $5 gold coin would be $408.75.
Prices include surcharges of $50 per 5-ounce silver dollar, $35 per gold coin, $10 per silver dollar, and $5 per half-dollar. Provided the coins turn a profit, the collected funds will be shared between the Smithsonian Institution's National Air and Space Museum's Destination Moon exhibition; the Astronauts Memorial Foundation; and the Astronaut Scholarship Foundation.
As discussed last week, the U.S. Mint and the Royal Australian Mint are collaborating on a special set featuring a U.S. Apollo 11 half dollar paired with an Australian Moon Landing 1 oz. $5 Silver Coin. Its price, release date, and limits are not yet available.