At noon ET today, Oct. 1, the United States Mint will begin sales of the 2018 Breast Cancer Awareness Coin and Stamp Set.
Priced at $39.95, the 25,000 limited-edition set contains one 2018-S 50c Proof Breast Cancer Awareness Coin from the U.S. Mint and one 2014 Breast Cancer Research Forever® Stamp from the U.S. Postal Service.
The pair of commemoratives will look familiar to many because each of them are also available separately.
The stamp is sold by the USPS for a small surcharge above the cost of first-class postage. Originally issued in 1998 and reissued in 2014, the stamp has already raised more than $86 million for breast cancer research. Designed by Ethel Kessler, it features an illustration of a mythical "goddess of the hunt" by Whitney Sherman that includes the phrases "FUND THE FIGHT" and "FIND A CURE."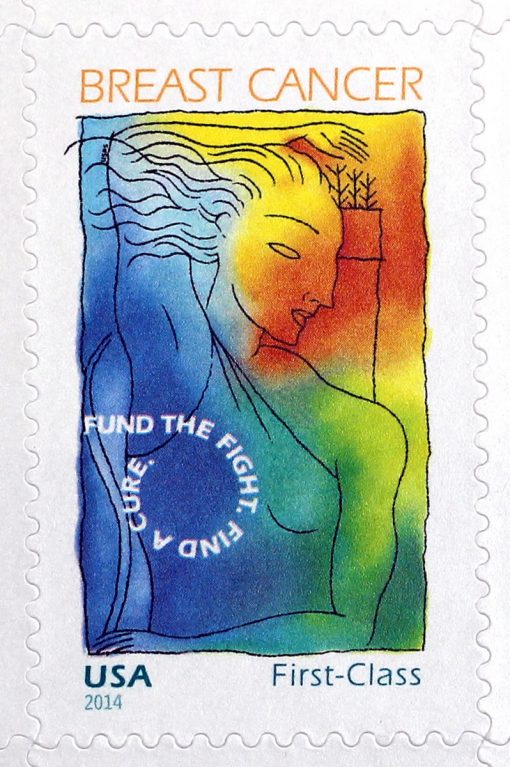 Authorized under Public Law 114-148 in recognition of America's fight against breast cancer, the proof half-dollar is one of the U.S. Mint's six Breast Cancer Awareness 2018 Commemorative Coins. It is available by itself for $32.95, which includes a $5 surcharge for the Breast Cancer Research Foundation (www.bcrf.org). Produced at the San Francisco Mint, 16,661 have sold from its March 15 release to Sept. 23. Unlike regular coins that appear in circulation, the half-dollar has a proof finish which features frosted designs against mirror-like backgrounds.
Designed by Emily Damstra, the coin's obverse (heads) depicts a butterfly and two women. The older woman has her hands on her chest and a relieved expression on her face. The younger woman, with a scarf on her head, holds one hand over her chest and the other raised in a fist as if she is ready to fight. Inscriptions read: "LIBERTY," "2018," and "IN GOD WE TRUST."
Damstra's reverse design shows a Tiger Swallowtail butterfly in flight, a symbol of hope. Inscriptions include around the reverse read: "UNITED STATES OF AMERICA," "HALF DOLLAR," "E PLURIBUS UNUM," and "BREAST CANCER AWARENESS."
Ordering
Order the set on release from the U.S. Mint's online store for commemorative products, or by calling 1-800-USA-MINT (872-6468. Orders are limited to one set per household.
The encapsulated coin and stamp are mounted on an attractive folder with important facts about breast cancer. The folder is housed in a sleeve with the Certificate of Authenticity printed on the back.