Next Monday, Oct. 1, the United States Mint will release the 2018 Breast Cancer Awareness Commemorative Coin and Stamp Set.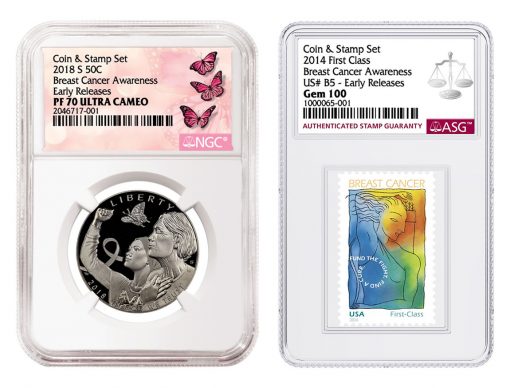 Priced at $39.95, the 25,000 limited-edition set includes a proof 2018-S 50c Breast Cancer Awareness Commemorative Half Dollar from the U.S. Mint and a Breast Cancer Research stamp from the U.S. Postal Service.
For those wanting to have the pair of collectibles graded for a special "Coin & Stamp Set" pedigree, they can submit their purchased sets to Numismatic Guaranty Corporation® (NGC) and Authenticated Stamp Guaranty™ (ASG).
Released in March alongside companion gold and silver Breast Cancer Awareness coins, the half dollar features themes of hope — two women on the obverse, and a Tiger Swallowtail butterfly on the reverse. A portion of the U.S. Mint sales price for these coins supports breast cancer research.
Similarly, the stamp has raised $88 million since it was first issued in 1998. The first "semipostal" (fundraising) stamp in U.S. history, it features a colorful image of the goddess of the hunt, along with the words "Fund the Fight. Find a Cure."
Founded in 1987, NGC has certified more than 41 million coins, tokens and medals. ASG was established late last year to provide similar certification services for stamps.
Special submission instructions must be followed. Visit NGCcoin.com/news/article/6846 for more information or contact NGC at Service@NGCcoin.com or 1-800-NGC-COIN (642-2646).