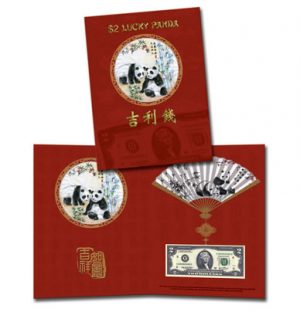 The Bureau of Engraving and Printing (BEP) released its latest Lucky Money product, the $2 Lucky Panda banknote.
Featuring an uncirculated $2 Federal Reserve note with a serial number beginning with "888," the bureau launched the new collectible today at 8:00 a.m. Eastern for $12.88.
"The $2 Lucky Panda symbolizes character traits as peace, harmony and friendship," the BEP describes.
Each note is packaged in a red folder with embossed gold foil and decorative Chinese symbols.
Pricing, Ordering and Limits
No more than 106,888 of the 2$ notes will be sold. Per household orders are limited to 500 notes during the first week of sales. The limit will be waived on July 17, 2018.
Place orders from the Lucky Money Collection section of the BEP's website at:
http://www.moneyfactorystore.gov/luckymoneycollection.aspx.
BEP money products are also available by telephone (1-800-456-3408), by fax (1-888-891-7585), International fax (202-874-1788), at the Washington, DC and Fort Worth, Texas Visitor Center Gift Shops; and by mail order at:
Bureau of Engraving and Printing
Mail Order Sales, 515M
14th and C Streets SW
Washington, DC 20228
The BEP ships free and does not charge tax.
Related Lucky Money Products
The BEP continues to offer three earlier issued Lucky Money products. Priced at $5.95 each, they include the:
'$1 Fortune Note', having a beginning serial number of 8888;
'$1 168 Prosperity Forever Note', bearing a starting serial number of 168; and
'$1 Lucky 777 Note', featuring serial numbers beginning with no less than three number 7s in a row.
About the BEP
The Bureau of Engraving and Printing's main mission is to develop and produce United States currency notes. The agency prints billions of Federal Reserve Notes each year for delivery to the Federal Reserve System. These notes are produced at facilities in Washington, DC, and Fort Worth, TX.